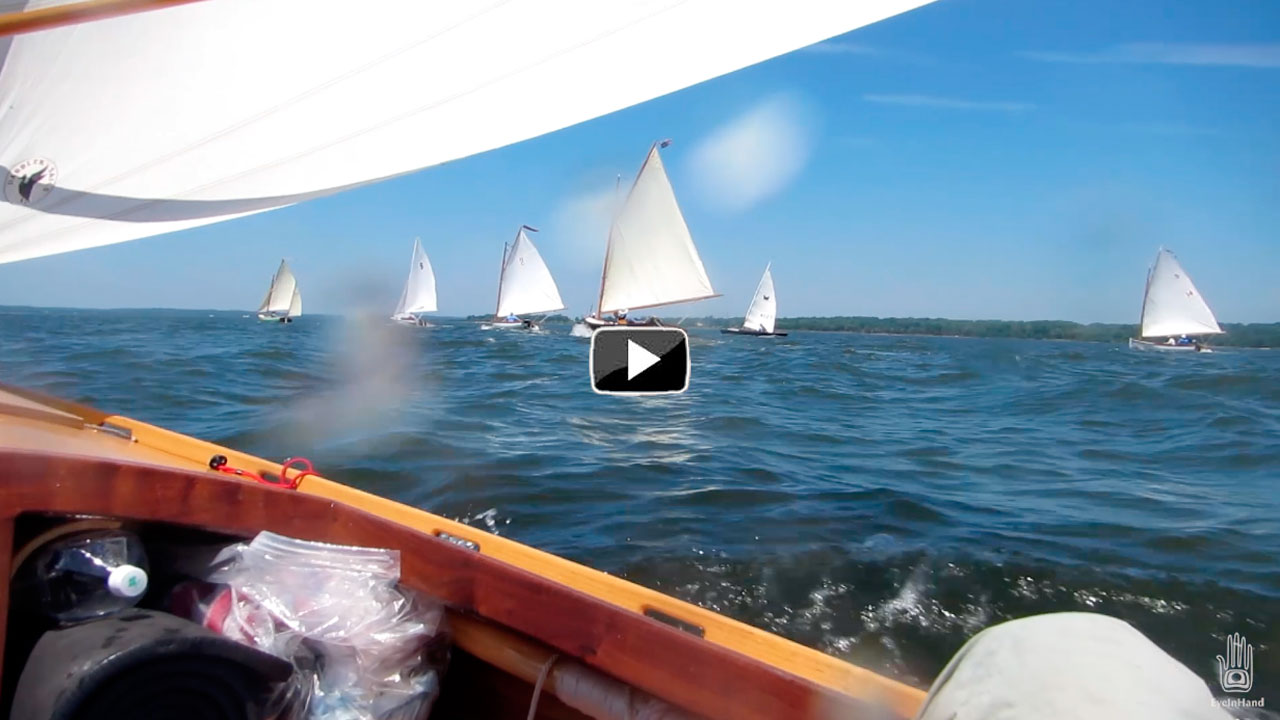 Spirited Reach up the Patuxent 
The basic plan is sail upriver until hungry, stop for lunch. Sail all the way back, and then some, to St. Leonard Creek. Hole up there for the night. If that ends up too far, turn into one of the smaller creeks along the way.
When scouting maps for launch spots, St. Leonard had looked promising. There was a place marked on the charts as a fairly large marina, but went by the odd name of "Vera's Beach Club". Hmm. A little googling rendered details of a seafood restaurant, bar, full service docks, etc.. Likely bathrooms and showers. Also, wet t-shirt contests. Bill's on Broomes Island was more our style, but Vera's did offer some appeal. St. Leonard was looking pretty good.
 Mike's Haven 12 1/2 "Jackaroo", photos Kevin Brennan
Doug Oeller's Marsh Cat "Comfort" 
Aeon is the smallest boat in this fleet. The Marsh Cats are more than a foot longer, nearly twice as wide, carry 2.5 times as much sail, and weigh more than half a ton compared to my spry 200 pounds. The Navigator is a foot longer and weighs only 100 pounds more, but carries more than twice my sail area. The Haven is heaviest of all at 1400 pounds, with the same sail area as the Navigator, but is so efficiently shaped that the weight helps it punch through any chop and point high. The modern O'Day is pretty much a racehorse compared to our classic designs. Even Ron's custom canoe is long and lean and carries a tall 90sq/ft, fully battened, high performance Moth sail. With my short little square 62sq/ft sail I sometimes have to work a little to keep up.
It doesn't help when you're usually the last to leave. Or you tend to be more preoccupied with taking photos than trimming for speed. Some of this is intentional. By hanging back I get a good view of the whole fleet. Basically, if you're behind me I can't take your picture. So it works for me.
Clearing the cutoff
The Melonseed's small size can be used to advantage, though. Broomes Island has been eroding steadily for decades, and there's now a long sandbar off the tip prickled with duck blinds. What was once island is now slightly submerged. As the other boats pulled away and turned upriver, they had to take a wide swing into the wind to stay clear. Following behind, I noticed a narrow cut that lopped off the tip from the mainland, and what looked like current flowing through. A darker band in the water implied it was deepish. I turned and headed for it.
Most Recent Chart, with Aeon's path
The water turned pale green as the white sand bottom rose up with a hundred yards still to go. I watched stumps, bottles, and cinder blocks go by just below the surface. But drawing only three inches with the board up, Aeon skimmed over easily, shot through the cut and out the other side. The shortcut put me out even with the fleet again. Sweet. You got to play the cards you're dealt.
Newer Satellite image now shows the break.
George had joined us in his Crotch Island Pinkey, a boat I've admired for many years at the Mid-Atlantic Small Craft Festival in St. Michaels. It's not a fast boat, but is incredibly seaworthy, with wonderful classic New England lines, and can carry a whole family of passengers. He lives downriver near Solomons Island, and knows the area well, so we followed his lead through the afternoon.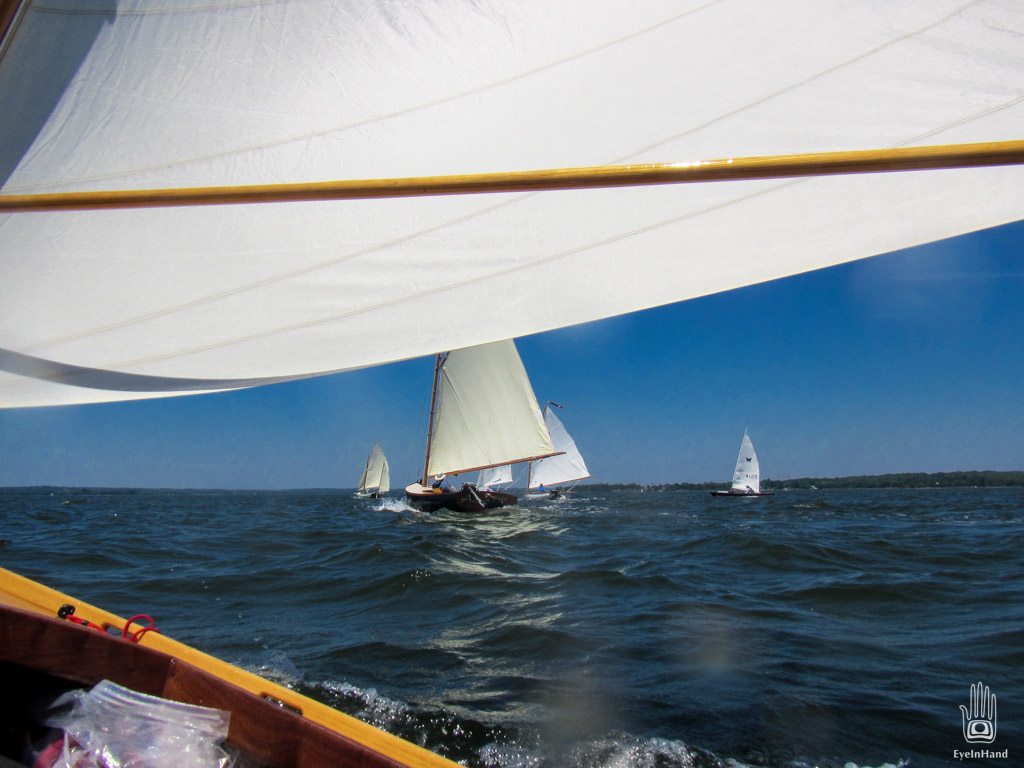 Back with the fleet, reaching upriver
Seven miles upriver we crossed over to a long beach on the south shore, near the mouth of a small cove called Cremona Creek. A nice quiet spot protected from the wind, though that made it a bit steamy in the noonday sun. The wax myrtles offered some welcome shade.
Last year I learned that beaching and centerboards are a dodgy combination. Simply resting the bow on a cushion is enough to keep the slot out of the sand, and I had no more issues. Easy solve. The other guys must have learned caution from my previous troubles, as I noticed everyone now tends to anchor in the shallows, or just nose the bow to the beach.
George's Crotch Island Pinkey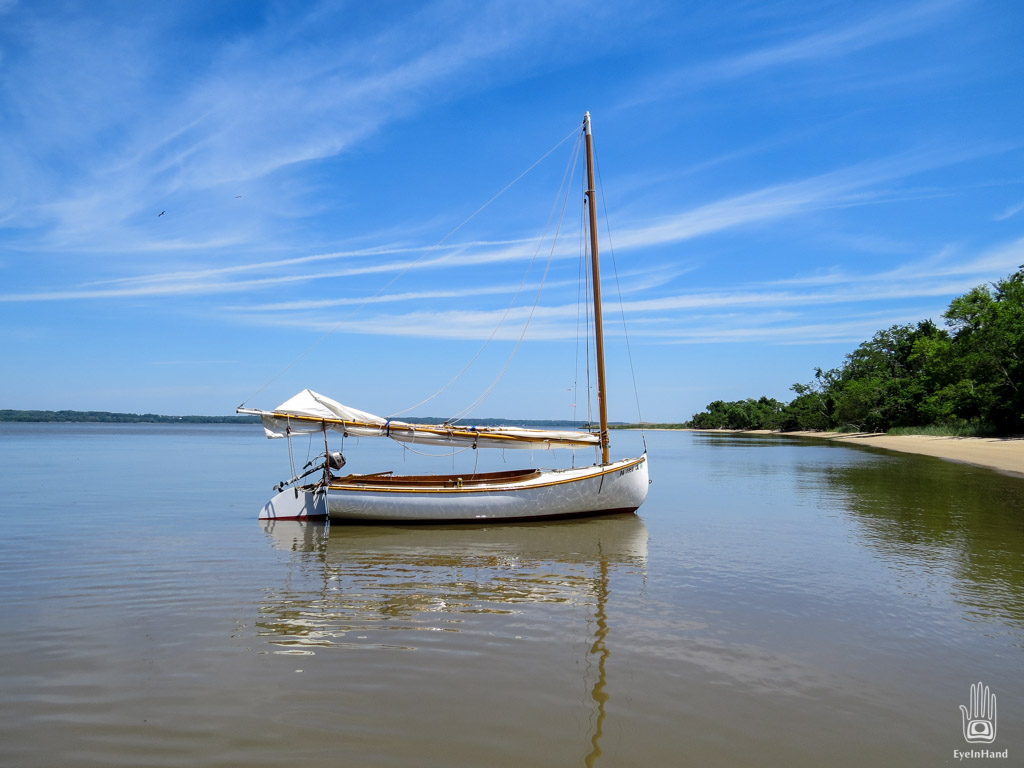 Preparing to relaunch we discovered Ron's new unstayed aluminum mast had developed a bit of a list. The stronger wind was starting to bend it above the partners. He improvised a forestay with the mainsheet, which would help, but the freshening breeze was cause for concern. We had a long way to go, and the wind continued to build. There were now scattered whitecaps in the river.
music: "Falls of Richmond" played by Michael Neverisky