For some reason, Sundays always clear out fast every year at MASCF. By noon it's all but deserted, with just us diehards still around. Odd, because, and because, it's usually the nicest day to be there.
In the morning Michael Skalka and I took a sail on Aeon. This is Michael, one of the judges on Saturday. admiring Una:
He's building a Melonseed himself now; got the bug bad, as does his lovely girlfriend who is on him like white on rice to finish it.
I've been sailing with his dad Paul for years on the annual Chesapeake Float trips. It was gusty and chilly. Michael is a good sailor. Being younger and therefore more enamored of danger than I am, we had an invigorating romp out into the Miles, getting cold and wet. I was again totally unprepared, and left the camera on the dock under a warm hat that I should have been wearing. Was a great trip, though. He's a smart and interesting guy, and it was fun to see the wheels turning in his head as he worked the wind – studying how the boat handled, planning what he will do as he builds his own, imagining what it will be like when it's done. I remember that feeling.
The sun warmed thing nicely by lunchtime, and I got in a bit more sailing while I could. Always the last to leave, it was late afternoon by the time I was ready to haul out. Kevin Brennan and Pete Peters were still hanging about, too, and we decided to dally a little longer and get some dinner at the Crab Claw before heading home.
I rode along with Kevin on Slip Jig to the ramp and roamed the docks while he loaded up, taking photos of the Leshers bringing in their classic race boat, and some well indulged kids who have their own Barbie Boat and reproduction PT109 for patrolling the harbors.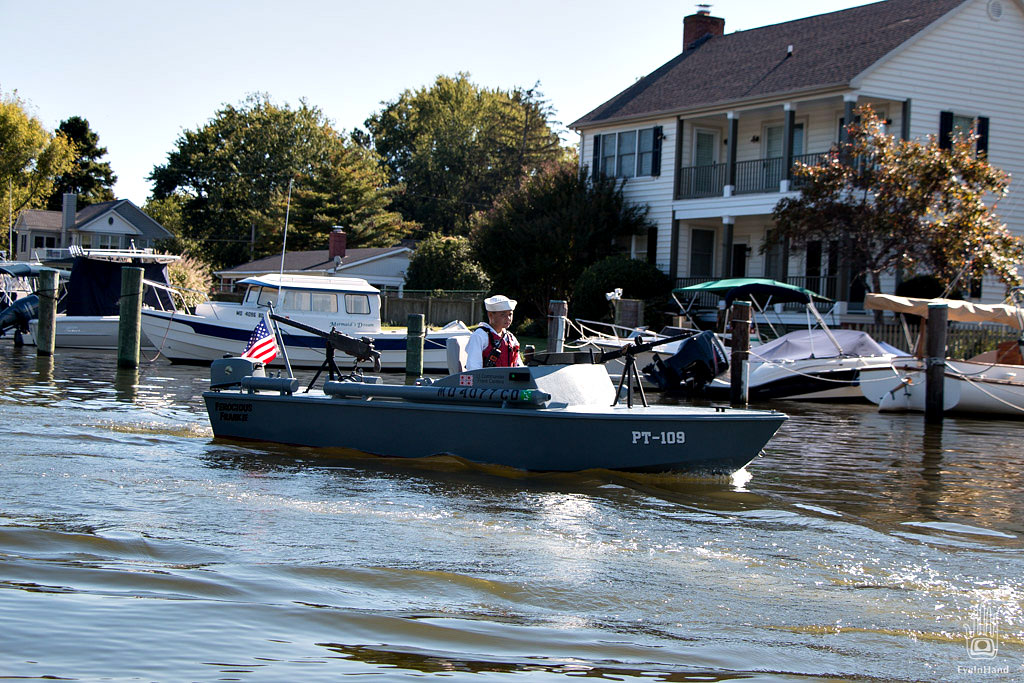 Back at the dock I finally got help from the few remaining folks around to lift Aeon onto the trailer. Picking up the last of the gear off the pier, including the rudder, I heard a sickening cling-clang-splash and knew immediately what it was – the bronze rod that slides through the gudgeons to hold the rudder on. Tipped upside down, it slid right out of the rudder, bounced on the deck and went over the side into the water. Sh*t!
I stripped down to shorts – prompting catcalls from Vera England and some other salty ladies – and went in after it. Of course, we would have record high tides, so what would normally be waist deep water was over my head. About that time Kevin and Pete showed up hungry. Kevin tried to help, using the oyster tongs. Pete gave me a hard time for delaying his dinner plans. Luckily, after ten minutes of dunking and shivering I came up with the prize held high, to another round of cheers from the ladies.
Dinner was good, catching the last of the sun over the harbor, watching remaining boats head for the ramp, megayachts coming and going.
In the car to leave, I realized I didn't have my phone. Sh*t!
I went back to the restaurant, but they hadn't seen it. I leave a homing beam app running on it, so drove around town until I found an open wifi connection, cracked up the laptop, and within minutes had it pinpointed back at the museum. I found it within 5 feet of the location on the map. Someone had found it and set it on top of a cooler, near where it must have fallen from my pocket while putting my clothes back on.
Whew, two saves in short order. Time to get on the road before I nearly lose something else.
Always the last to leave.
Full Gallery, including more from Saturday: