Sunrise at Freeport Landing
Dawn is very noisy. There's a rooster. A rooster very near, like next to my head. The sun is barely up, and he is hard at work. Also, something else making a racket I can't quite place. A sheep? No sleeping through it, rise and shine.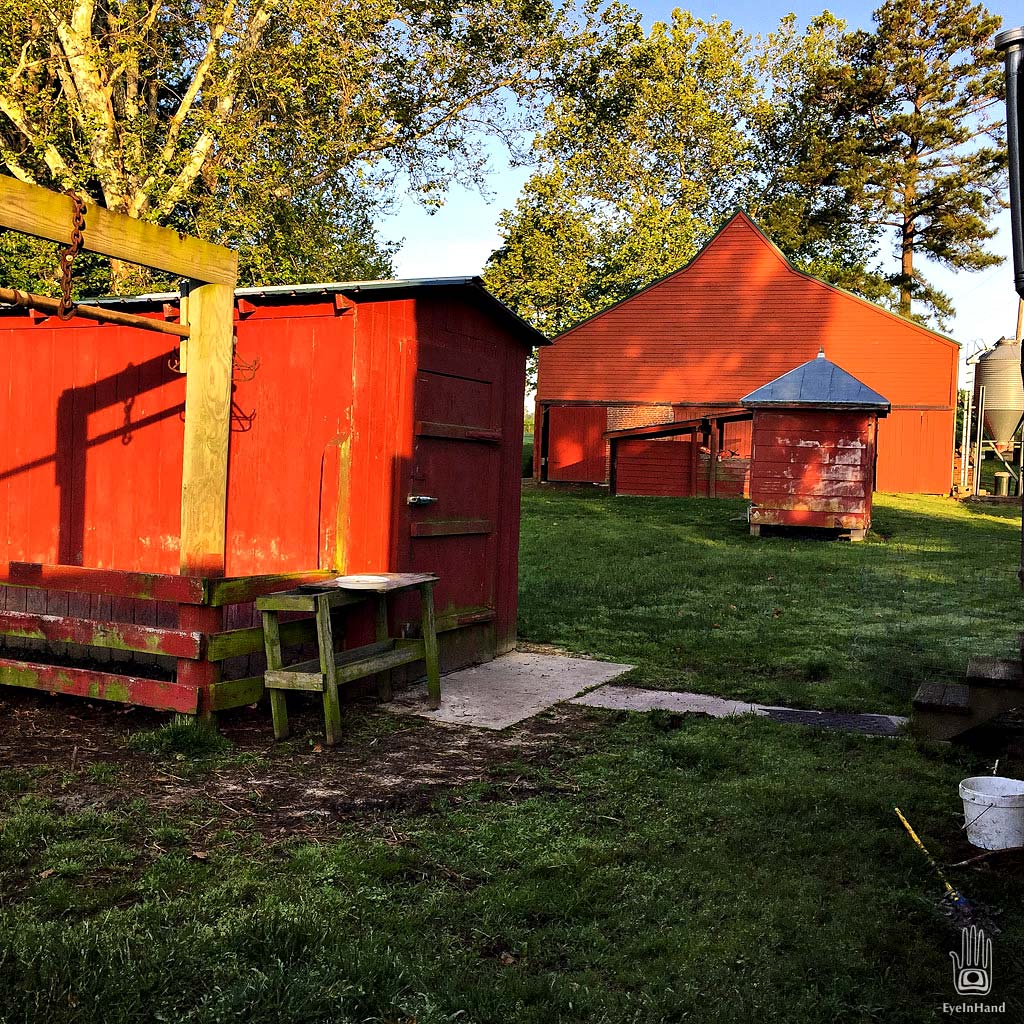 Lightning #2833 with the boom tent
Turns out the Lightning makes a very comfortable camper, a pleasant surprise. Much more comfortable than the little Melonseeds. With all the rigging, stays and shrouds, halyards, sails to bend on, etc., it's a lot more work to launch (and always will be), but for more than a night or two the bigger boat will likely be worth it. It's a marvel of interior space. I put a pot of water on to boil for coffee, then change clothes, pack away the bedding, etc. In the Melonseed I would have to wait until the open flame was out and stowed before attempting to do anything else, quarters are just too close, you have to be very deliberate. Here, there's plenty of room to cook and do other things at the same time. Nice.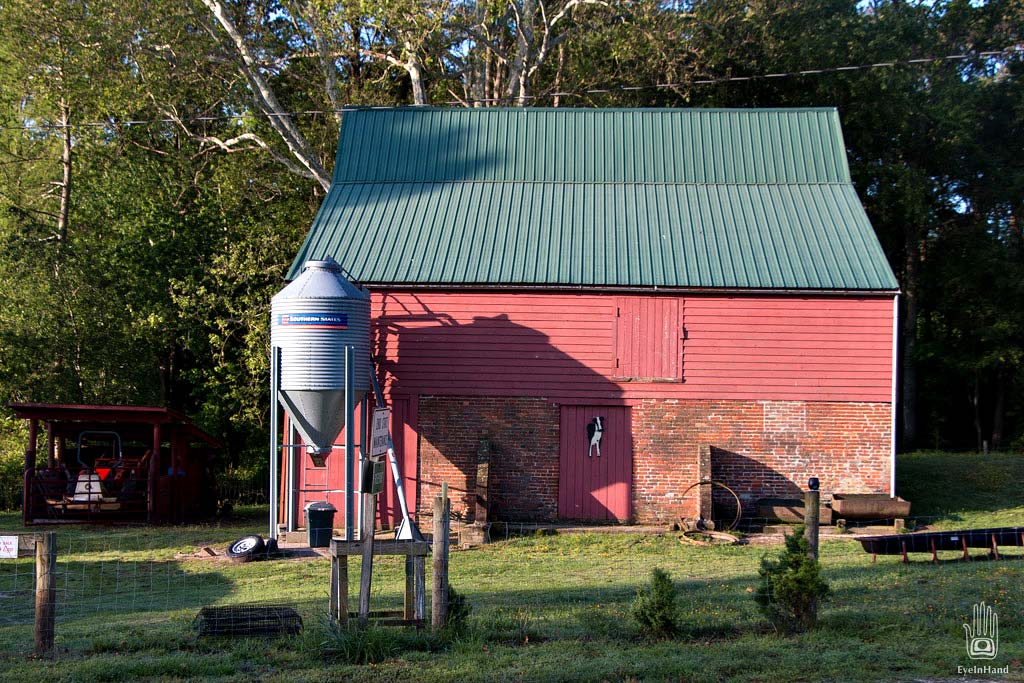 It's a beautiful morning. A very heavy dew makes everything sparkle in the morning light. And wet. Hard to believe there's a deluge of rain on the way, but for now the day is glorious.
Investigating the barn-red outbuildings behind the boatshed I find Mr. Vocal Rooster, a flock of hens, and three newborn calves – the source of the other sounds. And smells.
It's a great time of day for photos. The light gilds everything with lemon yellow highlights. Mike and Peter have been up for a while already. They return from a foraging mission to the nearest gas station a few miles away, bearing fresh coffee, which is much appreciated.
Mike's Melonseed "Pepita" designed by John Brady and built by Carl Weissinger. 
 An old cruiser at the dock.
Freeport Landing is a little different from places we typically launch. Besides the farm menagerie, a private boat launch, and a marina of sorts where everything from classic runabouts to skulling shells are stored in old barns, there's a lot of history here.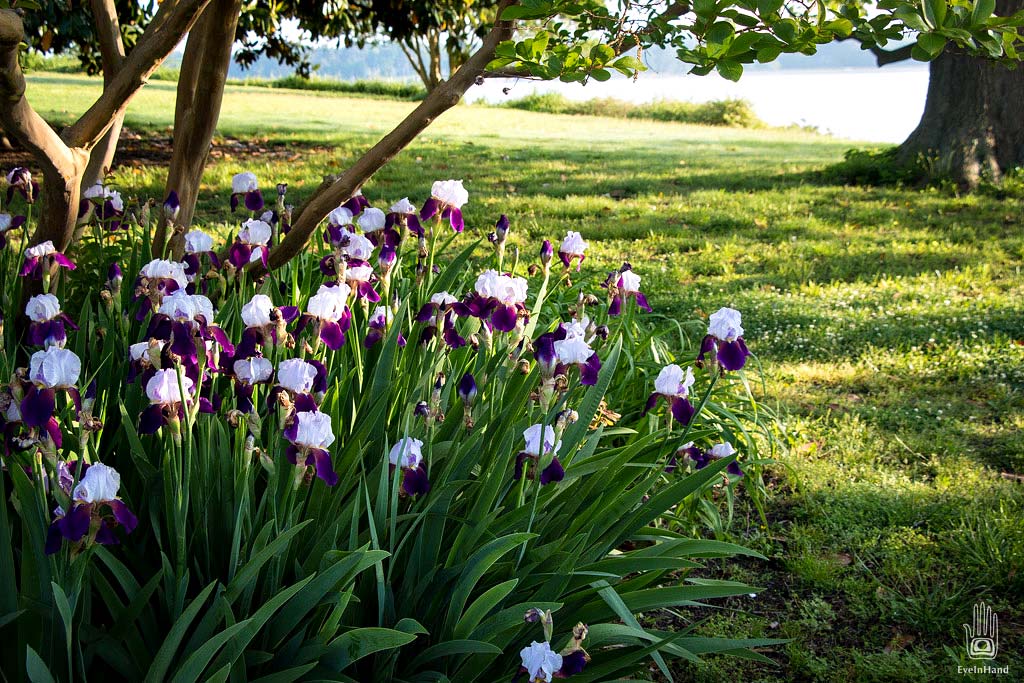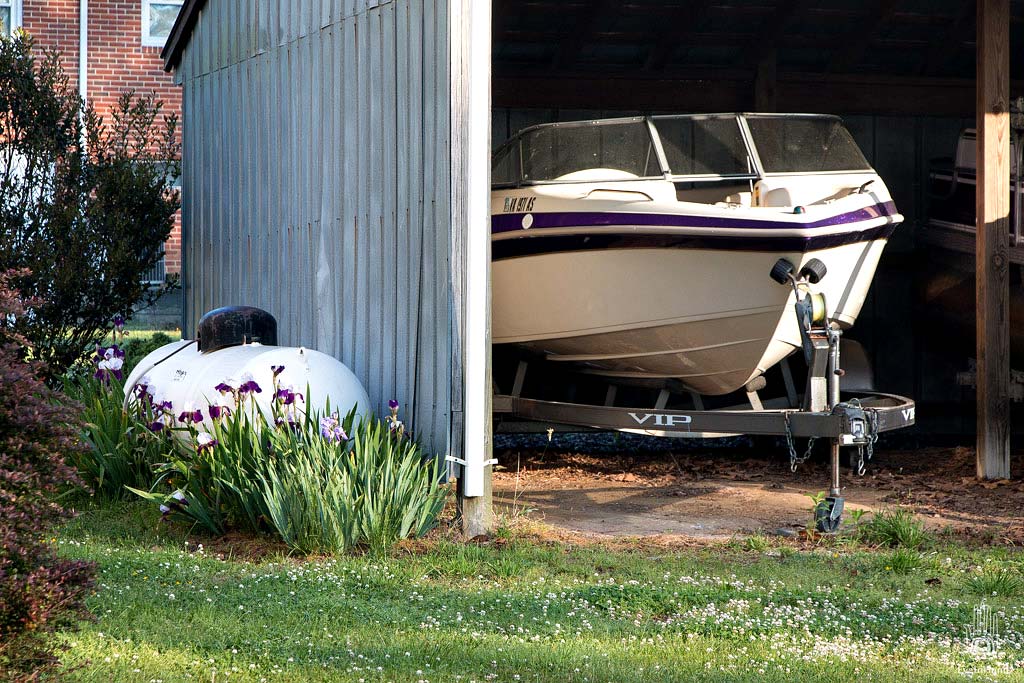 Many of the places we favor for sailing were once steamboat landings: Urbanna, Onancock, St. Michaels, Chestertown, Solomons, Crisfield, etc.. At the farthest navigable point inland on the Piankatank, Freeport was once a bustling steamboat landing, too, serving farmers and fishermen, lawyers, preachers, mothers and children, everyone who lived within a radius of many miles.
At one time, steamboats crisscrossed the whole of the Chesapeake Bay, stopping at over 250 small town landings scattered from Virginia Beach to the northern tip of the Bay, and beyond to Philadelphia. Vera England tells me she has spoken with older ladies who grew up here. They say in the early days it was easier to leave from Freeport and travel by steamboat all the way to Baltimore for a weekend of shopping – 150 miles away by water –  than to travel 60 miles overland to Richmond.
I found this short older documentary about the steamboat era. It's a little hokey by current standards, but the stories and the old photographs are great:
Brief old video of the steamboat era
The main building at Freeport, what looks like an old house, is the original General Store and Steamboat Office. Sealed off and closed to the public, it's like a time capsule from early in the last century. Through dusty windows you can see walls lined floor to ceiling with wooden shelves, rolling ladders, ornate counters that run the length of the room on both sides, a bar, etc..
Old General Store and Steamboat Office at Freeport Landing 
There's a sweeping view from the front porch of the Piankatank River and the old wharf. It's easy to imagine standing there, fresh ticket in hand, watching with anticipation as the steamboat rounds the bend in the distance in this misty morning light. Knowing it comes not just from downriver, but big cities and exotic faraway places. Imagine growing up on a local farm, dressed in your only suit, about to make a first trip to Baltimore or Philadelphia, on the steamship belching a column of black smoke as it chugs up the river.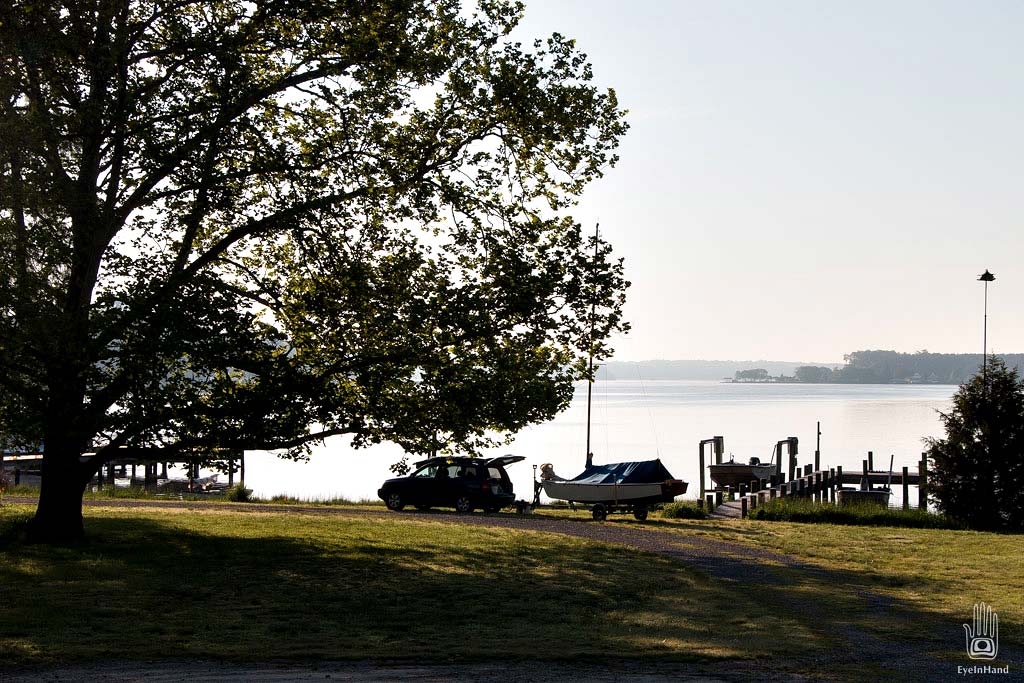 View from the porch.
Now, there are just some old chairs on the porch. A cooler sells local eggs from those hens, with a jar and honor system for transactions. The upstairs appears to be a couple of apartments where some teenagers live (what a sweet spot!), where there may have been hotel rooms back in the day.
Back at the dock I see Mike is contemplating a sail. A wind is coming up from the East. By mid-afternoon it should carry the other guys back upriver.