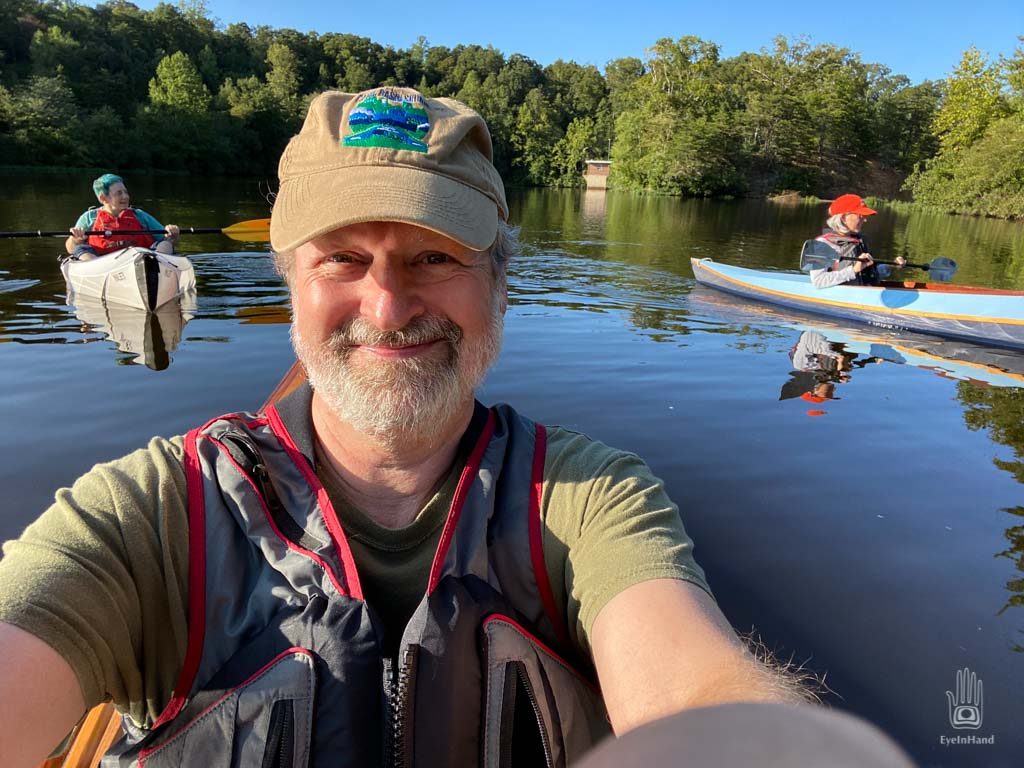 T is interested in a small, light boat that she can manage on her own. My hunch is a skin-on-frame kayak is just the ticket. Conveniently, one of the most well-known skin-on-frame boat designers lives nearby – friend Dave Gentry.
Dave now has dozens of incredibly varied designs; everything from kid-size kayaks and standup paddle boards, to sailing craft, rowing sculls, dinghies, and a new motor canoe. He always seems to have new designs for floaty things on the drawing board. All are light, durable, relatively easy and inexpensive to build.
One of his most popular models comes in five sizes: the Chuckanut series of open cockpit kayaks ranges from 10 feet to 17. His Chuckanut 12 hits the sweet spot for many solo paddlers, and the "S" version of the 12 is more slender, just right for smaller statures. He offered to bring one over to the local pond for us to try out. On this lovely evening, he arrived with not one boat to try, but four!
Here's some video from the tryouts. Just a lovely, pleasant evening all around.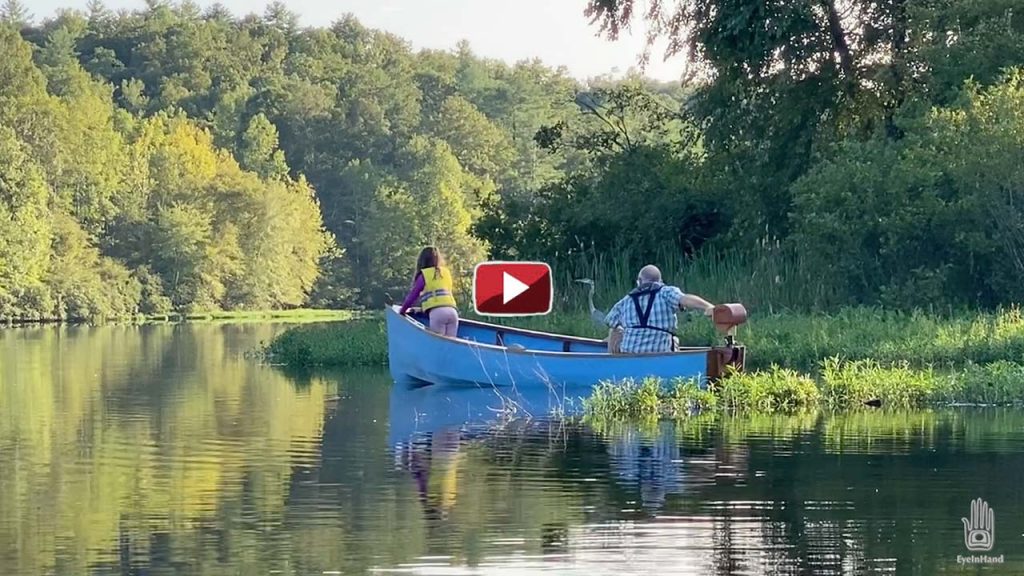 Most of the boats Dave has on hand are prototypes. These are the boats he builds to work out construction details. From these he derives the final designs that make it into the plans. Some of these "test boats" he sells or gives to family, a few stay around as part of his personal stable.
Today, in addition to the Chuckanut 12s, he brought a big motor canoe (one of the new designs), a clear-skinned "glass bottom" Wee Lassie, and a tiny canoe built special for his 8 year old daughter, complete with pool floatie outriggers like training wheels on a bike. All on top of, inside, and towed behind his little Subaru wagon.
Our friend Jenn joined us with her Oru origami folding kayak, for a menagerie of unconventional watercraft.
The Chuckanut 12s fit T perfectly. At around 25 pounds, she can lift it with one hand. In the water, it's stable and easy to paddle, even for an inexperienced paddler, and tracks well for its short waterline. Once she got inside, she didn't come out until time to leave. We spent a lovely couple of hours playing around as the sun went down.
I took the Wee Lassie, which is almost too small for my 6 foot 180 pound frame, but a fun boat to play around in. Dave says the transparent skin is not very practical – it's hard to work with the PVC, which stretches only when you don't want it to, and is not as durable as fabric. He built it for display at boat shows to reveal the framing. And it actually worked – both as a boat and attention draw.  It is pretty cool looking.
Despite advising against it, a number of other boats in different models have been built this way, both by Dave and by customers. The effect is clearly best in super clear water; but even in our murky green reservoir, it was nice to see the sunlight sparking through the sides, and watch the plants gliding by.
Dave and his daughter settled in to the big motor canoe. He uses a small 12 volt trolling motor that he customized with a varnished wood cowling – new tech with a vintage look.  They spent the whole time exploring the shoreline, sneaking up on herons, and zipping back and forth around the lake.
The big canoe, with the two of them, is so light it's easily driven by the little motor and a small battery – smaller than a lunch box. Takes so little power, Dave says, by the end of the evening it would still show fully charged.
The test run is a success. Next step is to build one for T. After that, maybe one for me.