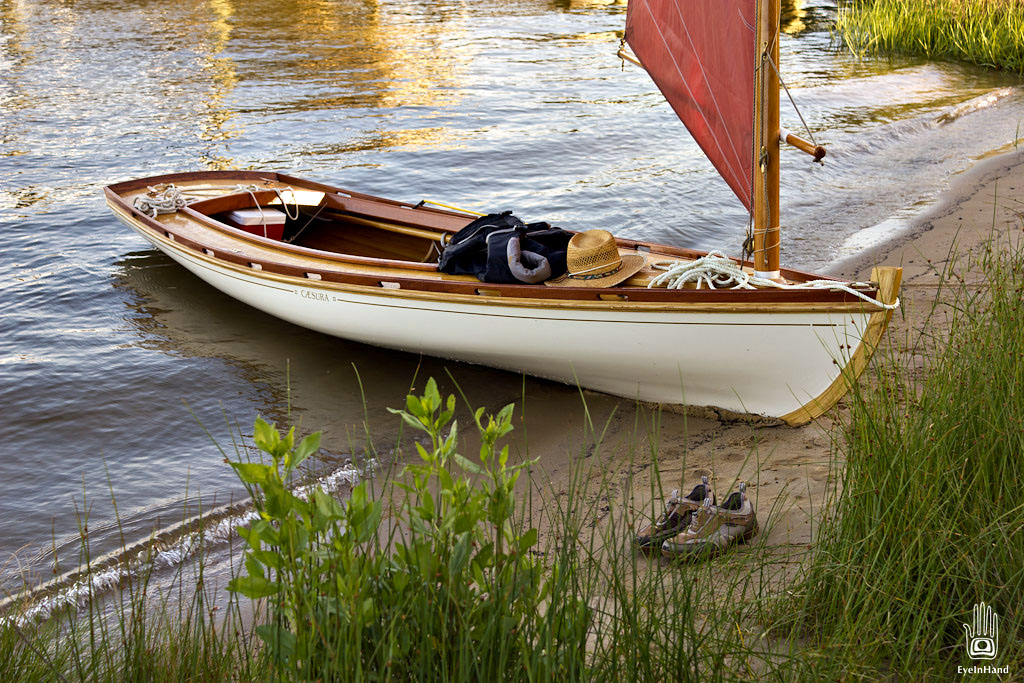 Caesura on the beach.
Finally getting around to playing with the photos and video from last weekend. Every year, John and Vera England host the Urbanna Small Boat Meet. Great people, and we see them often in St. Michaels at the festival. I don't know if John has a title, but he's been a driving force behind the Deltaville Maritime Museum, leading many boat restoration and construction projects.
Adirondack Guideboat
For at least the last several years, the Meet has been held on the Piankatank River between Urbanna and Deltaville, at a place surrounded by farmland called Freeport Landing. It was once a steamboat landing, and the old General Store is still there. It's privately owned now, and a beautiful spot with a good dock and ramp, and a small sand beach. Perfect.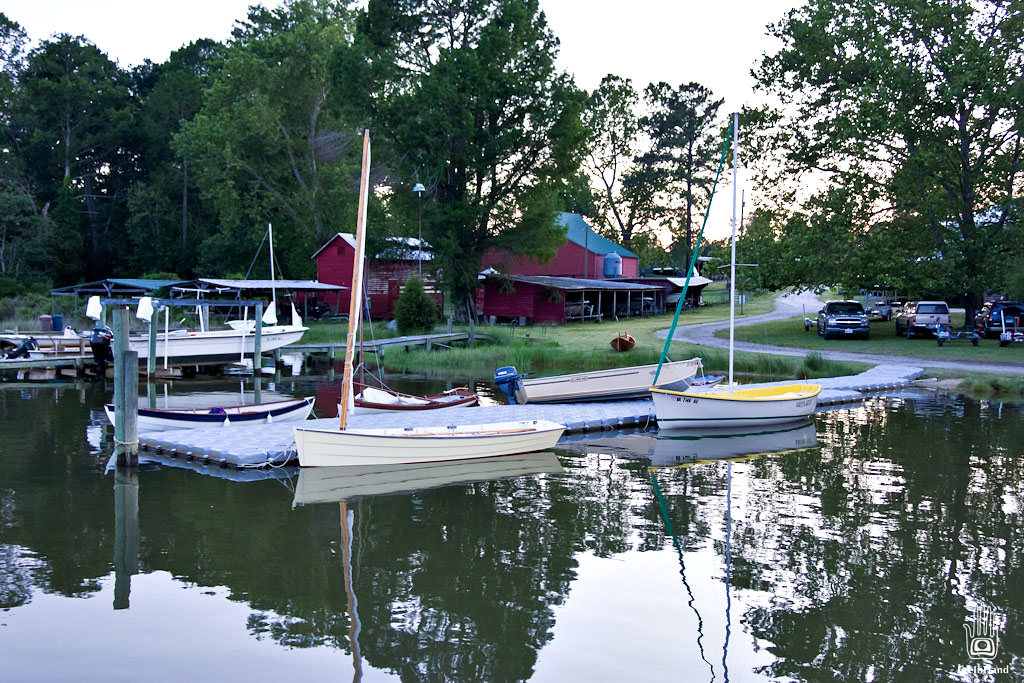 Freeport Landing
Most folks come down for the weekend, camping on the grounds. Many folks I've run into before, and some I know well. Doug Oeller, for instance, was there with Comfort, his Marsh Cat. I could only come down for the day, but I certainly made the most of it.
Doug Oeller's Marsh Cat "Comfort" 
This was one of those odd sort of springy days when the wind can't decide what it will do. It was the tail end of a mild Nor'easter. In the morning the wind was gusting over 20 knots. By mid-afternoon it eased off considerably. Still some gusts, but not as strong, and they came between longer and longer periods of gentle to dead air. I started out holding on for dear life, and a number of Hobie Cats got knocked down. By the afternoon I was sailing standing up, and as the day faded began to doze off.
Tanbark Sail, Blue Sky 
Maximum sustained speed was 5.7 knots. Not bad.
I planned to use the opportunity to try anchoring and pitching the boat tent on the water, but was having too much fun sailing, and only reluctantly came off the water in the almost dark. The Chesapeake Float is only a week away. Guess I'll figure it out. Doug will be there for that, too, and he'll probably get a good laugh at my expense watching the show. His advice was to pitch the tent before imbibing too much. Duly noted.
As I was loading up to leave, Vera invited me to stay for dinner with the rest of the group. I was treated to some great food, and Doug dug out a few beers to share. Quite nice. It was hard to leave.
Here's some video from the trip. Still trying to get the hang of sailing with one hand and working the camera with the other. And yes, not only was I sailing standing up, but found I could simply lay down and let Caesura take the gusts in stride. Really starting to love these boats.