Emily in her kayak 
One nice thing about a big loop in a river… It doesn't take much driving to set up the shuttle to float it. Saves a lot of time.
On Sunday, we left Emily's car at the ramp at Four Locks, then loaded up the boats and headed over to McCoy's Ferry. It's a short trip, but we passed through tunnels under two canal aqueducts and a really high train trestle to get there. The ramp at McCoy's Ferry isn't in great shape, but we got loaded and launched without too much trouble.
Launching at McCoy's Ferry
Our trip would be just 5 miles, essentially the whole loop in the river, but all of it in the slow, deeper water backed up by the dam. A pleasant casual ride, rowing just enough to keep moving.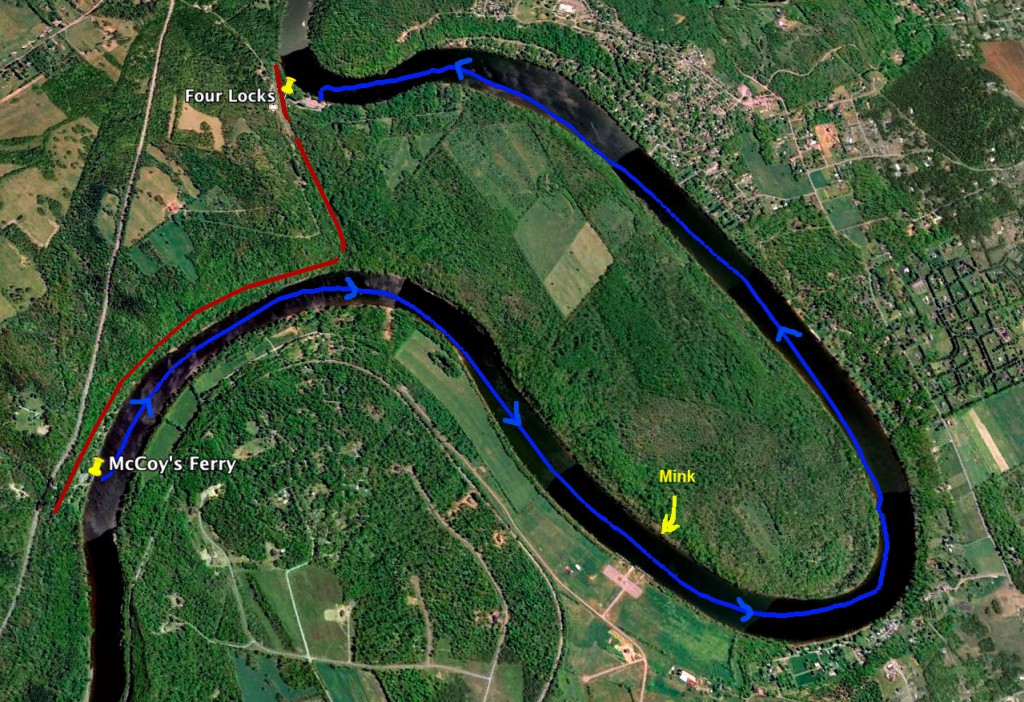 The C&O Canal cuts overland from McCoy's Ferry to Four Locks, bypassing this 5 mile loop in the Potomac. The knob of land it crosses, Prather's Neck, is 1 mile wide. It's pretty – Emily and I drove down a very rough old road to the end of it – and pretty hilly. Steep cliffs rise from the water along parts of the Maryland shore.
Though it looks like the canal engineers took advantage of a natural swale across the neck, possibly an ancient river bed of the Potomac, they still had to excavate a lot of earth to make the cut, plus build the four locks of Four Locks to raise the canal another 33 feet to get across it.
The Canal cuts overland, bypassing Prather's Neck
Seems like a lot of extra work to dig and maintain a deep canal, and all those locks, just to save four miles of floating at river level. Figure how long it would take to enter each lock, wait for it to fill, open the gate, float to the next lock, wait for it to fill, etc. Do that four times. And go a mile. Yup, you could float those four extra miles at river level at a mule's pace in less time, or very near it. The dam downstream even makes it a trip in slack water both directions. Maybe I'm missing something, but seems to make no sense.
It was a really pleasant trip. Chilly in the morning, with a little mist still hanging on the water. By mid-day the sun was out and warm.
Emily often stopped to pick up trash along the way (she does this everywhere she goes) pulling a fire extinguisher out of the weeds, a bullet hole in it. It stayed strapped to her kayak for most of the day.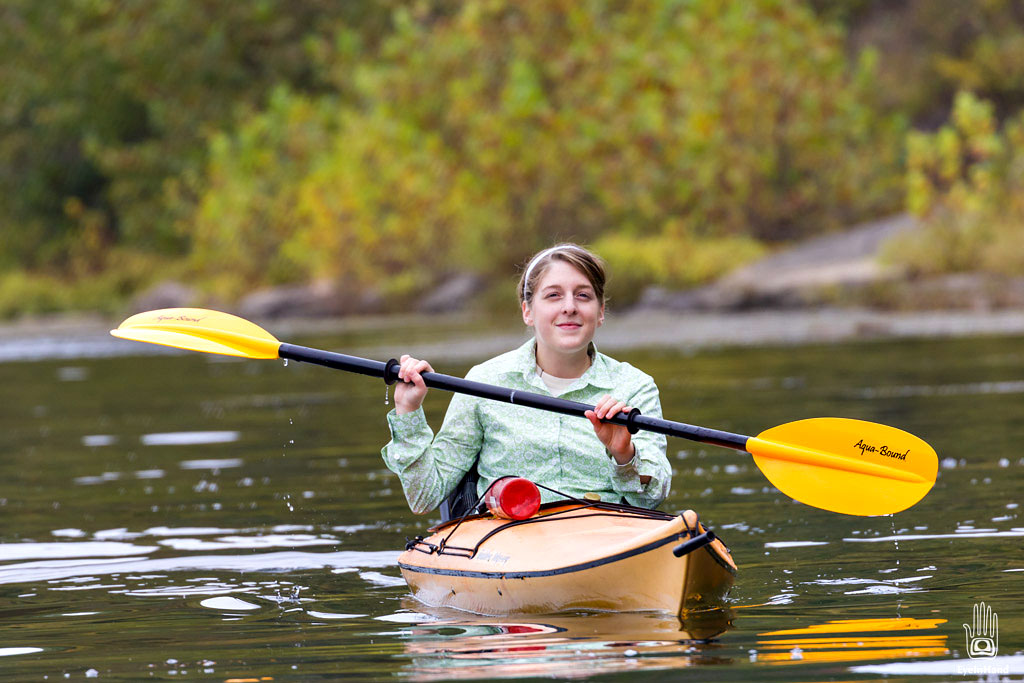 We saw a lot of wildlife for a relatively short trip, all along the left bank – which, including Prather's Neck, is National Park and wildlife preserve. Herons, Kingfishers, some ducks, turtles, deer, wild turkeys, and heard things we couldn't see.
Great Blue Heron
Red-bellied Cooter
Emily stalking the wild mink
The highlight, though, was a wild mink. I've never seen one before. He was bounding over the rocks along the north shore, fishing probably. I didn't know they ate fish. Very cool. I was about 50 feet away, but I managed to grab some shaky footage before he disappeared. That, and some highlights from the rest of the trip are in the video here:
On thing that really hit home was how badly people manage land when left to our own devices. The north shore, the Maryland side, the side with the C&O Canal and National Park along the whole route, has been left in it's natural state. The forest comes right down to the water, with tall trees growing right up from the shore. Even where the river turns, and the full force of the river is brought to bear upon it, the banks are stable with no erosion.
But, on the south shore, the West Virginia side, it's all private land. A few campgrounds and large parcels now and then, but mostly it's been cut up into small lots. People have lined that shore with cabins and trailers to get near the water. To "improve" the view, they cut down all the trees and clear the banks. Now the banks, and their lots, are all eroding away rapidly. In order to keep them from disappearing altogether, they've collectively spent 100's of thousands of dollars armoring the shore with stone riprap. More money has to be spent to maintain it after every flood. If one landowner slacks up, it puts them all in peril. That shore is now mostly barren and ugly, losing a battle just to keep it in place. If they'd just left what was already there, and built their cabins and parked their campers among the trees, everything would not only look better, but would be more stable without having to spend a dime on keeping it that way.
We saw evidence of this the entire trip. On the left: beautiful forests, all sorts of wildlife, a healthy shoreline. On the right, eroding grass lawns, banks cut away and collapsing, the forest cut back 100 feet, some cabins flood damaged and in disrepair, at best a stone rubbled and weedy shoreline.
Needless to say, we stayed left, and spent most of our time looking that direction. Bandit didn't seem to mind either way, and he didn't work too hard, either.