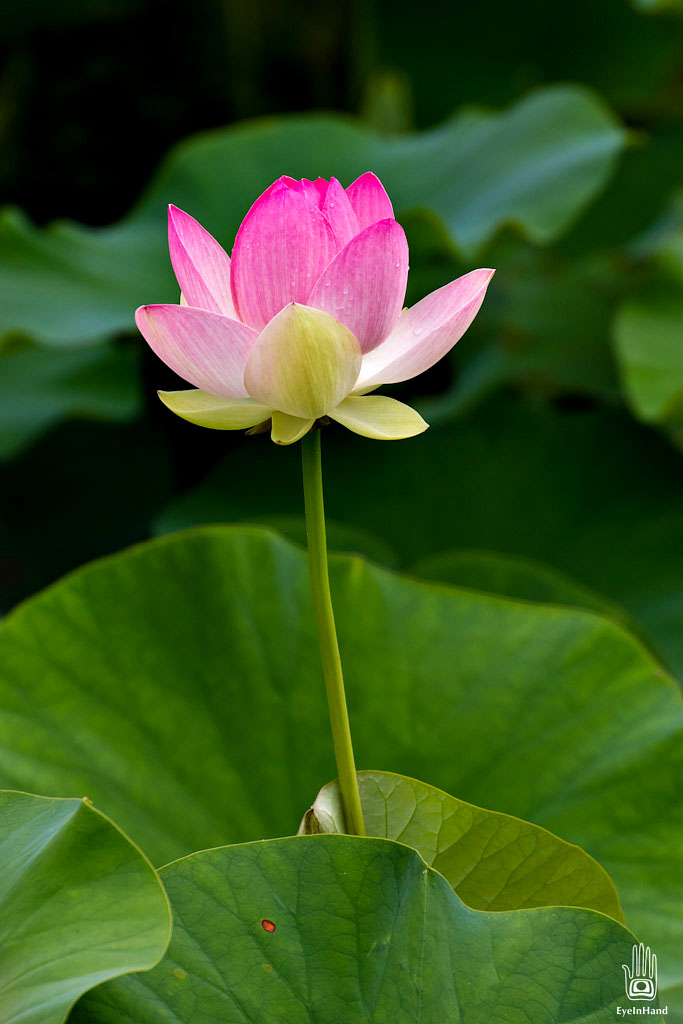 Roadside Lotus Bloom 
Back Bay National Wildlife Refuge has been on my list of places to visit for a long time, even before the boats were started. Mike Wick tells me he's very interested in a Back Bay trip, too. Maybe this Fall.
Wide and shallow behind Virginia's southernmost barrier islands, it's actually the northern end of the Carolina sounds of the Outer Banks, and a major stopover of the Atlantic Flyway. Every winter, hundreds of thousands of migrating shore birds, ducks, and geese move through here on their way south. I've always wanted to see that. Ideally, I would launch from the western shore, sail across exploring along the way, and camp on the barrier island to the east in False Cape State Park, where there are docks to tie up, and more cool places to explore.
A winter trip in a small open boat requires careful planning, though, so after leaving Steve Earley in Norfolk, I took the opportunity while in the area to make a scouting trip.
Back Bay is an odd piece of water. At 5 miles wide and 15 long, it's the largest natural body of fresh water in the state. That's right, fresh. Well, sometimes. Over the last several hundred years, Back Bay has been everything from salt with lunar tides, to brackish, to fresh with only wind tides. Storm overwashes from the Atlantic, inlets opening and closing in the barrier islands over time, and various natural and manmade events have changed Back Bay from salt to fresh and back again many times just in the past 100 years.
The Atlantic now enters by way of Oregon Inlet 70 miles to the south, and doesn't make it this far north. Recently, the only saltwater reaching the Bay has been pumped in since the 70's by the city of Virginia Beach, at least when the pumps weren't broken. Apparently, this was done in a dubious attempt to "manage" the wetlands. Due to equipment and budget failures, the on-again off-again nature of the pumping created wide swings in salinity with disruptive alterations to habitat. Simply buying up and fallowing lands along the shores, and working with farmers and the city to reduce contaminated runoff, have had more lasting positive effects. That done, and left to stabilize naturally, the Bay seems to be doing far better now without our meddling. That's whole interesting story all its own.
It's also very shallow. Average depth is around 3 feet, and only reaches 10 feet in the deepest channel. That depth can change drastically with the direction and strength of the wind, though. Several days of strong northerly winds literally blow all the water out of the Bay, leaving nothing but miles of mud flats. Turn that around with wind from the south and you get flooding over the banks, covering docks and roads. That's what I encountered on this trip.
Last Winter, doing research in Google Earth for launch ramps, I found only a few. The most promising seemed one maintained by Game and Inland Fisheries at the end of Mill Landing Road. It's right in the middle of the Bay, with access to the northern and southern ends, and False Cape is due east. Zooming in I saw what looked like a boat motoring near the shore. Zooming in further I was startled to realize it was actually a pickup truck throwing a wake. The road is definitely flooded. By the ripples on the water it's clear the wind is out of the south. I figured this was an odd and probably rare occurrence.
Mill Landing Ramp from Google Earth
Maybe I just have bad luck, but it's apparently neither odd nor rare. Water was well up over the road when I got there, and was too deep to risk in the low clearance Prius. I might have made it, but there was still two hours until the nearest high tide. Not knowing how much tidal influence there is at this point, it didn't seem prudent to take a chance. I might get out there and not get back. A high riding pickup pulling a boat came by and plowed right on through. So close, and yet so far.
Mill Landing Road, stopped by high water.
Next option is a ramp at NWR headquarters at Princess Anne, the end of Back Bay Landing Road. Steve had been to this spot recently, and sent me photos when he heard I was interested. It's a good sheltered spot, at least a little above high water, but it lies at the end of a half mile canal. You could row out pretty easily if you didn't have a strong headwind, maybe even sail if it was in your favor. This spot is a reasonable option if high water makes Mill Landing iffy.
Princess Anne NWR Ramp at Back Bay Landing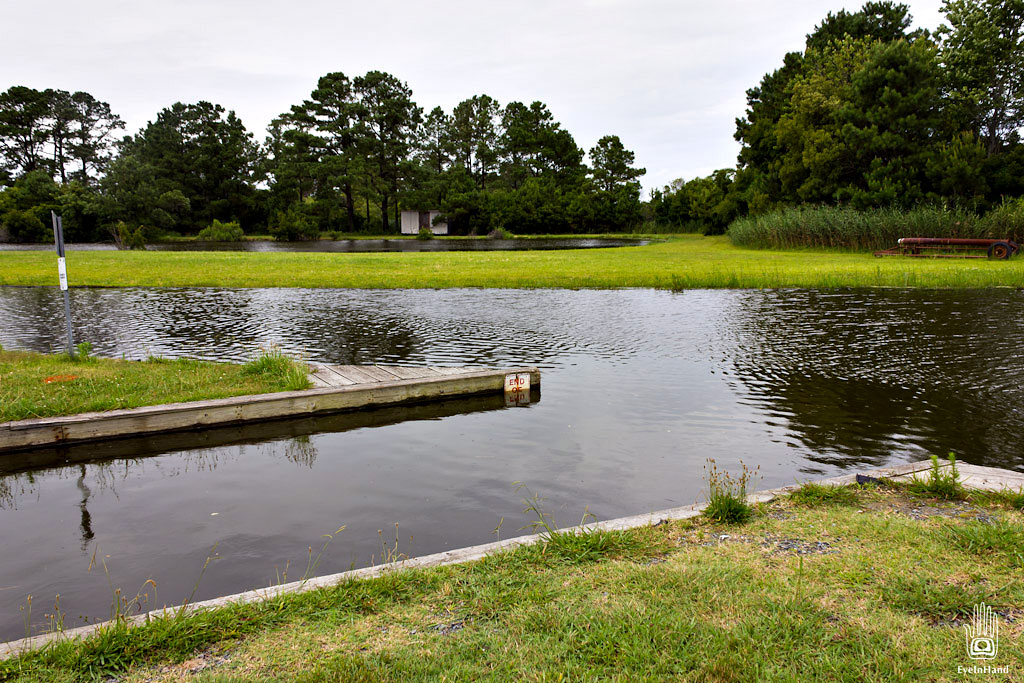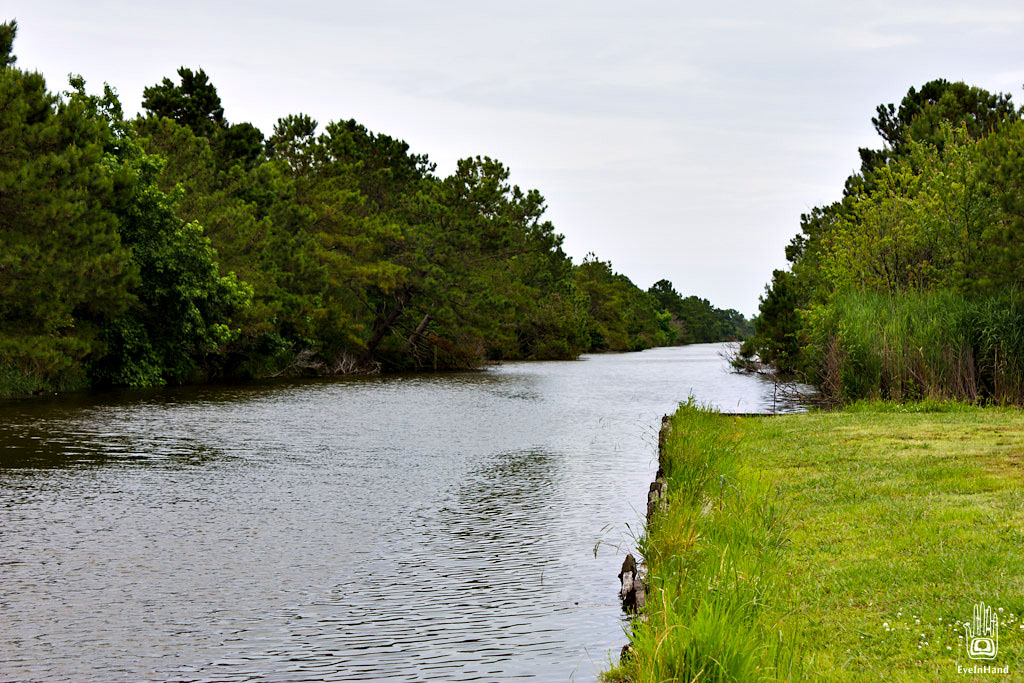 Canal leading out to Back Bay
Further south, across the state line into North Carolina on Knotts Island, is a nice ramp with a good parking area at the end of Brumley Road. This is probably the surest bet. In rough weather, it provides quick access to sheltered areas between islands, which are perfect for exploring anyway. It would make a relatively easy trip to False Cape State Park. It's the only State Park in Virginia that you can't reach by car without driving through North Carolina. It's separated from Virginia Beach by miles of wildlife refuge, and vehicles aren't allowed. Better to take a boat. I think it only appropriate to get there from the only place in North Carolina you can't reach by car without driving through Virginia, unless you take a boat – the ferry from Currituck.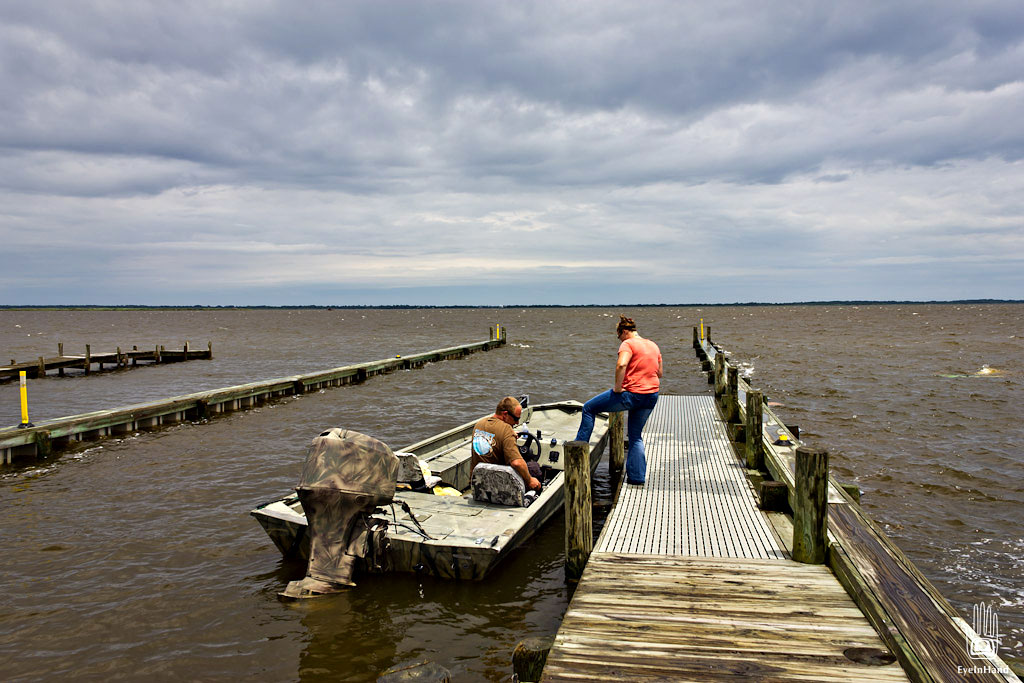 Brumley Road Ramp 
Knotts Island is beautiful. A small remote community, it's a long drive across windswept marshes to get there, through Mackay Island National Wildlife Refuge. Lots of wildlife. Lotus were blooming in the ditch along the side of the road, mixed in with purple Pickerel Weed.
We'll watch for good weather windows when it cools off some, and the bugs are too bad. A four day camping trip sounds pretty good.