Fresh raw oysters at Merroir
Regardless of how we faired sailing, there was one place I wanted to end up before the day was done – a restaurant on the south shore of the Rappahannock called Merroir.
In the wine industry, there's a word used to describe how the same variety of grapes will produce a distinct flavor of wine, unique the place where it grows. It's called terroir. The term merroir was created to reflect this same phenomenon for oysters. I love seafood, so anybody who loves it enough to invent new words for it is someone I need to know.
the restaurant, still true to its humble roots
Back when Terri and I were last in the area we tried to get there for lunch. We found it, but the little place was so packed it would have meant waiting all afternoon to get a table. Once again, for Doug and I the threat of rain worked in our favor. It was only half packed. Actually, it was still packed. But, if we were willing to sit outside in a 20 mph wind and possibly get rained on, we could have a table and a view of the river to boot. We said "heck yeah," and grabbed our rain jackets.
The Rappahannock River Oyster Company, which owns the restaurant, was started by two cousins who inherited a 100 year old oystering business from their great-grandfather, whose oyster leases had been laying fallow for a decade. But they quit their day jobs and decided to go for it. And it's been a great success.
Traditionally, oysters in the Bay were harvested wild, using skipjacks and dredges, clawing the shells up from the bottom; but for a variety of reasons this method is unsustainable. When I was a boy, my grandfather owned an old oyster shucking house on the north shore of the Rappahannock, just across the river from the restaurant. My brother and I remember climbing over the middens and finding shells as big as size 12 tennis shoes. Those days are long gone, and the commercial oyster harvest is almost gone, too. The guys who restarted the family business knew they needed a better way, so they learned aqua-culture.
They start with their own spat raised in a nursery, there on docks by the restaurant. Once large enough, they drop the young oysters into protective growing cages scattered around the Bay to mature. The result is a menu of oyster flavors that range from sweet and fresh, to salty as a wet kiss from a mermaid, and several steps in between. My favorite is the Stingray, one step down from the briniest.
After selling their oysters to the best restaurant in New York, they opened their own small place there at the nursery at Locklies, and now have three restaurants in all. I don't know about the others, but all the food at Merroir is cooked outdoors on a grill, so you can watch as it's prepared.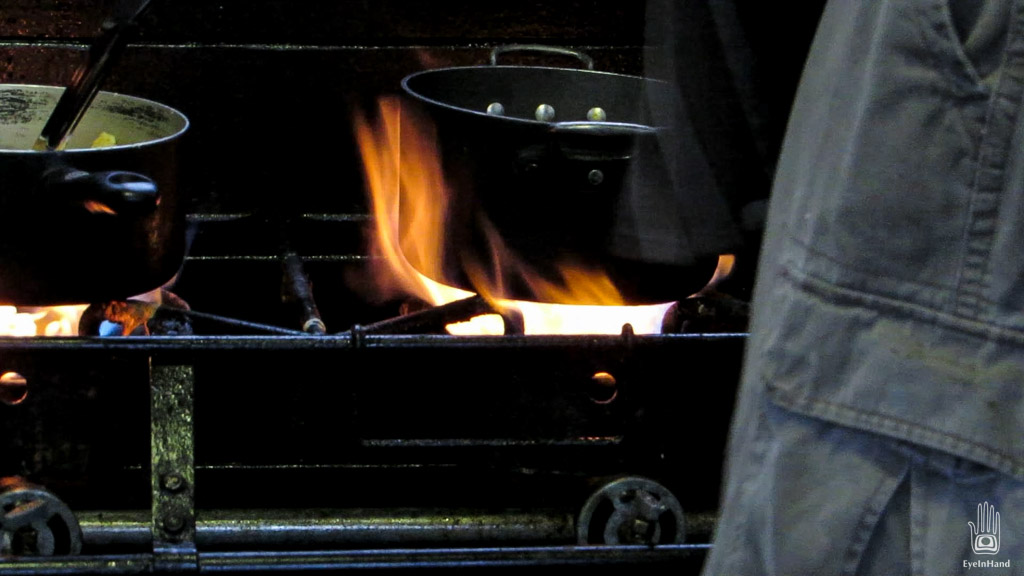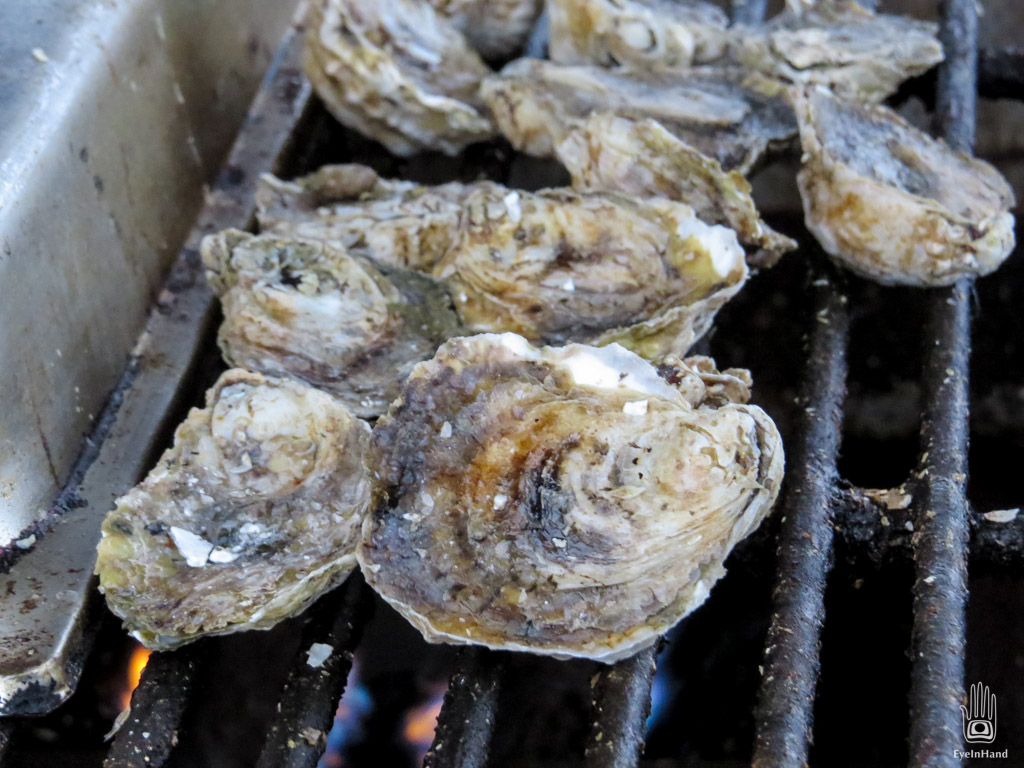 Doug and I were pretty dang hungry. We ordered three entrées and two appetizers to split between us – a mixed variety dozen of raw oysters, a pound of spiced shrimp, seared scallops, crab cakes, and a steamed-oyster-with-seasoned-ham dish called "Angels on Horseback" just because we liked the name. Plus locally brewed beers. Doug even had a fine stout made with fresh oysters farmed right there.
As the food began to arrive we got a good look at the river, and were glad we opted not to try for big water. Rollers marched relentlessly up from the Bay in lines of foam and scud. It was nice to see it from the safety of land, with food and beer in hand.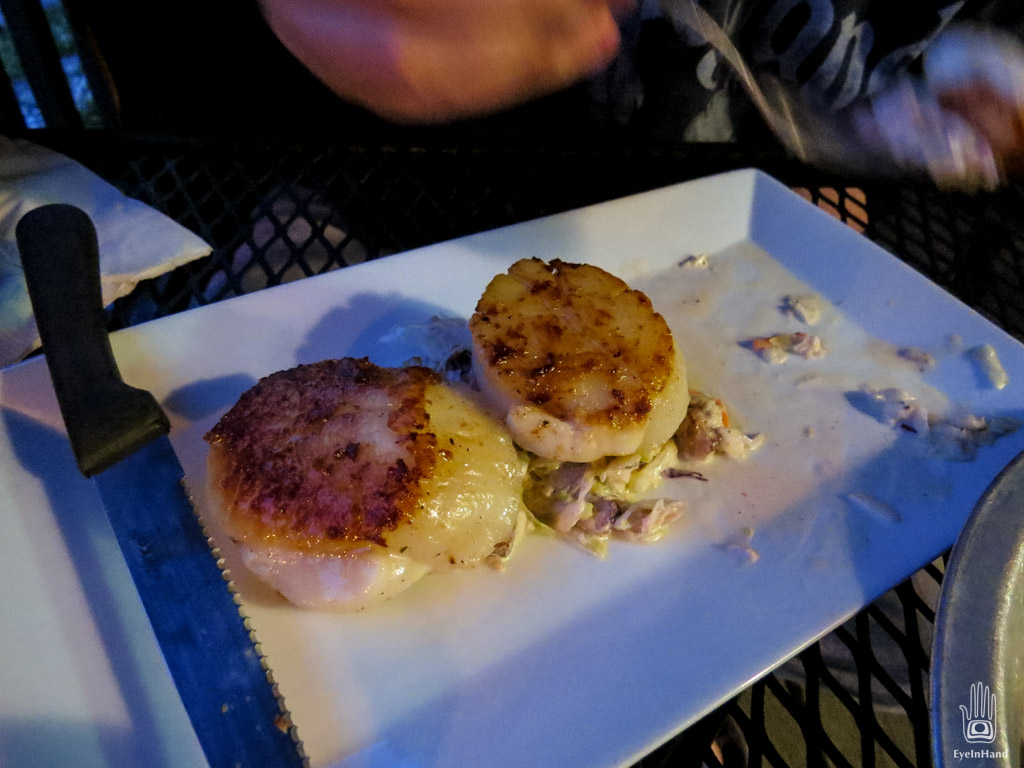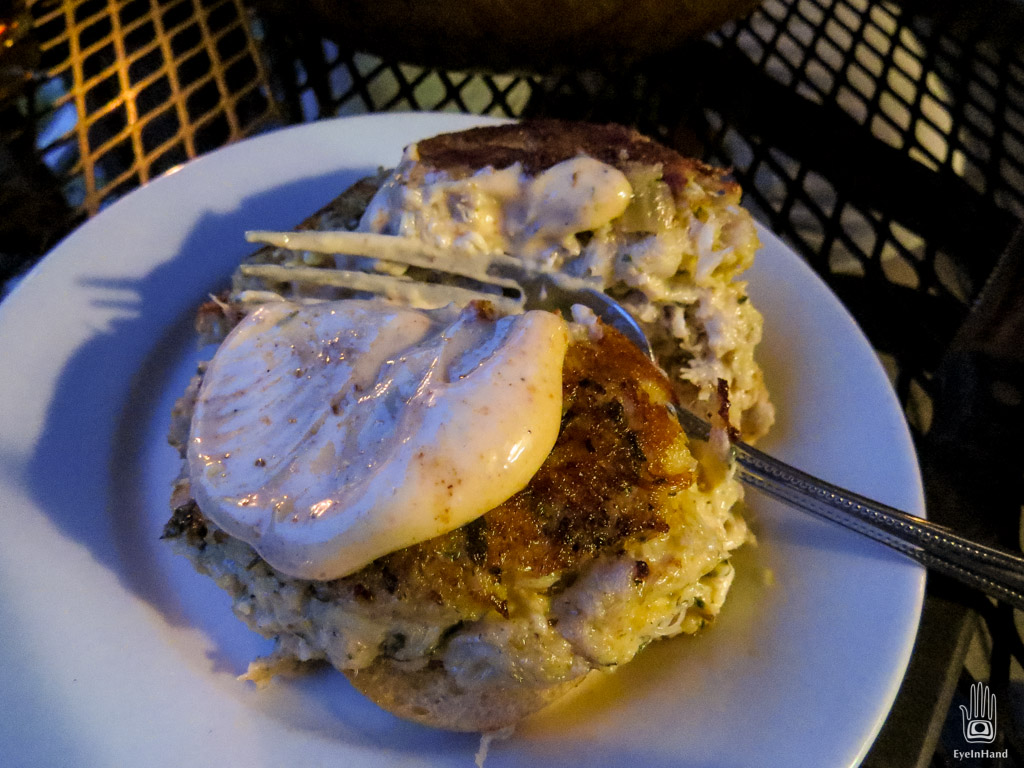 The food was amazing.
It was late by the time we left, and the predicted rain finally started. A good day, and a full day indeed – we didn't pull into Scottsville until sometime after midnight.
Merroir is a place I will definitely bring friends to, and Terri will be anxious to get there. But they don't take reservations. If you go, plan to stay a while. They've gotten a lot of great press lately:
Rappahannock River Oysters: Bringing Back the Bivalves from eatTV on Vimeo.
 A nice story on the farming operation.