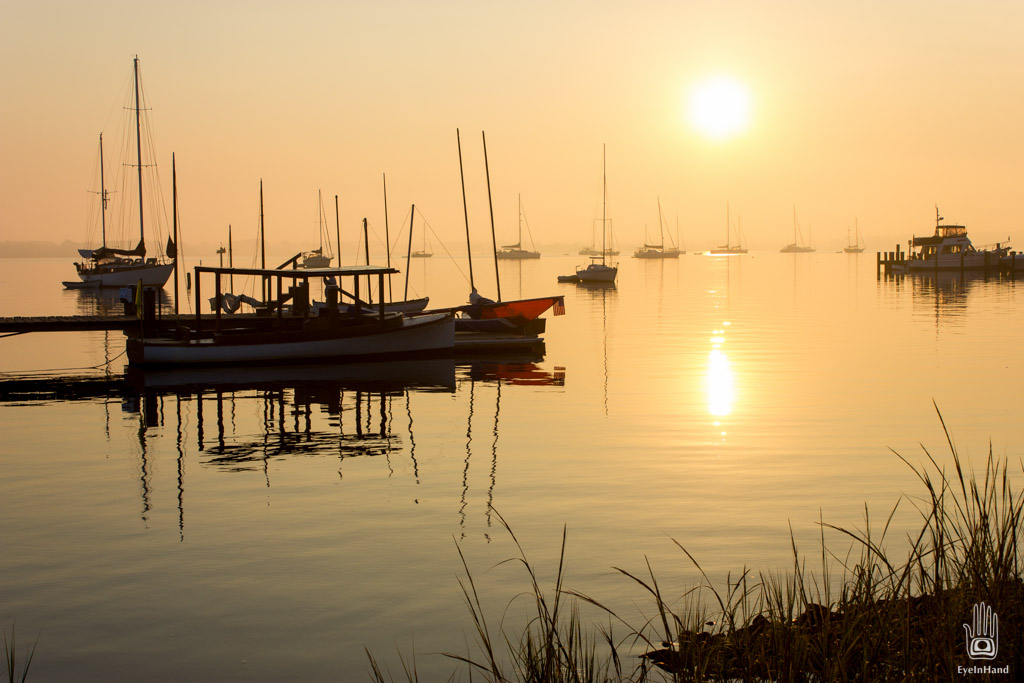 Fogg's Landing  
Photos from Day 1 of the Mid-Atlantic Small Craft Festival
With so many photos I'll post them in batches over several days, so check back for more.
We rolled in about an hour before dark on Thursday. Too late for the annual gunkholing trip, but early enough to clear the pine cones before pitching the tents. Tents everywhere already. Clearly, more people arriving early than previous years.
That would prove true the whole weekend – more people than before. Many old friends and familiar faces, familiar boats. Many new ones. I confess I remember the names of the boats better than those of the people. Meetings tend to go like: "Oh hi! You're (insert name of boat here), right?" People nod and smile, pleased you remember. It's an odd trait of boat builders, I suppose, and universally shared.
T stayed home to work on art commissions this year. Both girls took time off work to come this time, though, and had a blast (actually, Emily got her time off curtesy of Congress).
Friday is my favorite day. More relaxed before the crowds arrive. Mostly boat builders and owners. Time on the water, time to catch up. Unusually warm weather for October, in the 80's every day. Light winds, but beautiful.
Pictures tell the story:
Morning in St. Michaels starts at sunrise with strong coffee around Fogg's Landing. Lot's going on even at that early hour. The sun comes up over the Miles River like a ball of red hot nickle, and the way everything is oriented along the water means the light changes constantly and dramatically throughout the day. At my grandfather's house, which faced south across the Rappahannock, the light stayed mostly constant – everything was backlit all day long. Here it changes by the hour.
We got the boat launched, and the girls took Caesura out for a row with the dogs. One of the things they like about coming is it's a dog friendly crowd, and town. A history of working dogs here.
There's a fine dog friendly Crab & Steak House restaurant across the harbor in town, right on the docks. We can take the dogs, sit out on the patio, and they bring water and treats for the four-leggeds while we get the oysters, crabs and fresh caught rockfish.