Steve Earley in Spartina 
A long time ago, when I asked why puffs of wind coursing across the water were called "cat's paws," I was told it's because the wind makes patterns on the surface shaped like a cat's paw. Sounded reasonable.
Well, obviously, this is wrong. And clearly an explanation made up by someone who never set foot on a sailboat once their whole life.
They're called cat's paws because the wind is effing with you the way a cat tortures a small, helpless creature before killing it. This was eminently clear throughout most of the day as Steve and I were sailing in Spartina. In a small boat, gusty wind slaps you around with the open hand of your mortality, for amusement. As each puff hits, you wonder "Is this the one, the final swat, or just another bruising feint?"
This was one of those "variable" wind days often noted in the weather forecast – 10 to 15 gusting 20 to 25. Sounds so benign until you have a cloud of sail overhead. You get lulled into complacency for a half hour or so – relaxed, content – then WHAM! out of the blue a gust suddenly knocks the boat over on the rails, the two of us diving for the gunnels on the high side to hold her down. Once you've been caught unawares and smacked around a bit, you learn to spot them coming. They make a dark stain on the water that fans out as it approaches.
Actually, this day wasn't that bad. Just startling, keeping us on our toes; but we did get knocked over on our ear a couple of times.
Steve is nervous as a cat on the water here, anyway, what with all the floating office buildings trying to run you down. He's constantly scanning in every direction for where the next hazard will appear. You have to. Add some random punches from invisible wind blasts and you get as twitchy as those Homeland Security harbor patrols. All it took was my gaze locking onto something briefly during a conversation and Steve was instantly in avert mode. A dark patch on the water coming our way was enough to stop us both mid-sentence. Unconsciously, we took up positions so we could each look opposite directions.  We'd go from no main, to reefed main, full main, reefed main . . . I am certain that from years of adjusting sail to conditions Steve can now do it blindfolded.
I took video periodically during the trip. Sometimes with a little waterproof camera swinging out on a pole (prepare to get seasick). It's a bit longer than most, but there's a lot of variety. You'll see where one gust hit us when the camera was hanging outboard, and the boat goes over hard. It's around 8:40. This wasn't even the big one, which hit when the camera wasn't running. That one had us leaping to put both bellies on the windward rail, looking at each other a little wide-eyed until she came back down.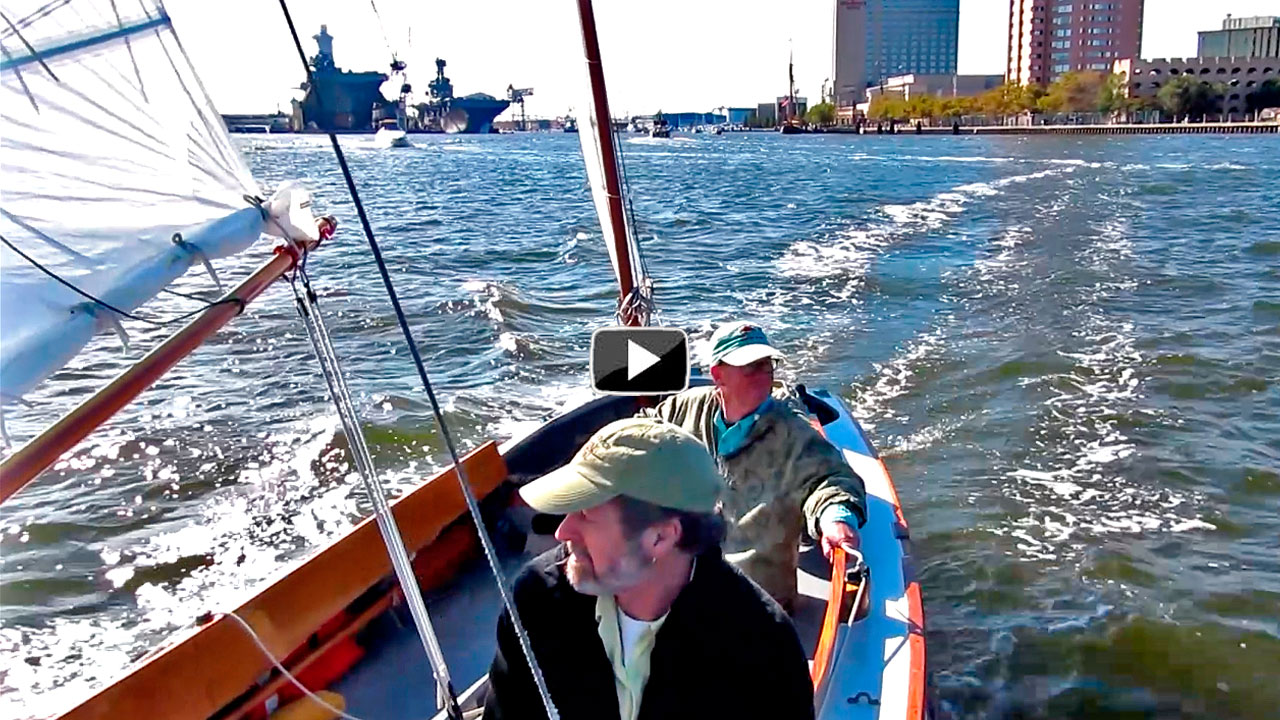 Sailing on Spartina video link
Otherwise, it was a very, very pleasant ride. I know, between the wind and the barges it's sort of like saying, except for the incoming mortar fire and IEDs, Baghdad is a nice city; but really, it was sunny and warm, with mostly steady breezes, and nice boats and big ships coming and going. Very nice. The gusts backed off a bit as the day warmed up, and it wasn't nearly as exciting.
The schooners headed out, some under sail, some going fast under auxiliary power. A freighter goes by, looking big until it comes alongside the cruise ship. A fellow who lives on a sailboat with lovely classic lines, anchored in the harbor, rows to and from in a rough plywood box. There are a pair of boats sunk at their moorings, clutching each other in death like tragic star-crossed lovers, aircraft carriers in drydock, tugs, patrol boats, and boats just passing through.
Always something new. I can see why Steve likes it.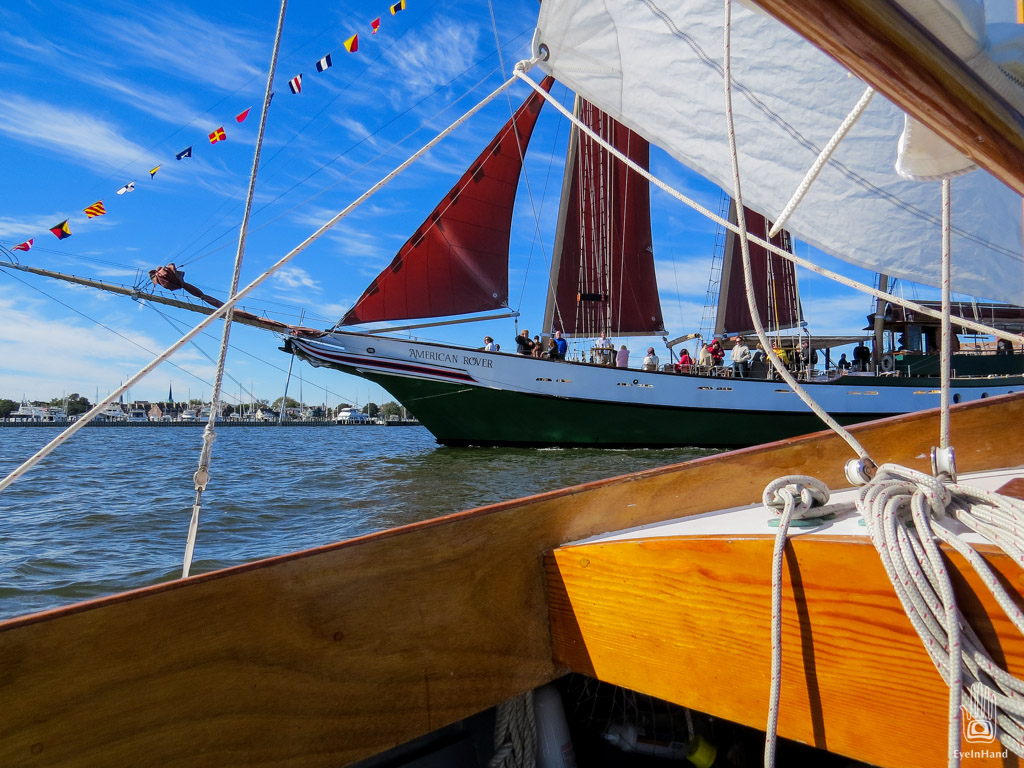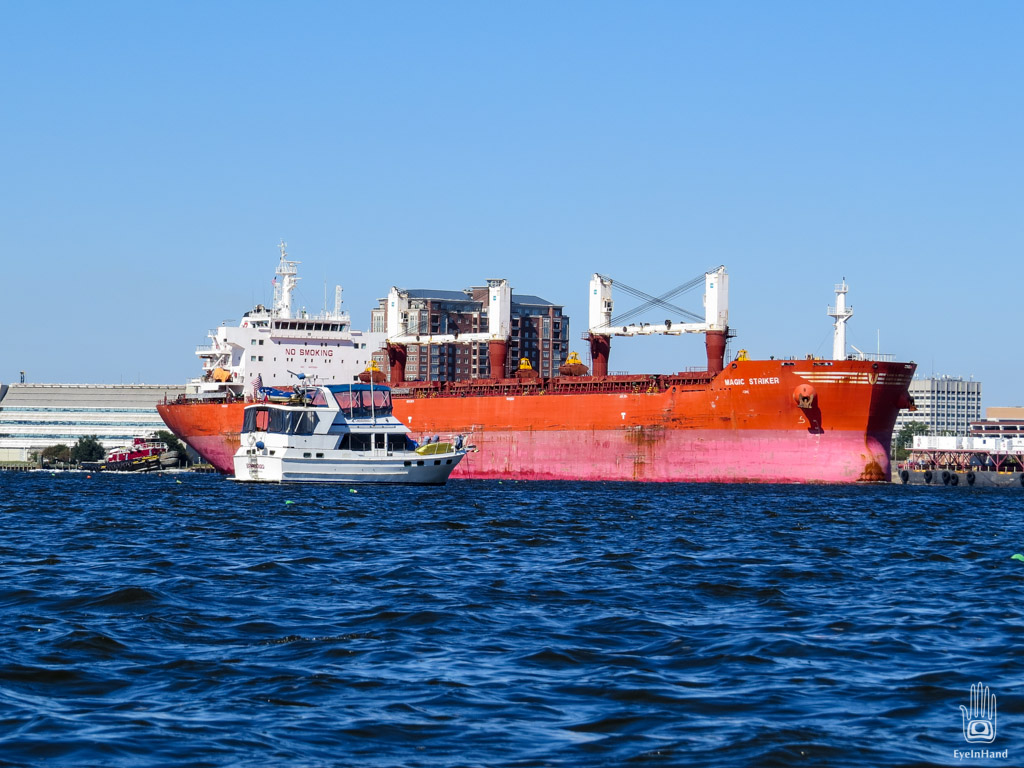 Thanks for the sail, Steve.
Link to Steve's blog of excellent adventures: