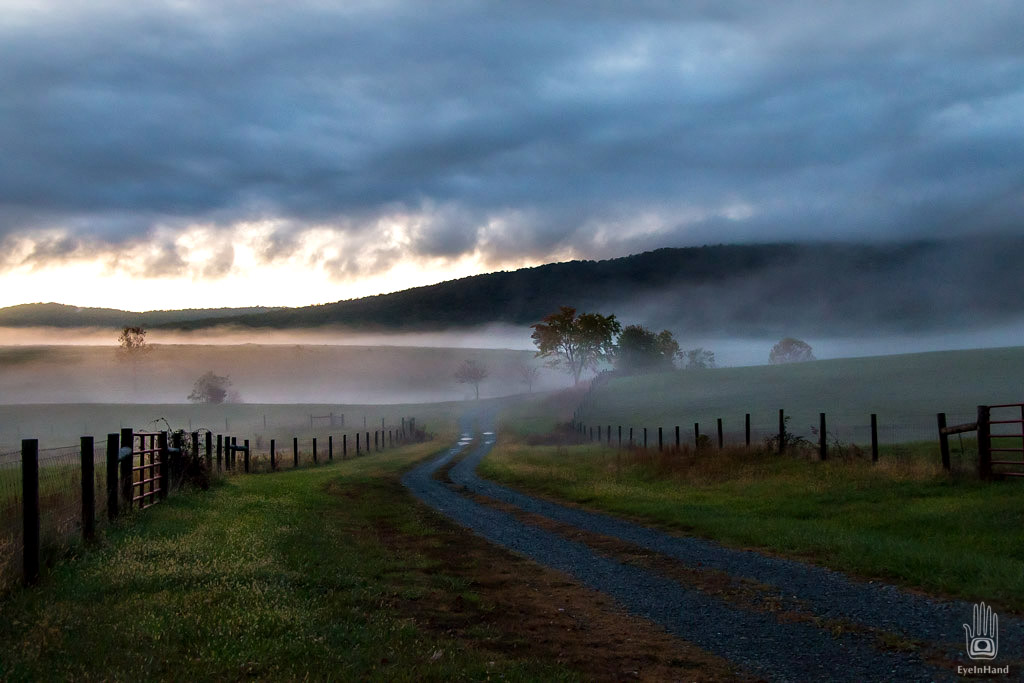 Fog in the valleys, Albemarle County 
It's still dark and I'm heading again for the Chickahominy. The sun has not yet risen and fog, blue and cold, is curled up in the valleys, sleeping over creeks and streams. There is frost in the hollows. When the sun finally breaks the tree line it sets a veil of mist over a farmer's pond on fire as I pass.
Dark road, sunrise.
It is late in the year to be sailing, even here in Virginia. The last day of October, All Hallows Eve. But a handful of us are meeting at the confluence of the Chick and the James to squeeze in a few more sails before winter. Caesura was freshly varnished for MASCF in St. Michaels before it was cancelled ahead of Hurricane Joaquin. She got one good day of sailing at Janes Island on the Eastern Shore on the consolation trip. I'm hoping to get her out a couple of times this weekend.
The other guys arrived mid-week, staying overnight with Harris and Barbara, who are graciously hosting us all. They had a good day of sailing yesterday, I hear. I'll meet them at the marina by 9, taking Route 5, the old plantation road along the James for much of the way.
When I enter Harris' neighborhood there's an unexpected delay. People of all shapes and sizes, and ages, are jogging toward me up the road. In costume. Skeletons, ghosts, giant lizards, fairies, etc.. Not all are exactly jogging. Some are more bobbing vigorously as they walk, which sort of gives the impression they are jogging. It looks like some kind of charity run.
Dour looking sheriff's deputies direct traffic off to the side, taking it a little too seriously. Police cruisers with lights popping off are escorting cars slowly around the procession. Perhaps I just need more coffee.