Lightning #2833, in transit 
I had a whole week to reconsider. I don't know with any certainty what shape the boat is actually in, and won't until I get it back and can crawl all over it, inside and out, poking every potential rot spot with a sharp screwdriver. That much is still unknown. But I can do some research in the meantime.
Of course, I come across some very exciting video online. This one is three fellows in Greece flying along on a crazy fast plane in 25kts of wind:
Also, a few shot by people sailing solo, or in pairs, which is encouraging. This guy alone on the Chesapeake, even operating a camera at the same time (good to know):
I find there's a Yahoo group devoted to restoring and using old Lightnings, and several regulars on the WoodenBoat forum are former or current wooden Lightning sailors. All good resources.
What I learn, too, is that other people have also had the same idea, and converted a retired wooden racer to a fast and comfortable cruiser. Mostly what it takes is a good reefing system. The production boats simply have no reefs at all – these racing guys either go flat out or go home. They don't even know what reefing is, apparently. The sails just don't come with them. In other good news, most of the capsizes occur when flying that misbehaving monster spinnaker. I don't plan to use one of those, so there's at least some comfort in that.
Otherwise. actual alterations are minimal, if at all. Most people add some form of floatation for safety. It might take the form of simple inflatable kayak bags. Others build in bulkheads fore and aft. This has the added benefit of stiffening up a wobbly old hull with loose fittings, and also creates dry storage for gear. Some add a tabernacle for the mast, just to make single-handed rigging easier. This boat, #2833, already has a good one.
Tabernacle
The two sets of sails are interesting. The owner thinks one set is the original. It's synthetic of some kind, but looks and almost feels like cotton – very supple. It has one shallow set of reef points. However, the bolt rope is unraveling in one place near the peak, and the sewing coming undone there. They're beautiful in a wabi-sabi sort of way. I hope they can be saved. The other set are modern Dacron racing sails made by North. Racers apparently have unlimited budgets, and will use a new set of sails for only one season, then discard them. So these perfectly good used sails are plentiful and can be had fairly cheap. The owner purchased such a set and had the numbers replaced. Not sure what it will cost to get two sets of reef points added to these, but I'll have to look into it.
Also among all the gear brought home are two custom canvas covers. One is only a year or two old. Handy for trailering long distances. There's also a custom made camping tent. I'm curious how this will look when pitched. There are some bronze snaps mounted to the hull to hold down the sides. I gather it goes over the boom and is open in back. If it looks good and usable I may add bug screen to the open end. A potential boon, for sure.
A good anchor with chain. The rudder probably usable, but a real mess. It was converted to a kickup at some point, then screwed in place, likely because it didn't work. The tiller has a hiking stick.
With all this in mind, I am a little more at ease; mostly because if the idea really is crazy I will at least have company. This makes the drive back to Edenton a little less worrisome, if not shorter.
We meet early on Saturday, so if there are still issues there's a better chance of dealing with it. Also, I want to leave time to get at least most of the way home in daylight. I take the precaution of securing trailer insurance through BoatUS in advance, just in case.
John, the owner, is very helpful. He's replaced both tires – one at a time, since he only has one jack. Taking a wheel back to Norfolk to be replaced, then returning to do the other. It's an hour drive for him each way, and a total of four trips. He also replaced the bulbs in the tail lights, and secured everything for transit. Just to be safe, he follows me an hour up the road to make sure all is well, stopping me twice to double check tires and lights.
At the Dismal Swamp Canal
I pull in at the Dismal Swamp Canal visitors center to give things a once over. We shake hands and he heads off. The boat is now finally and fully in my possession. An occasion to snap some photos.
Trailering cover, good view of the hull shape
Fortunately, the boat tows like a dream. I was really worried about this when I saw how big it was. More than anything the shear size put me off. I was afraid it would be so heavy I would end up leaving it at home. The hull weighs 700 pounds; 130 of that is in a steel centerboard. Then there's a lead battery (a bilge pump and lights were installed at some point). But I can barely tell the boat is there.
Going back the same way along Route 460, where traffic is minimal and the speeds tolerable, through a landscape that hasn't changed much more than the boat has since the boat was new. At Wakefield I stop for a late lunch, a BBQ place outside of town. Not exactly as fancy as brunch in Edenton, but honestly just as good.
Motor Mount
Astute observers will notice an odd appendage on the transom. Though not a completely foreign object, it is in fact a motor mount. There will be much ribbing and chastising among the Chesapeake Float crews over this notable feature. I will resist internal combustion until I have to cry Uncle, but I do have an electric 80# 24volt saltwater trolling motor I can't wait to try out it. That motor pushed me and Amanda all day long at 4kts in a smaller sharpie. I'm curious what it will do with this boat.
It's late and dark and I'm tired when I get home Saturday night. But Sunday is nice, so I spend the day pulling things out and putting them away for the season. This gives me at least a first once over with the boat. It is indeed in surprisingly good shape.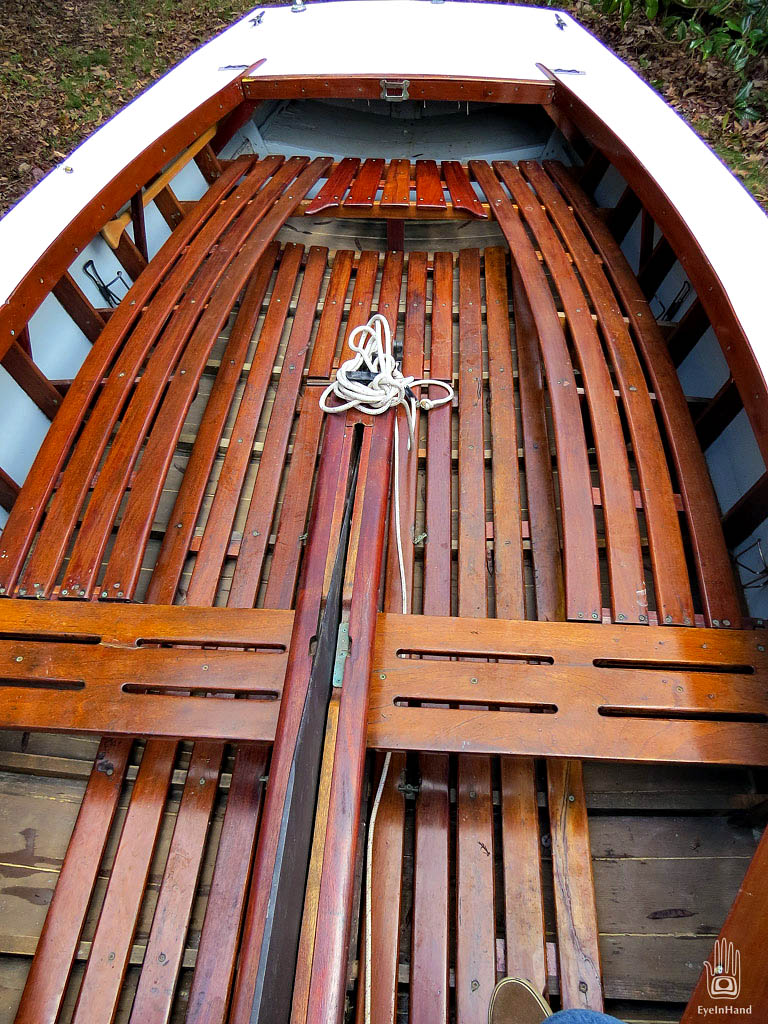 Stern Seat
Looking Forward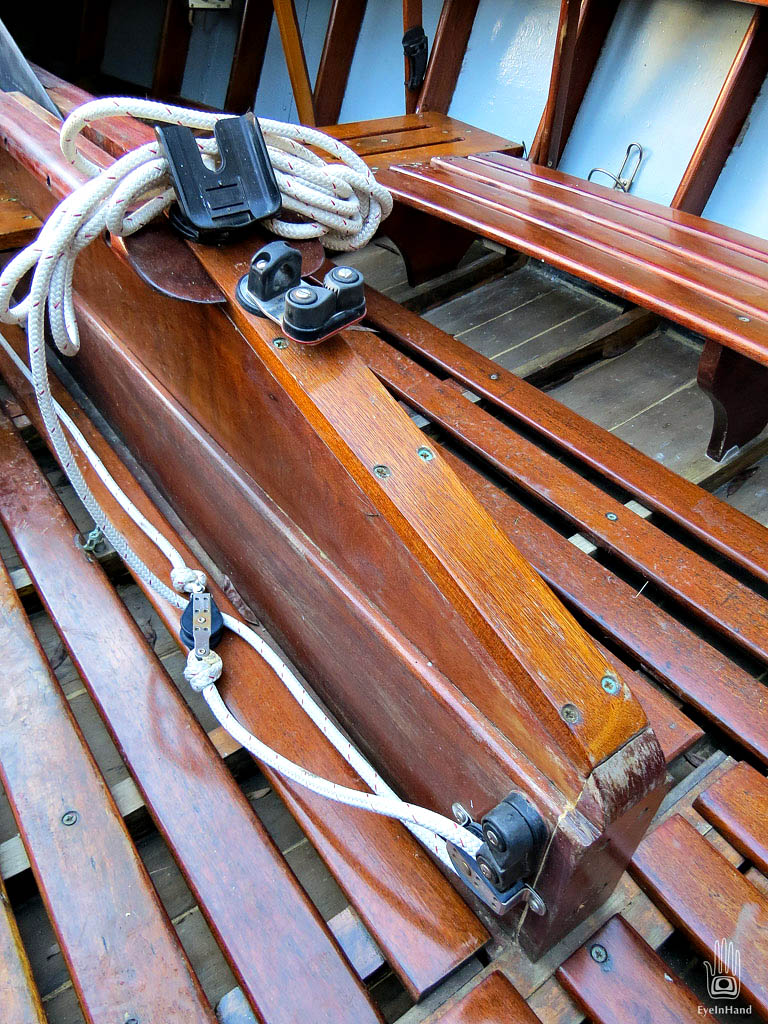 Centerboard Trunk with Centerboard Cleat, and Mainsheet Cleat
Swiveling Jib Cleat, nice for single handing
Many of the original bronze fittings are intact.
Bronze Jib Lead Block and Track
Bronze Boom Goose Neck fitting
Boom Vang
Bronze Boom Outhaul Stopper Thingie and Mainsheet Turning Block
Human for scale:
Honestly, I don't know how all this stuff goes together. Rigging up will be an education in and of itself.
For now, I just have to get a tarp over it. There's snow coming, maybe as early as this weekend.