After breakfast, Michael and Tiffany took Aeon out for a short spin. Michael hopes to finish building a Melonseed one day, and usually gets at least one sail on one during the festival.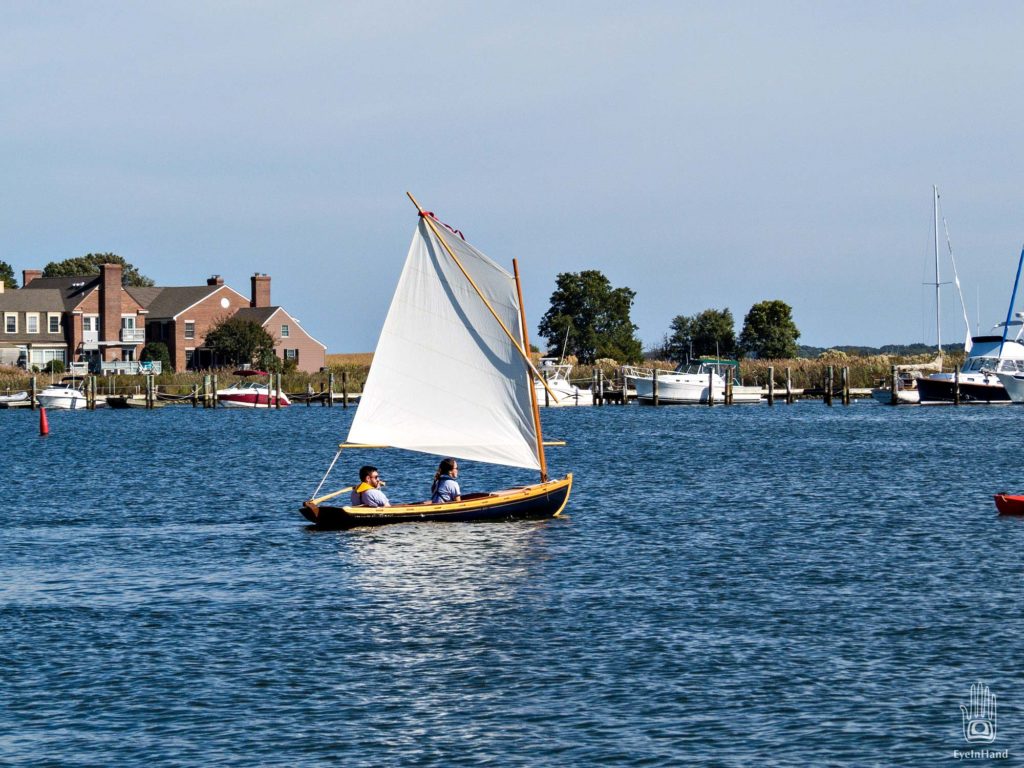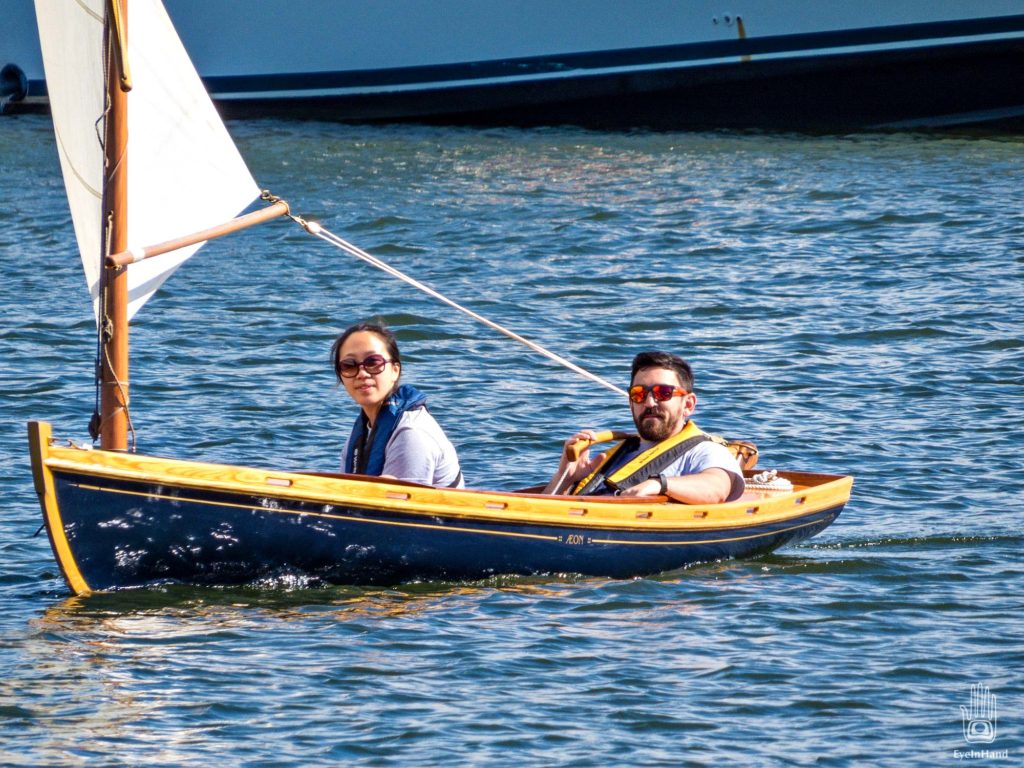 We switch places and I zig zag through the harbor.
Normally, there's so much happening on Saturday that I get very little sailing done, and have resolved to change that this year. I cruise along the docks looking for Tommy, who mentioned wanting to along. No sign of him in the crowds milling on the docks. I send him a text and peel out into the Miles on a broad reach.
The wind is not too strong, but it's gusty and tumbles over trees and around buildings before shooting out over the water. Means you have to pay attention, as there are a number of large boats moored in the cove. You start to slip around a big chunk of somebody's money swinging on a big chain, all smooth and easy, when a sudden shifty puff shoves you between the shoulder blades. I like this sort of technical stuff – it's like a judo match with the wind – but it sure makes it hard to tend the tiller, the sheet, and take photos at the same time.
Out on the open water I pass a big mega-yacht anchored out, too big for St. Michaels harbor, and overtake an Eastern Shore Stickup as we both tack around it. The Stickup is a traditional Chesapeake Crabbing Skiff with an unconventional sail plan. The two guys on the crabbing skiff are having a blast, getting a face full of spray over the bows now and then. The mega-yacht looks as inert as an uninhabited island. Though at night you can see the blue flicker of a TV from a state room, people have not appeared on deck for days.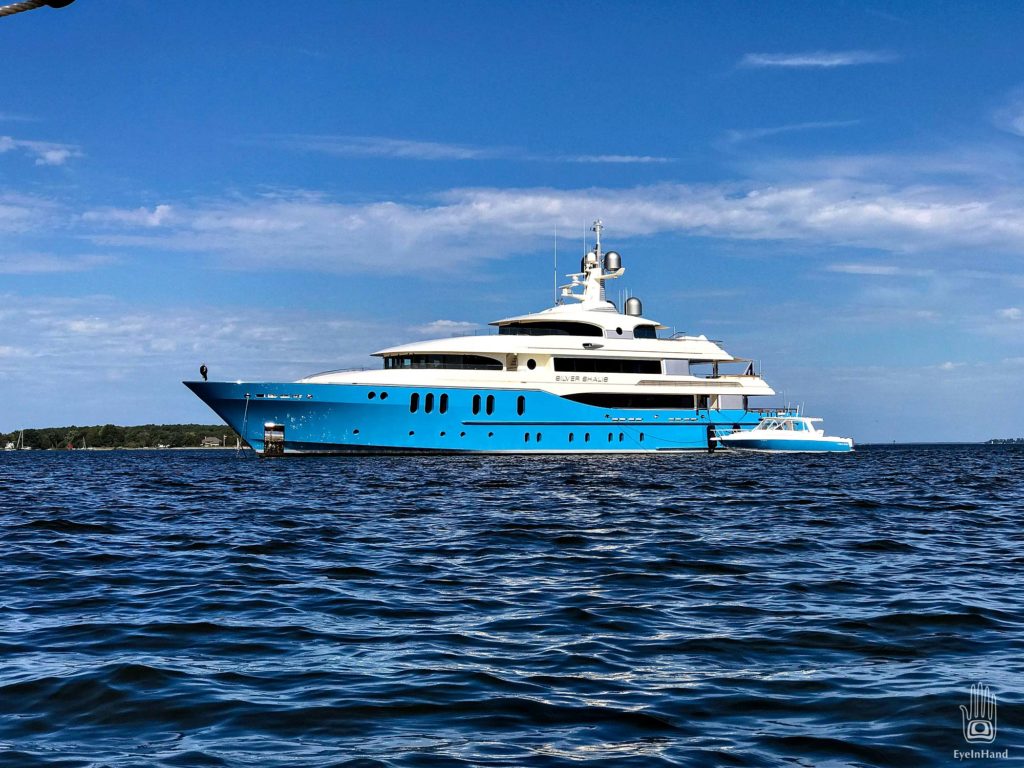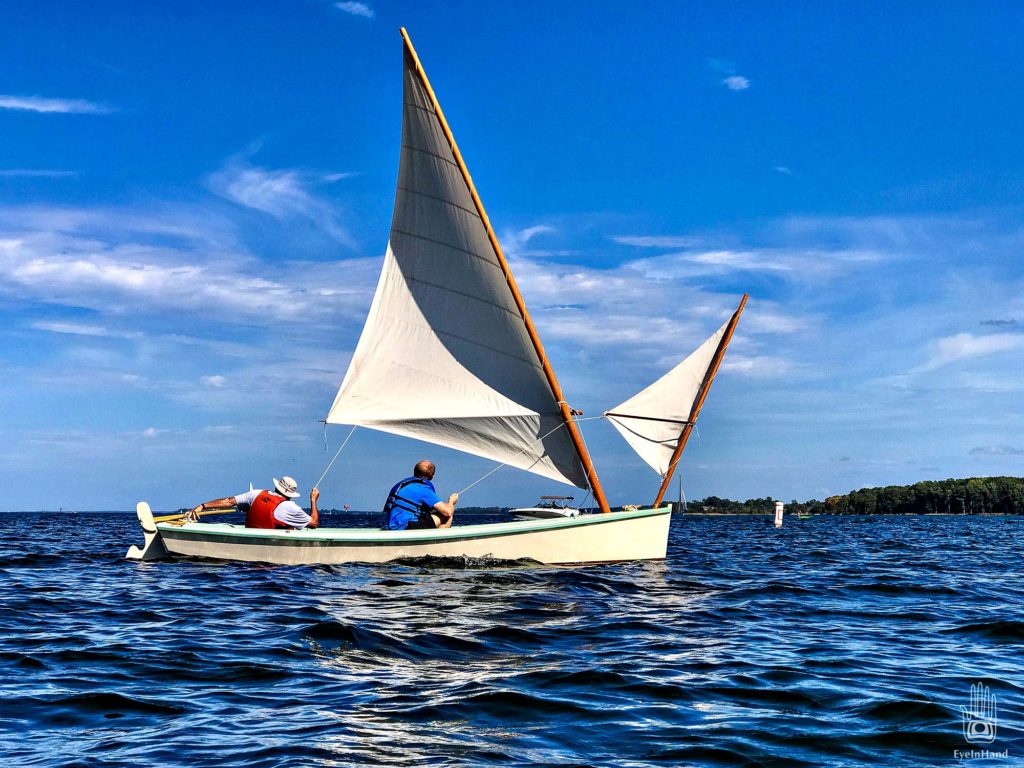 I turn and follow a restored wooden Lightning back in. It looks about the same vintage as #2833, which the owner confirms.  I get a text from Tommy saying he's looking for me, tack around for another shot of the Lightning, and point away from the boats to fiddle with the camera.
Suddenly, Aeon slams to a stop with a big bang and a crunching sound. I am almost afraid to look up. "Please don't let me see a $30,000,000 yacht, owned by a New Jersey liability lawyer, when I do."
To stunned relief, I see I've managed to hit the only stationary object in the water for miles – the channel marker, an immovable steel post the size of a telephone pole. I could not have hit it more squarely if I had aimed for it. There's some damage to the stem, but fortunately no worse. And no lawyers to deal with. Aeon slips off, spins, and slides downwind.
By the time I get myself sorted out, there's a stampede of small boats coming off the docks and streaming downwind, which means the race is starting. Sorry Tommy, will have to catch up with you later, and I turn and head out to the starting line.
The race is more fun this year, as the weather is perfect for it for a change. Instead of jockeying for pole position, vying for a good start like a real racer, I cruise back and forth upwind of the starting line where the air will be clear and view will be good. On the gun I bear down on the fleet as it immediately  stretches out, the faster boats leaping ahead.
About halfway across the downwind leg I realize I'm not actually in the usual last place. In fact, there are quite a few boats behind. I see Ron capsize on a jibe and a chase boat close in to retrieve him. The view in among a clot of boats is quite nice.
At the awards ceremony later that night, I will win Second Place in the Sprit Rig division and "First to Hit the Mark" – I had hoped that no one had seen me collide with the channel marker. Apparently they did.
The damage isn't too bad. Considering how much fiddling with cameras I do while nominally sailing, it's more surprising I haven't hit anything before now. Instead of scarfing in a new piece, it gets shaped and sanded to make the stem to something symmetric for now.