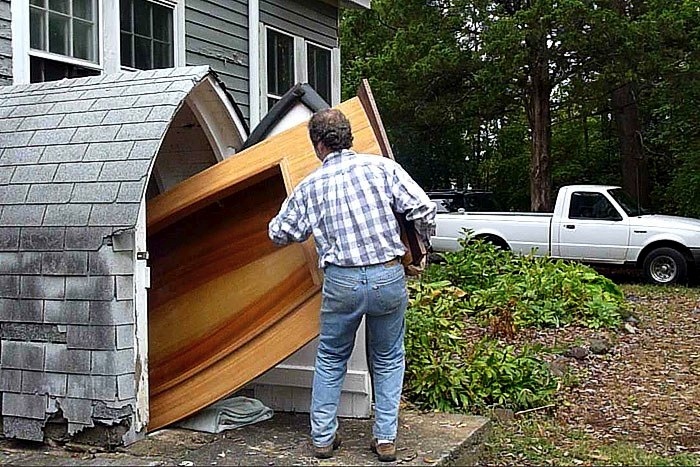 Exiting, sterns first.
Yeehaw! Caesura made it out smooth and easy. Easy, at least, with the great help on hand. After nearly two years of wondering if I'd measured everything right, today was a big moment of truth. As expected, there is only one way to get a boat out – backwards and sideways – with only about an inch clearance on both sides.
Friends Joel Slezak, John Robinson and Tom Klippstein all made it happen, and are great friends to come on such short notice. They're all interesting guys, too.
Joel and his girlfriend Erica started Free Union Grass Farm this year, raising pasture fed chickens, cattle and eggs selling them locally to restaurants, specialty markets and direct to the public. They started with nothing but an idea and 13 acres on Joel's family farm, and are already going great guns, raising, butchering and processsing over 2000 chickens at a time, plus doing the eggs, beef, ducks, and holding other jobs, too.
John does freelance writing and photography, among other things, and has a yearlong portrait photo project underway. He was here last weekend taking pictures, and when he said he was free Wednesday I signed him up, which started the whole ball rolling. John's photo blog is at ThreeSixtyFiveFaces.
Tom, of course, you met earlier. He's been here several times to lend a hand. He and his wife Ruth are still staying true to the alternative life style they started 30 years ago at Springtree, Both extremely well read and well travelled, working only part time book-related jobs, getting most of their livelihood from living directly off their land and maintaining a very minimal, low impact, non-cosumerist life style, with much of what they own and eat made themselves or by friends.
Thanks guys! You'll have guest of honor places at the final coming out party, for sure.
The rain didn't even hold off long enough to get the boat out the door. Instead of putting it on saw horses in the yard to do some work until the rain started, we had to change plans, and moved it around to the front porch. I rigged up some tarp walls to keep the blowing rain off.
Terri (who is no longer fuming) shot video of the moment of truth. You can't see it from this angle, but the boat is as close to the basement floor and the house wall inside as it is to the top step, all at the same time:
melonseed skiff, mellonseed skiff, melon seed, mellon seed