Blue Sky, Cream Sail, Crescent Moon
Fighting your way off the windward side of a dock is never easy, especially in a sailboat. Doing it with a dozen delicate wooden transoms hanging over the side, before your coffee has kicked in, is inadvisable. We tried anyway.
There's always so much going on at the Festival, it can be hard to get away and actually spend time with friends. So after Tony helped us settle in Friday night, we arranged to go for a sail first thing in the morning, before the festival got rolling.
After all that rain, Saturday morning was beautiful and brisk. According to the Choptank weather buoy, wind was blowing around 20mph straight up the mouth of the Miles when we started out, but steadily diminished to a more sedate 10 by the time we got back.
However, starting was, in Tony's words, "a bit ugly." Trying to get off with the wind in our face, we pushed and paddled and banged around quite a bit until Mike Wick, standing on the dock, started to do the sensible thing and prepared to wade in and pull us off. Duh. So I jumped in and got Candide clear, then met Tony on the leeward side. It's always nice to do your best work in front of a crowd.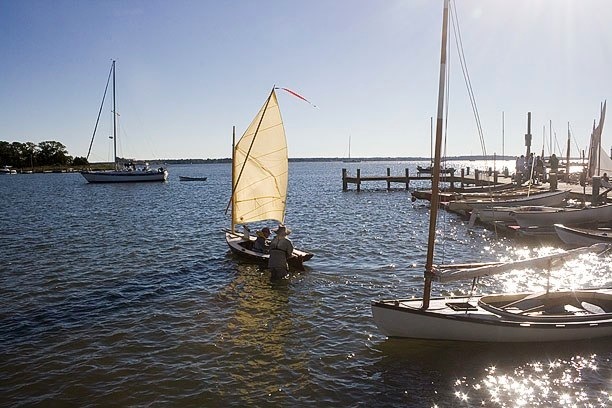 Boats are like airplanes: Everything is terrific until you enounter something hard. Out on the water, though, it's glorious. It was a very fine sail on a very fine morning. Once again, I was amazed at how steady these little skiffs are in a stiff breeze. And such a pretty boat, too.
Shot some bumpy video of the trip. There are cameos by several catboats, including Doug Oeller's Marsh Cat in the distance, along with Kevin Brennan's Navigator "Slip Jig" and the Crotch Island Pinkey "Buna-Mon-I-Ya", also Mike Wick in his Melonseed "Pepita," a Puddle Duck Racer, and other boats I haven't identified yet. With a little more practice, the skills of the cameraman may improve. As usual, you get a better view when you watch it on Youtube.
There's more to come. Later that afternoon was the annual sailing race, which is always a feast for the eyes. I have some fun video of that to post, too.
melonseed skiff, mellonseed skiff, melon seed, mellon seed