Snowy River
Fresh snow got home before we did on Christmas Day. After dinner with family in DC, we drove back south, headlong into waves of a big storm as it broke over the hills on the way north. The last hour of driving was spent tacking back and forth in the dark, looking for cleared roads. We're getting used to this by now, and the novelty has definitely worn off.
Not so for Steve over at Log of Spartina. The bulk of the storm slid off to the east, dumping a record 14 inches on Virginia Beach – the most he's ever seen – before dragging its thick, white wake all the way up the coast.
Close family had to change travel plans entirely. Emily and her boyfriend were heading to Maine for a week. When that didn't seem even remotely possible, they did a quick jibe and set a new course to the south, trying for Ocracoke. With Norfolk shut down by mid-afternoon, they got as far as Williamsburg before throwing out an anchor, deciding that was far enough. Amanda stayed home an extra night, and put off a drive back east another day. No word yet from Andy and Janet with their kids, on the way to Nags Head.
Terri and I stayed home; she reading by the fire, me planing and sanding by the space heater.
The joints came out relatively tight and clean, considering the rough start. Takes a lot of careful work to get it right. I saved a highly figured piece for the face of the centerboard case, similar to the other boat, and hope that will still show when the varnish goes on and the wood darkens.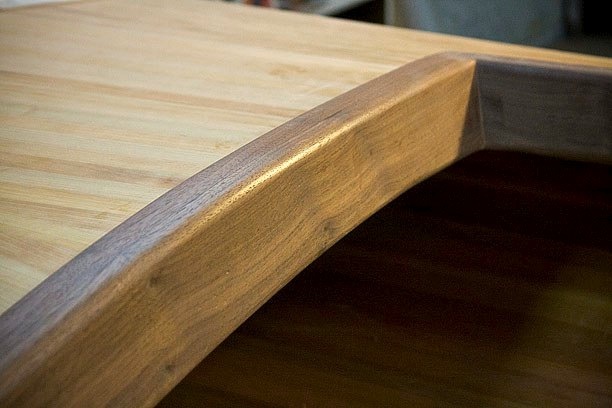 Now, if I can just keep enough moisture in the air for a few days, the hatch cover will straighten out, and I can work on that next. Last week it was curled up like a potato chip.
melonseed skiff, mellonseed skiff, melon seed, mellon seed