Varnishing Aeon with Tyler and Emily
Had a great long holiday weekend, with lots of help on hand. Between the two, much got done. The new target date for at least one launchable boat is the end of June. "California" Doug Lawson and his pirate crew are heading East for a visit to Virginia, and I'd love to have a boat in sailing condition when they're here, even if a few odds and ends get postponed. Doubt I'll have the trailer modified to carry both boats by then, but who knows.
I did think of other things to do before the Rub Rails go on. Of course! They attach to the stems, so any final shaping there needs to be finished first. Trouble is, with the boats upright, the stems wrap underneath onto the keels out of reach. Terri helped me turn them over so I could get full unobstructed access. The boats are decidedly heavier now with a lot more wood on them than before, but it's still manageable. Spent an evening mid-week shaping and sanding, using a strip of brass half oval as guide.
Since turning is now more challenging, I took full advantage of the temporary inversion to get other details out of the way. There are eight large screws countersunk through the hulls of each boat holding the Trunk Logs and Centerboard Cases firmly in place. These are now filled with epoxy and sanded flush.
The rough, ugly Transoms finally got cut down, planed down, filed down, and sanded smooth. For two years I've wondered what shape these prominent features would finally take, and now I know. The top edge still needs trimming, but the bottoms are done, and the distinct wine glass shape is very much evident. Very nice.
Both girls and at least one boyfriend were coming home for the long weekend – enough hands to turn the boats easily later, and all had offered to help out with varnishing. So Saturday, before everyone arrived, I decided to sand the entire bottom side of each hull and get them ready for priming. It's a big job. But work on the Transoms and Stems had made a good start from either end, and that was enough encouragement to go the full monty.
Saturday night we let the dust settle. On Sunday, Tyler, Emily and I turned the boats back over, then vacuumed and wiped everything down. In a couple of hours that afternoon we had the entire topside of Aeon varnished with a first coat of Le Tonk, as well as the Toe Rails on Caesura.
While varnish dried in the basement, I took the Rudders out in the yard for fine tuning and sanding with the ancient belt sander. With the contours of the Transoms now set, leading edges on the Rudder blades could be shaved down considerably to match the width of the Skegs for a smooth flow of water past the ends of the boats. Did some cleanup of edges, filling gaps, etc., so now they're ready for glassing and varnishing, too.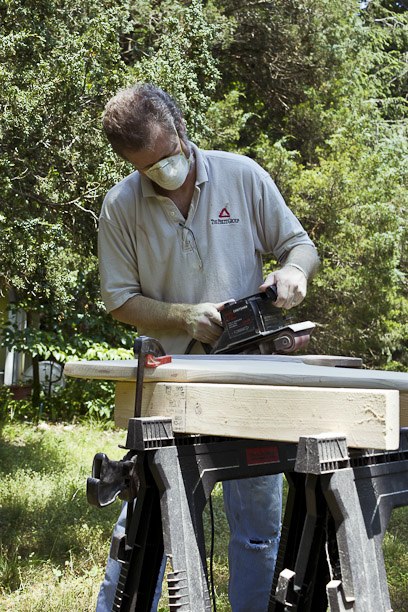 Finally, on Monday evening, Emily, Amanda and I scuffed up the first coat of Le Tonk and got a second one on Aeon and another on Caesura in time for ice cream and a late movie in town.
My, they do look nice.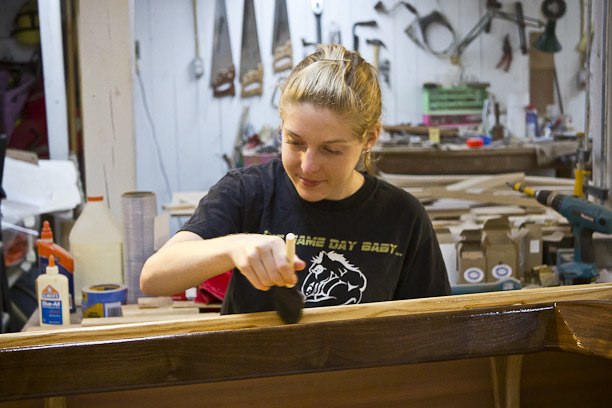 Rub Rails next?
I can finally trim the whale tail flat top edge of the Transoms now, too, which will make Terri very happy.
Thanks for all the help everybody! (And thanks too, T, for taking pictures.)
melonseed skiff, mellonseed skiff, melon seed, mellon seed