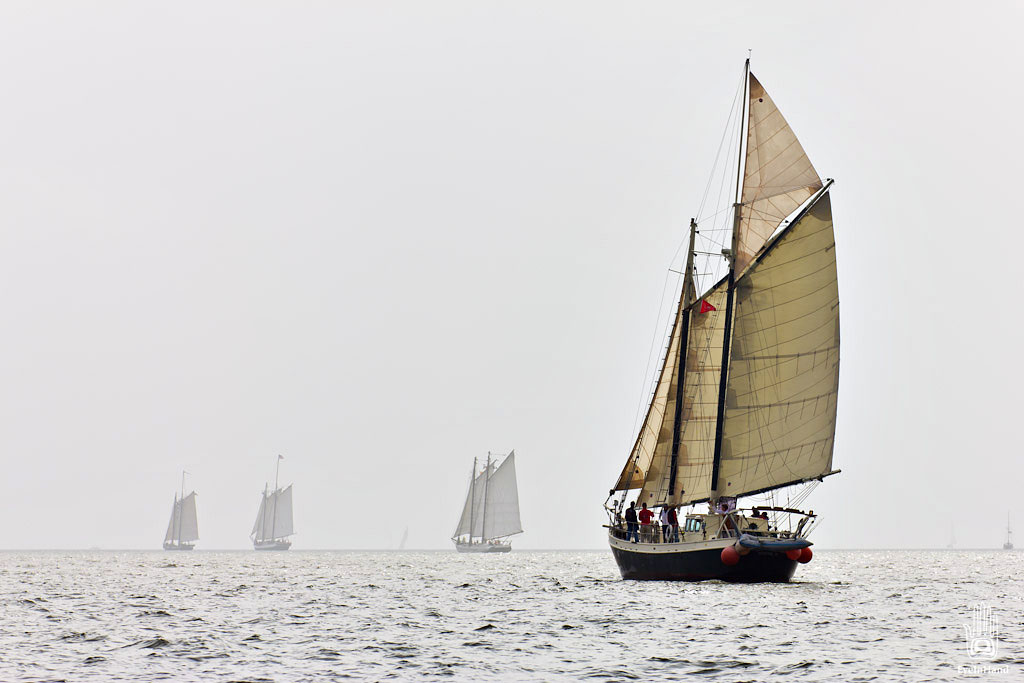 Schooners across the horizon
At 4am, the sky over Baltimore Harbor glows pink and bruised, like dirty cotton candy. It's foggy and raining, and I am in search of coffee. I find it at a 7-11 which, despite the name, is open all night.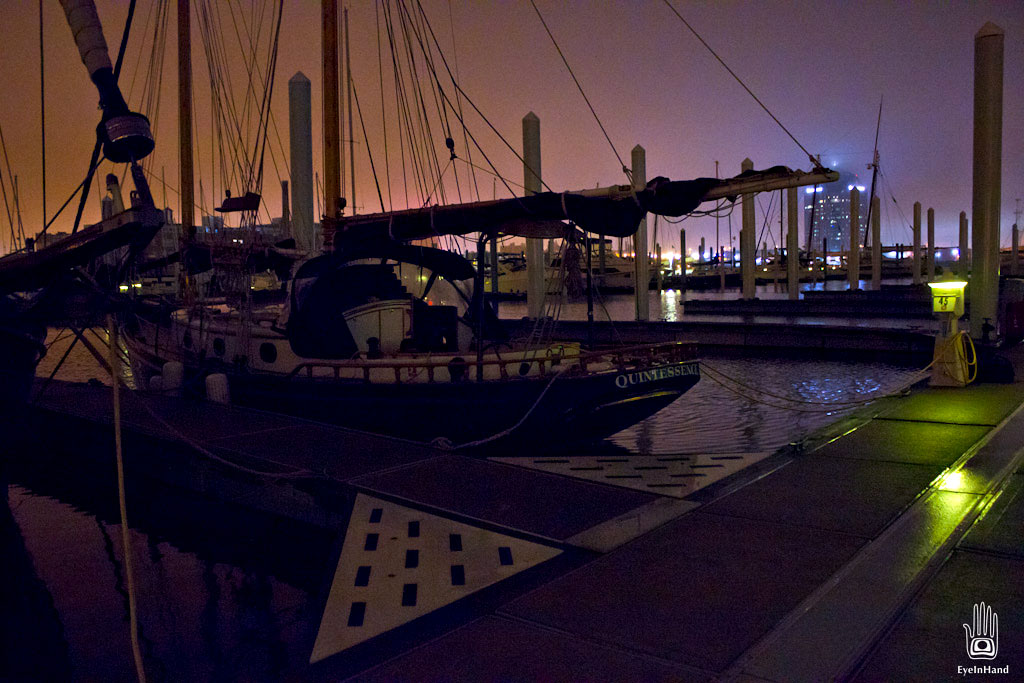 It is the cleanest, tidiest 7-11 I've ever seen. It contains one other person, a guy with an African accent who is diligently and cheerfully cleaning everything in sight. When there is nothing left to clean, he improves the position of things slightly – newspapers in the rack, the candy bars. He adjusts the angle of the mop handle in the shiny bucket in the storeroom. I have brought rain in on my boots, and know he will use that mop the moment I leave, then arrange the handle again. It is clear that from midnight to 8am this is his 7-11. He sends money home every month, and to his parents it is a small fortune. The only photograph in their home is one of him smiling in his red and orange print uniform, the manager of a store in America, in the port city of Baltimore. Happiness is such a relative thing. Clearly it's good to be proud of your work, whatever that is.
The docks at the marina are very long. Quintessence is at the end of one of them, and a round trip walk, carrying four coffees and a camera bag in the rain, is almost a mile. I meet Paul halfway, and learn he drinks tea.
Before the coffee gets cold schooners are already slipping their lines and pushing off. For safety reasons, I assume, the race does not start here, but on the south side of the Bay Bridge at Annapolis. The race starts at 1, and the bridge is a four hour motor cruise away.
This event is a friendly one. It has been called a race from a party in Baltimore to a bigger one in Portsmouth, and in truth it is this social aspect that has kept the race going for two decades. Most of the captains and crew know each other well, and come back year after year. The official goal is to raise awareness and appreciation of the Chesapeake Bay, and the proceeds are donated to the Chesapeake Bay Foundation for a total of over $147,000 so far. They come to test themselves, and their boats, and to earn bragging rights for a year, but the biggest reason they come is to sail alongside other schooners, and spend time with old friends in the process.
Schooners are a bit of a creative anachronism. They are not particularly fast, nor easy to sail, and they are expensive to maintain. It takes an unusual sort of person to dedicate so much to keeping one going. Their owners, of necessity, take a sort of contented, fatalistic view of schedules and deadlines, and that becomes more apparent the more time you spend with them. All plans are subject to change, and are likely to, so there's no use getting too worked up about it, whatever it is. It's a philosophy that becomes both infectious and useful as the event progresses.
By noon, we are motoring under the Bay Bridge. The rain has stopped, and fog is lifting. A light wind rises out of the East. It will steadily build, and keep building, and shift to the South, but for now it favors a good start.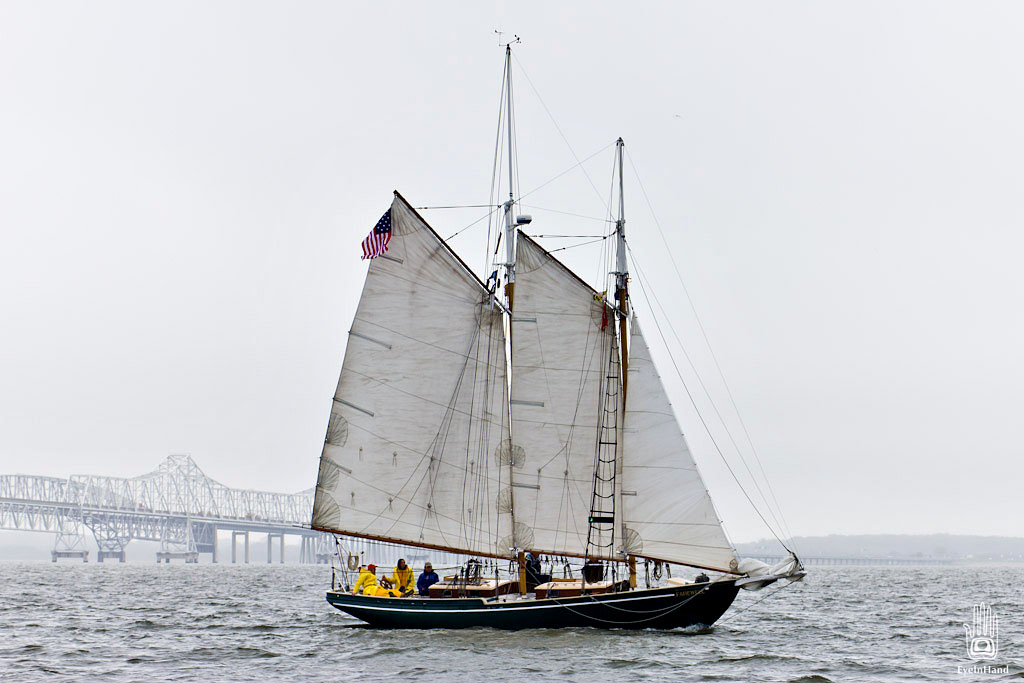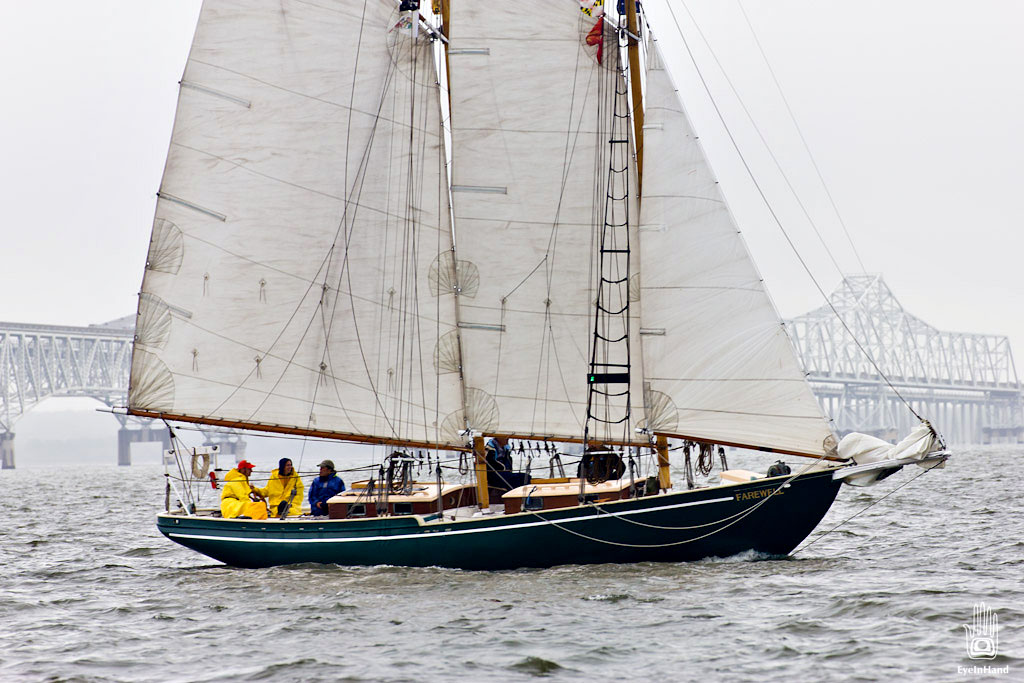 Farewell
The fleet maneuvers under full sail above the starting line, engines running in idle to quickly avoid a collision if necessary. These are big ships, some of them, and they appear to move slowly and carefully, like a slow motion chess game where all the pieces are moving at once. But that is deceiving. Anything over 100 feet long, weighing over 100 tons, and moving at 10 knots is moving fast. The largest ones can accomodate as many as 50 passengers, with hot meals, hot showers, and private cabins. Many have day jobs as commercial vessels, running cruises from Maine to Florida and beyond to help pay for their upkeep, others are privately owned and maintained.
Mystic Whaler 
Liberty Clipper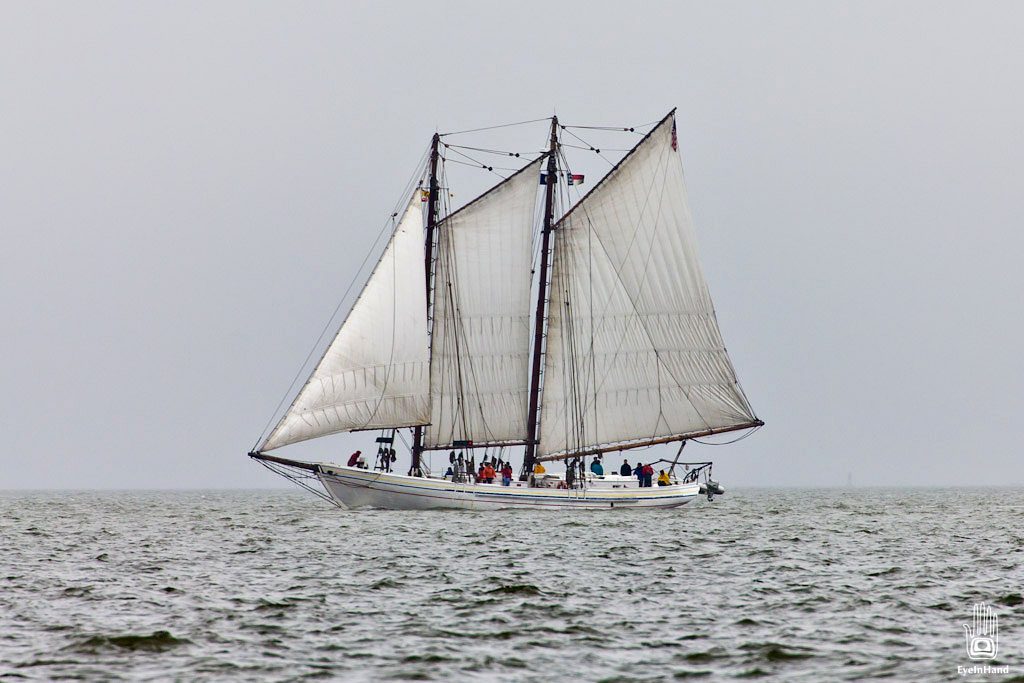 A. J. Meerwald 
Brilliant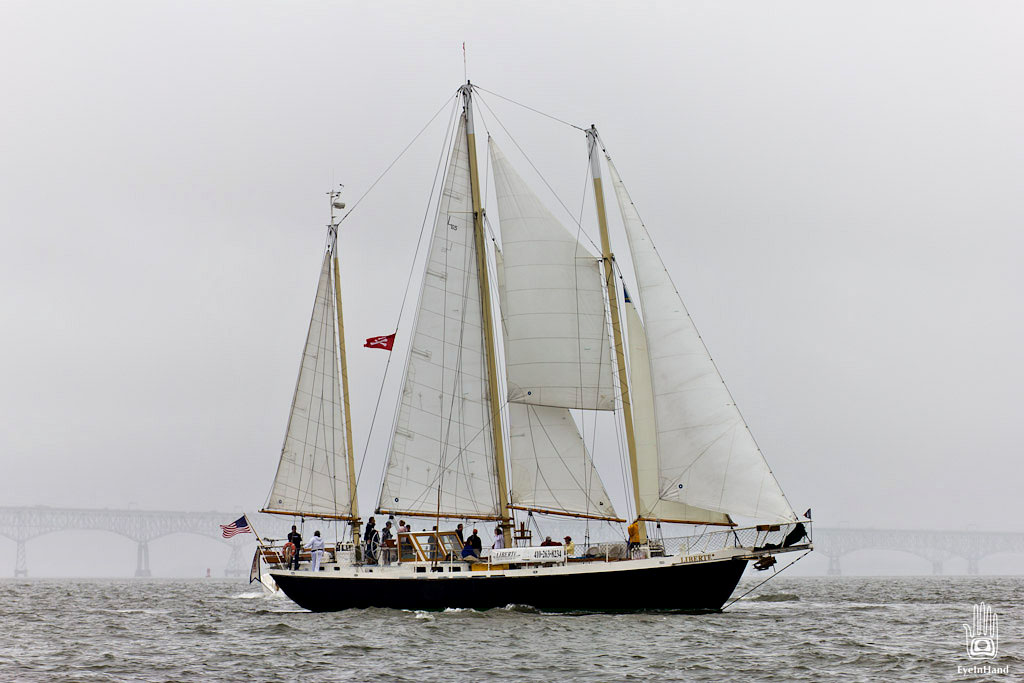 Liberte
Sultana
Adventurer
Lady Maryland, with Artist Proof in the distance 
Then there are small boats. This year the smallest is the beautiful Artist Proof, a Bolger Light Schooner, at just under 30 feet, crew of 3. It looks more like a finely crafted toy model of a big schooner, almost canoe-like, and the crew look strangely oversized perched inside. It has no protection from the weather, no berths, no galley, no bathroom, but is very fast. It darts through the fleet like a horsefly in a herd of cattle. Just slightly larger is Avelinda, another open boat, powered only by sails and oars. She carries 9 instructors from the Outward Bound Sea Program, a crew as tough and scrappy as they are friendly. This boat will go on to win the overall race this year on corrected time, after beating into the wind nonstop for over 30 hours.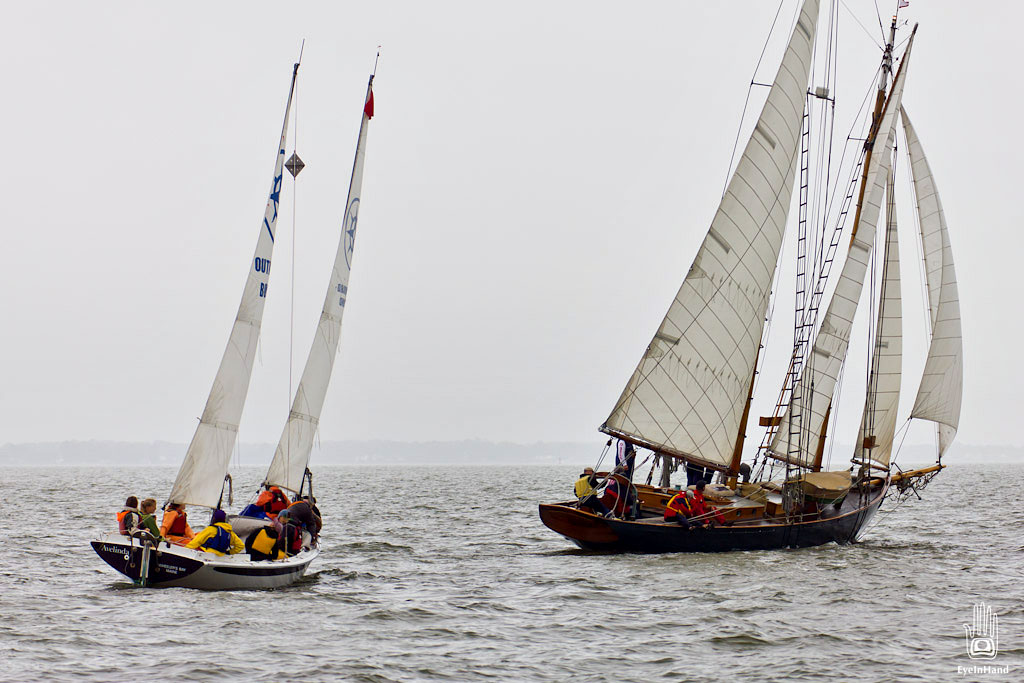 Adventurer 65 followed by Avelinda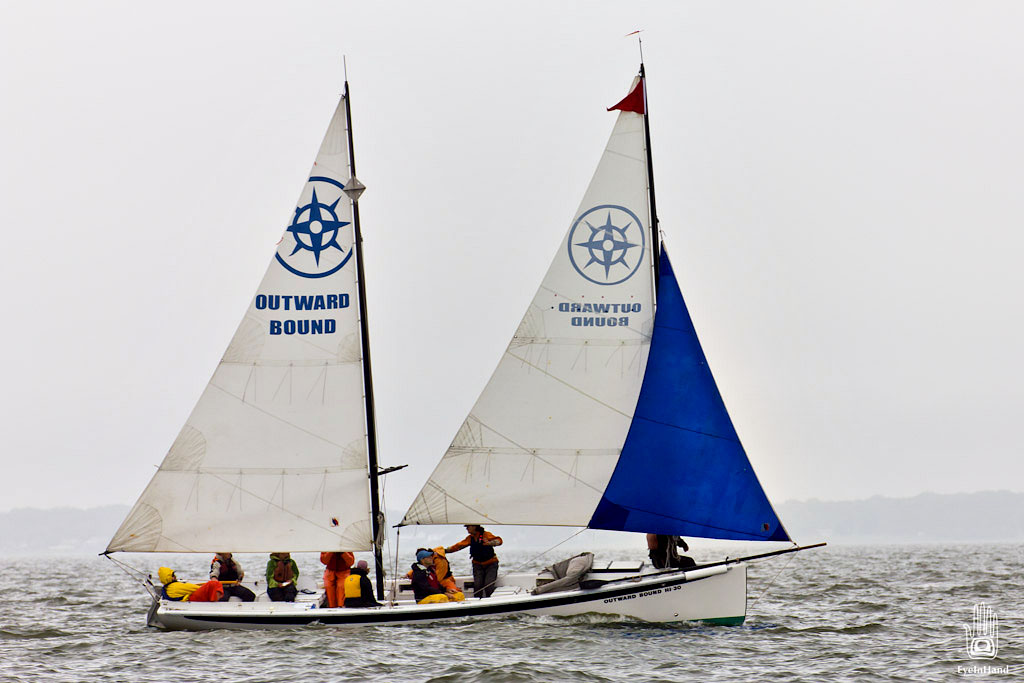 Avelinda
The race has two finish lines, breaking the fleet out into two groups according to size. The largest will sail roughly 150 miles to Norfolk, the smaller about half that to Windmill Point. The boats are rated and handicapped to keep it competitive among such a diverse group. That way the slowest boat, if sailed particularly well, can still win. Here at the start is the only time they will all appear together. Within a matter of hours the fleet will spread out for miles, the faster ones disappearing over the horizon before the starting line is out of sight for those in the rear.
In appearance, Quintessence is one of the larger boats in the smaller class. She is actually shorter on the waterline than even Artist Proof, but looks large and heavy by comparison, displacing 8 tons. A schooner rig on a Friendship Sloop workboat hull, she has a cabin, berths, galley, head, diesel engine, and a full battery of electronic navigation and communication systems. With a strong fair wind she has done quite well. She came in first overall in 2007, and first in her class last year. The weather will not be in her favor this time, though.
We are a crew of four. Paul Gray has owned Quintessence since late 2006, and this is his fifth time sailing her in the race. Paul keeps her on Barnegat Bay in New Jersey, and is already a veteran of long excursions all over the Mid-Atlantic.
Paul Gray
Jay Irwin, his first mate, has worked with and on boats, both commercial and private, all his life, a long life. He's nearly 80 years old, has one glass eye, and is hard of hearing, but he is tougher and more agile than I am. I watched him crawl out on the bowsprit to reef in a furious foresail – in the dark, in the rain, with the boat pitching wildly – with no more thought than tying a bow in his grandson's shoelace. He knows more about old style sailing than all the rest of us combined, but is quiet and humble in conversation. He recently wrote a book recounting some of that life, available on Amazon, called Tale of the Green Dragon.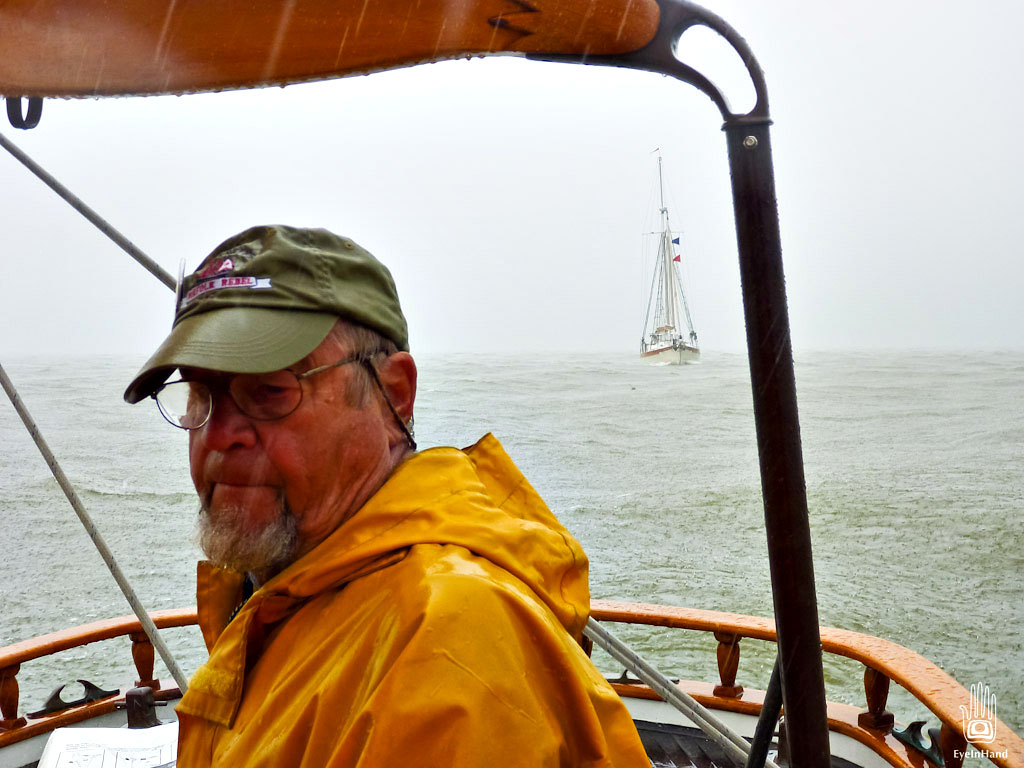 Jay Irwin
Mike Wick is a friend and fellow Melonseed owner. I've only known Mike as a small boat sailor, but in a "misspent youth" he hung around much bigger boats. One summer he crossed the Atlantic to do the ocean racing circuit in Europe, covering over 7000 miles by water. I've seen a photo of him, a skinny 19 year old, on the deck of a 53′ Rhodes sloop at the start of the 1965 Fastnet Race. They won the Brittania Cup that year.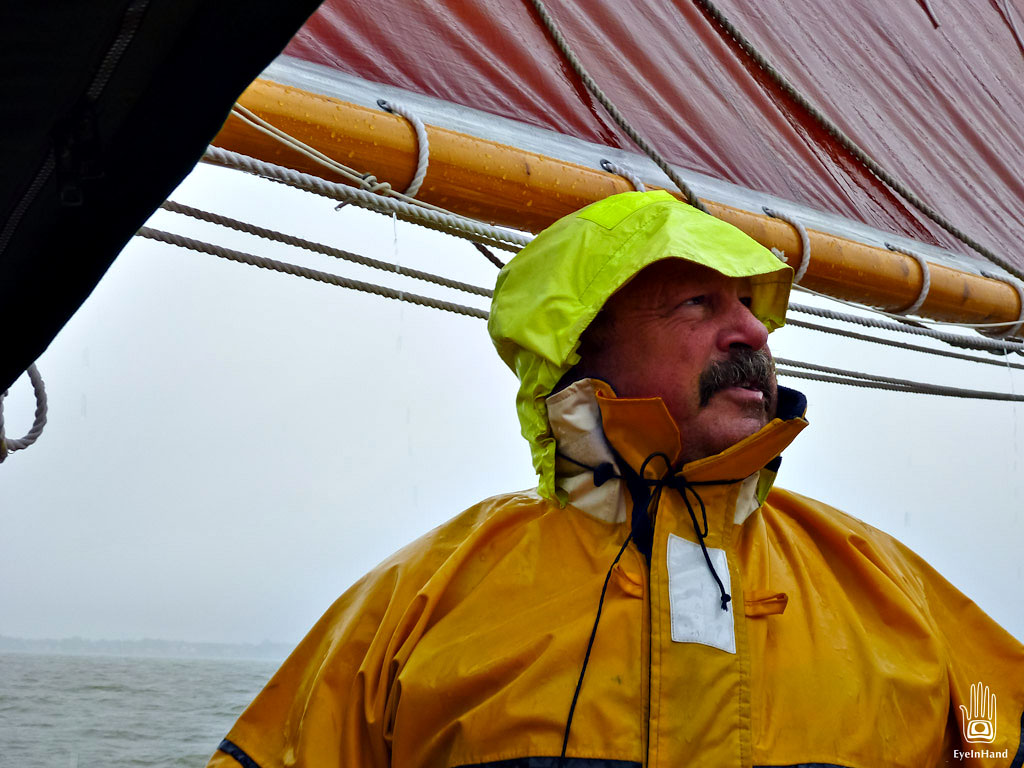 Mike Wick
Then there's Yours Truly. I've never been on a sailboat as big as Quintessence for more than a few hours, and have not figured out how I manage to qualify as crew. My job, near as I can tell, is to hold a camera tight and not get knocked overboard. I intend to succeed at both. In the event I fail at the latter, I have made a point of wearing the brightest most visible-from-rescue-helicopter-height foul weather gear that I or anyone else could find. At this I have made a great success, and am reminded of it frequently, by everyone from other crews to cashiers at grocery stores. I find this eminently reassuring. Everything else, for the next 36 hours, will be a news to me.
Yours Truly
The large boats get their gun and start first. Moments later the smaller boats follow. Finally the motors are killed and the quiet power of sail returns for good. For several hours it is a beautiful sail down the Bay. The sky clears, and the wind, already stronger, stays just far enough to the East for a close reach. All those tall sail rigs spread across the horizon are a wonderful sight, and we have that view until sunset.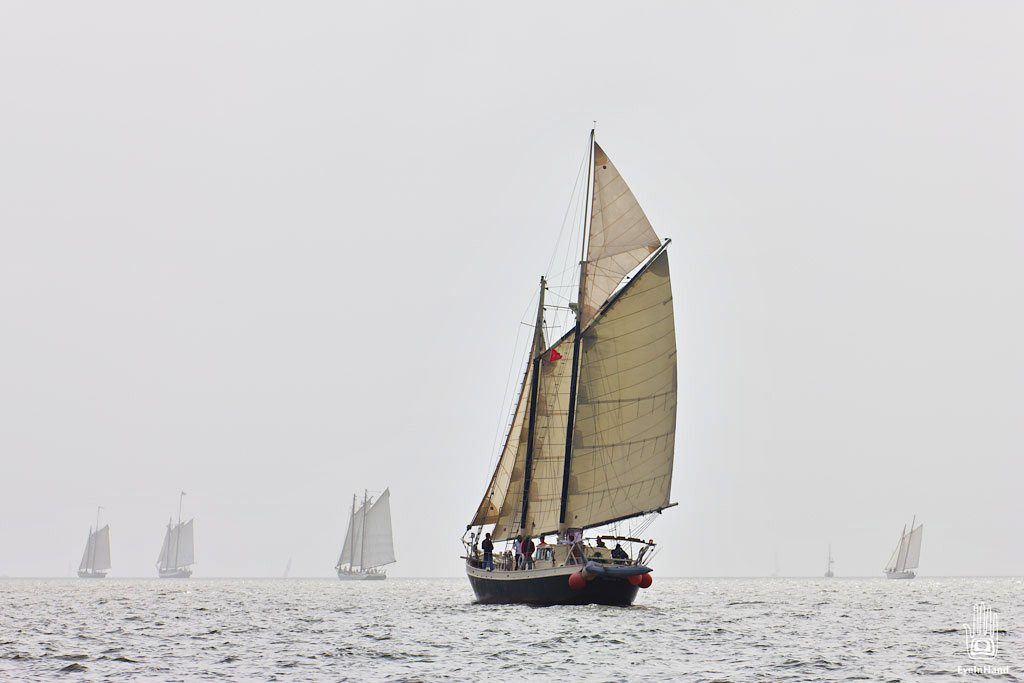 Edlyn Rose
Cuchulain leads Adventure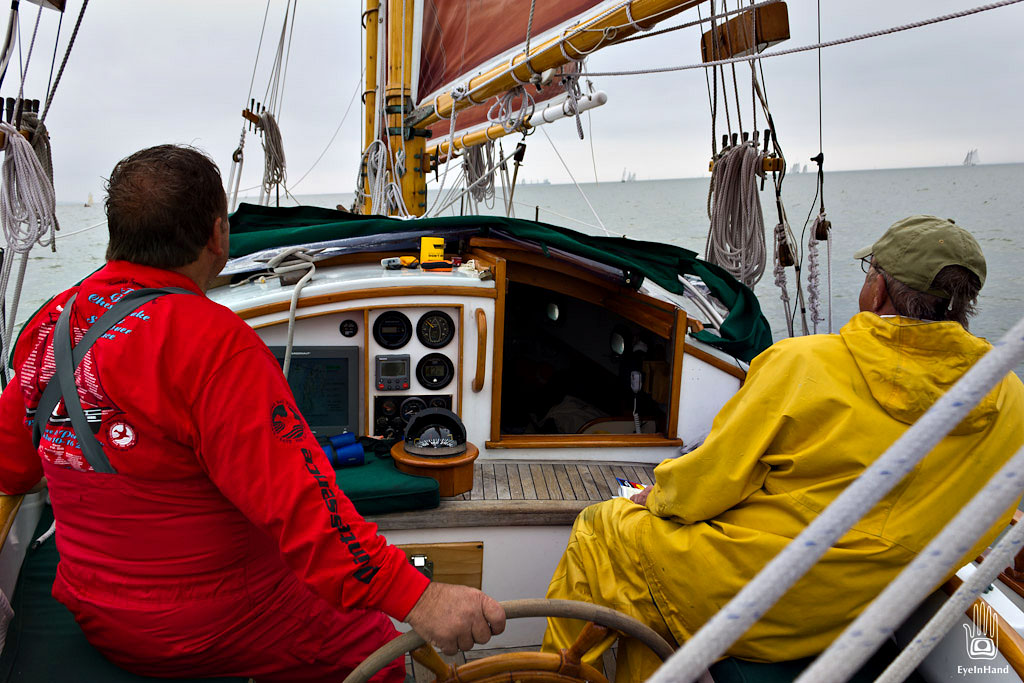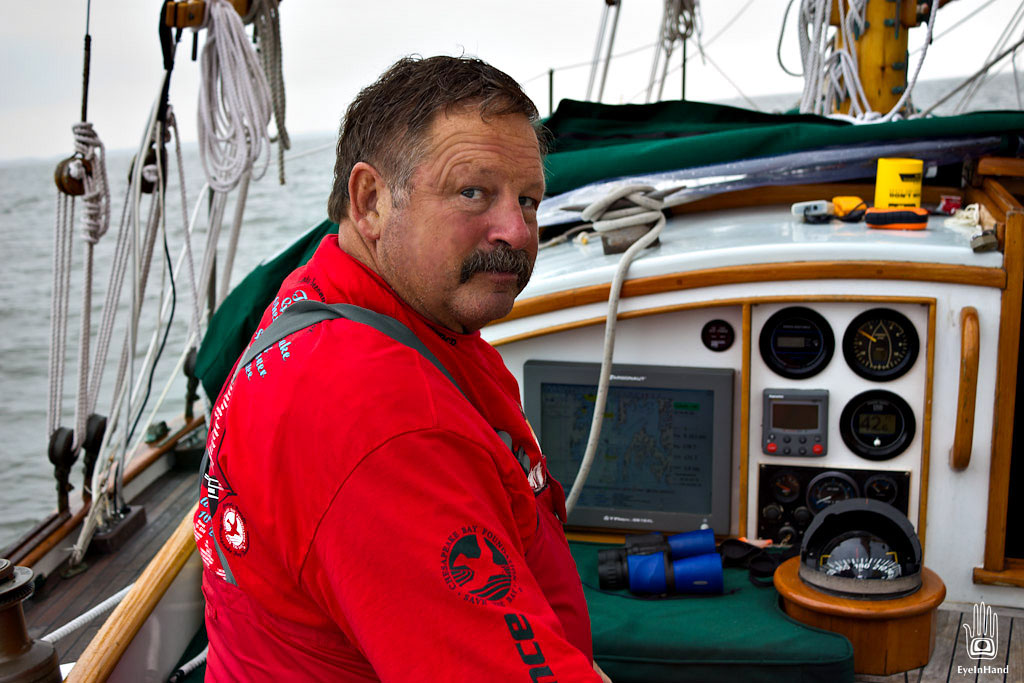 Spirit of Independence transits Thomas Point Lighthouse
A. J. Meerwald 
After dark the wind continues to build steadily, and by midnight is blowing hard directly out of the South, which happens to be the direction we, and everyone else, need to go. Schooner rigs have much to recommend them. They have a myriad of sail combinations and configurations to use for all sorts of conditions, from fierce storms to dead calms, and this trait made schooners the tractor trailer semi-trucks of the working sail era. The one thing they don't do especially well, however, is sail to windward.
All night long we tacked from one side of the Bay to the other, clawing our way uphill. With such a long fetch, the whole length of the Bay, the waves swelled throughout the night into big rollers, and each one seemed to knock us backward on our heels like a punch in the jaw. We would turn at one landmark on shore, sail across the width of the Bay and back, only to find, four hours later, the same landmark still in view when we returned. By noon the next day we had sailed a distance of over 80 miles, but had only advanced 40 miles from where we started.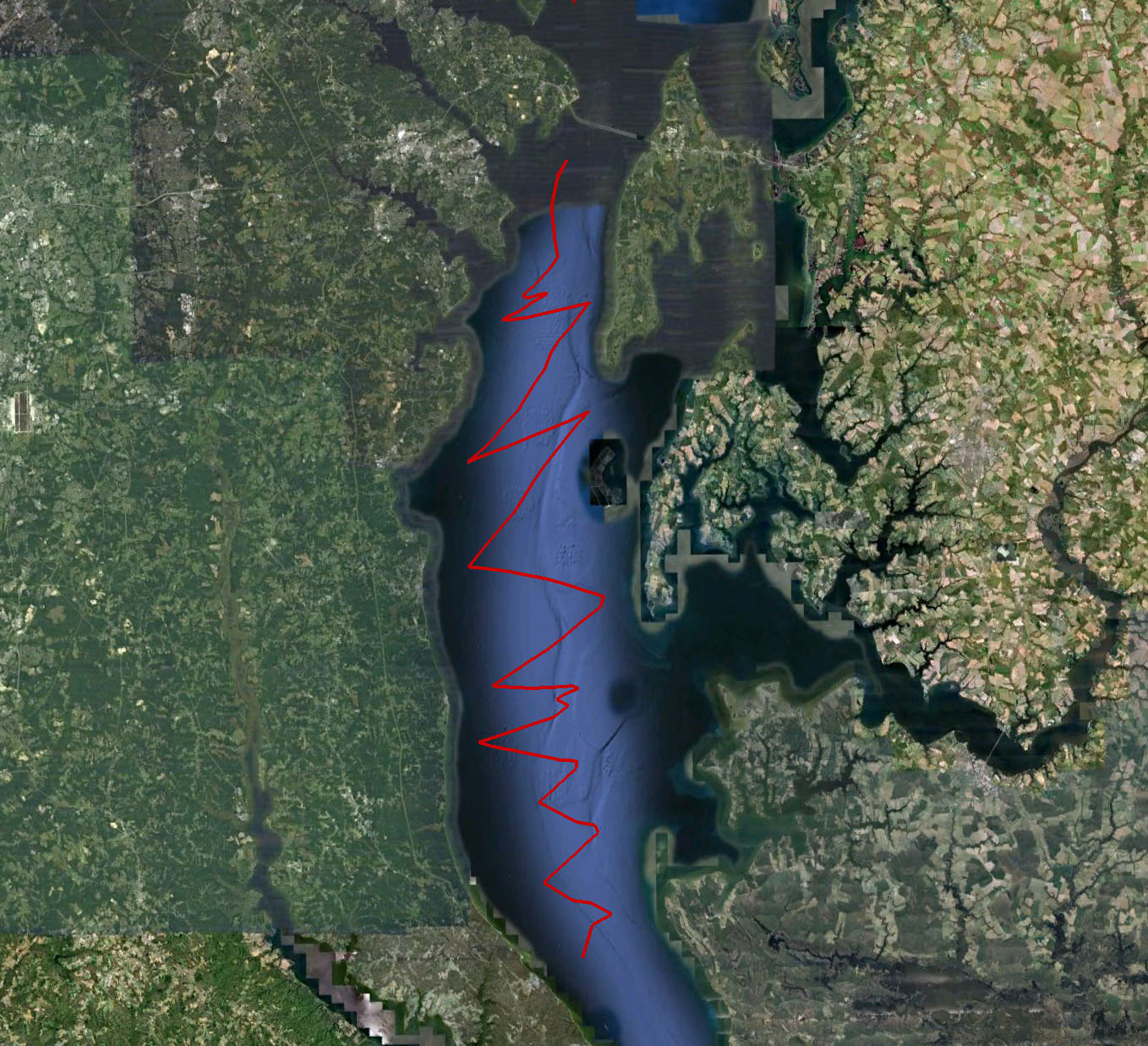 Path of Quintessence
What we didn't know was that some of the other boats had begun to drop out during the night, beginning as early as 9pm. Some ducked into harbors on the western shore. Some fired up their engines and motored down the rhumb line. Some did the math even later in the game and realized they could turn around, sail all the way back to Baltimore, rent cars, drive 250 miles to Portsmouth, and still get there faster than if they kept sailing. And they did.
By noon on Friday we are at Coles Point. The wind and waves are stronger still, and still coming directly out of the South. Paul calculates that, at this point, even if we drop the sails and motor directly to Portsmouth we won't arrive in time for The Party. He holds a vote that takes all of 3 seconds and it is unanimous. We motor into Solomons Island, batten everything down, and rent a car for Portsmouth.
Here is video of the race, most from the afternoon of the first day until sundown. The last minute is from the next morning.