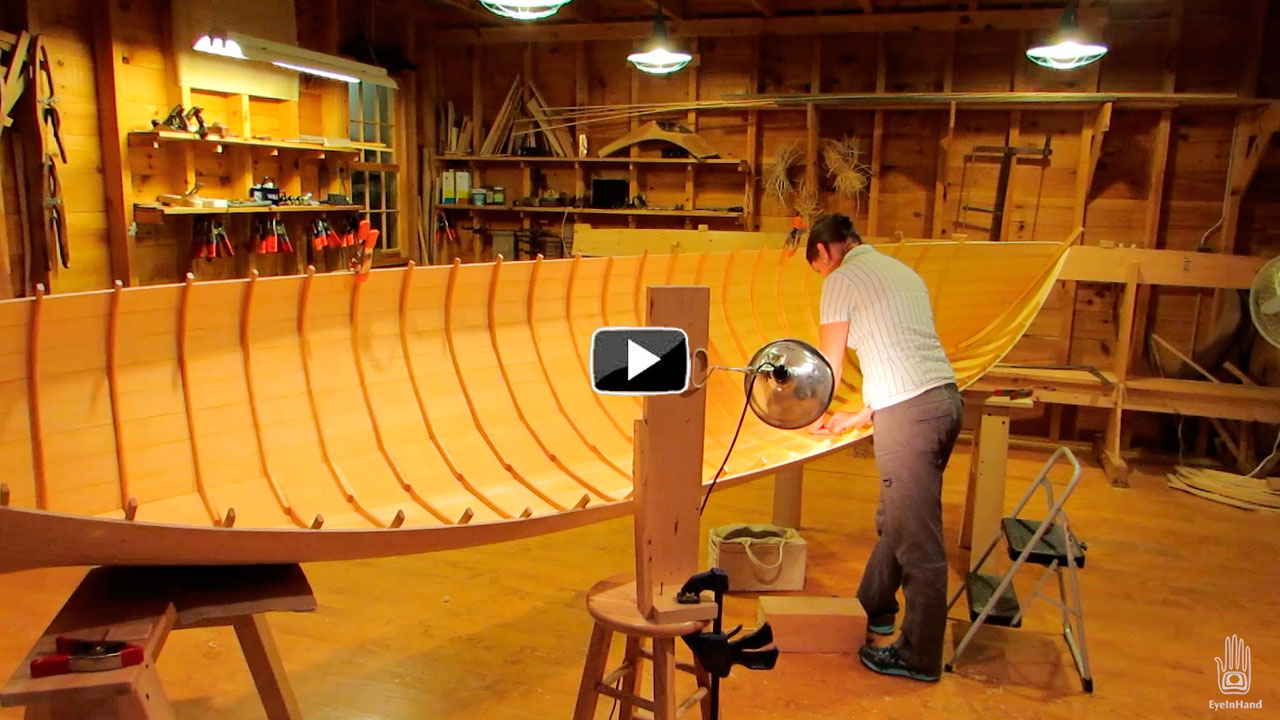 Guideboat under construction
One day it rained. Almost all the day it rained. We could have stayed inside by a window and read, but instead went to the Adirondack Museum on Blue Mountain Lake; because a) it's a really great museum with lots of very cool stuff to see, and b) I remembered they have a terrific collection of boats on exhibit. They even have a Guideboat on their logo:
The boat collection makes the Adirondack Museum the Mystic Seaport of freshwater boating. The collection includes over 250 full size boats, with 63 on active display, ranging from rough plank skiffs and dugout canoes to steamboats. Most were built in and around the Adirondacks. Some were built elsewhere and brought to the mountain lakes. There is a beautiful 32′ wooden Idem class sailboat in the main lobby, fully rigged and three stories tall, that was built on the St. Lawrence River.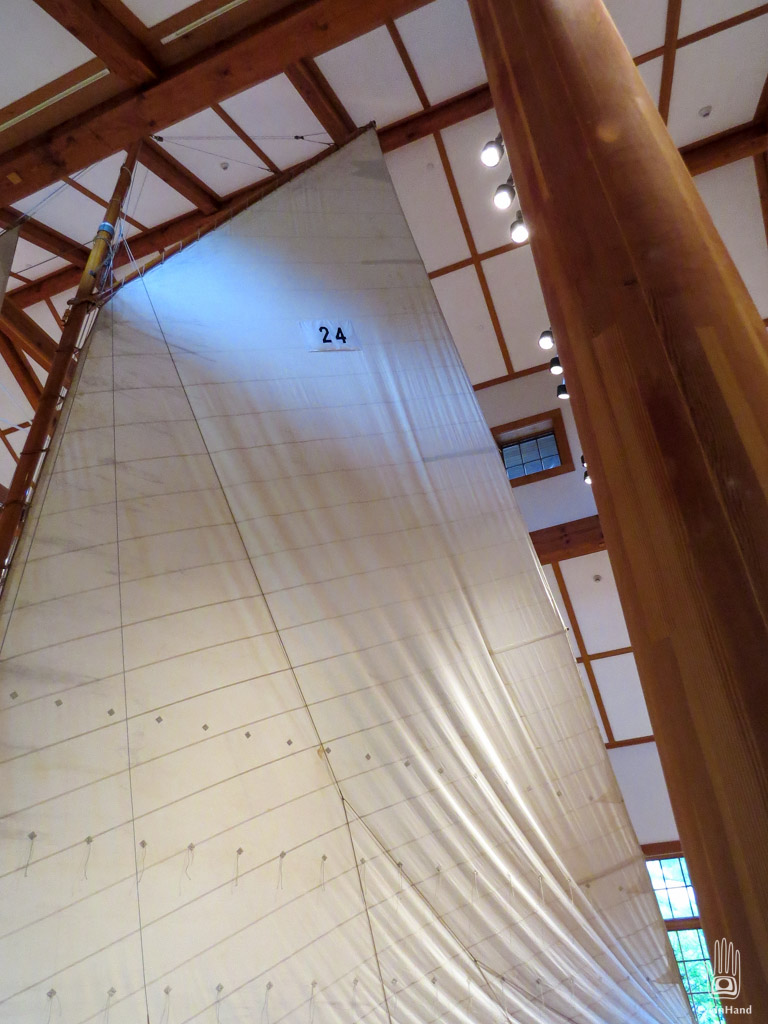 Appropriately, they have a world class collection of canoes: Rushtons, Old Towns, a tin canoe, a paper canoe, birchbark, etc.. There are also motorboats, naphtha boats, sailboats, skiffs, steam launches, ice boats, and more.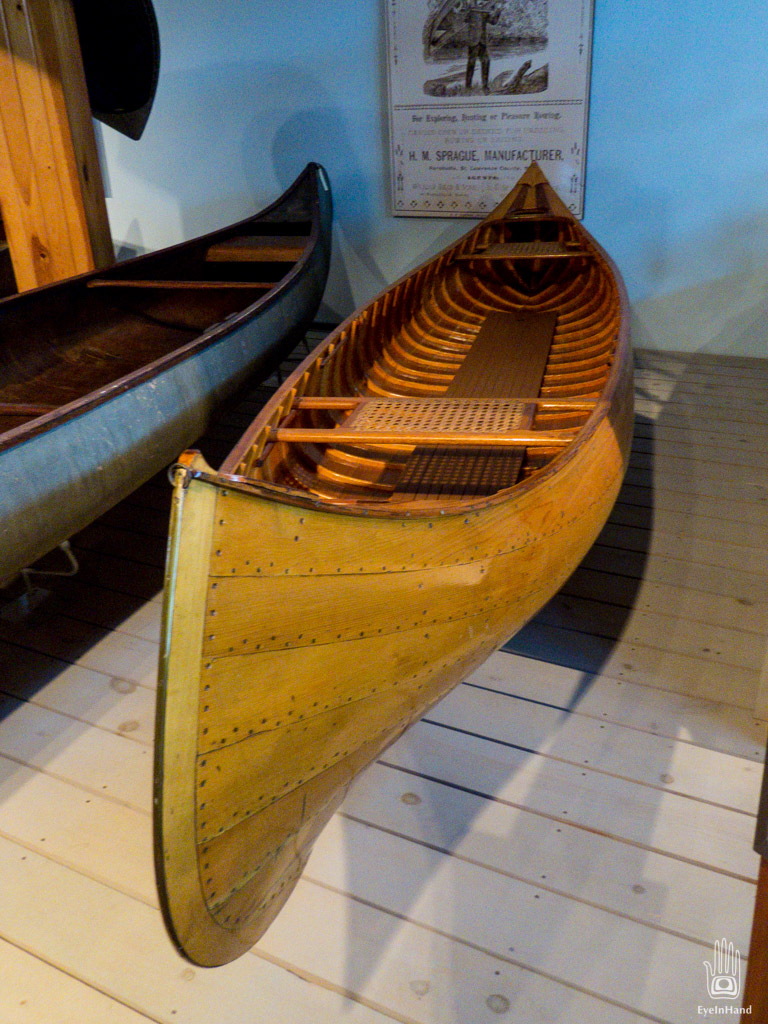 The real treat, though, is the boat shop. During the summer they have a boat builder in residence on site, and you can watch a Guideboat under construction. The master builder we spoke with was a woman who happened to go to college just down the road from us in Lexington, Virginia. Her name is Allison Warner, and came to the Adirondacks decades ago with AmeriCorps, working on restoration of one of the Great Camps. She worked alongside local craftsmen who introduced her to guideboats and their restoration. When the position at the museum opened up she jumped at it, selling her first boat that year for $14,000 and the next one for $24,000. Not bad.
She's now been the builder in residence for12 years, teaching school during the rest of the year, and is very, very good at it. It's amazing the quality of work you can do when it only has to be right, not profitable. The museum sells each of her completed boats to raise money to support the exhibit. The prices are too rich for my pocketbook, but they are truly works of art.
We chatted for a while, and she showed me construction details and tools. She was familiar with the Melonseed by name and was curious to see photos, since they were contemporary with the boats she builds. She wants to venture into building something new and different for herself, just for some variety, and was looking for ideas. My guess is she'll go for something really challenging and really elegant, and do it the old way.
I found a nice and lengthy writeup about Allison, as well as details on building a Guideboat, here:
Building a Traditional Adirondack Guideboat
Other great stuff at the museum besides boats. Too much to list here, but it's an amazing collection of life in the woods from the turn of the last century. Even full size trains, carriages, and cabins furnished with handmade furniture.
A gallery of favorite images here: