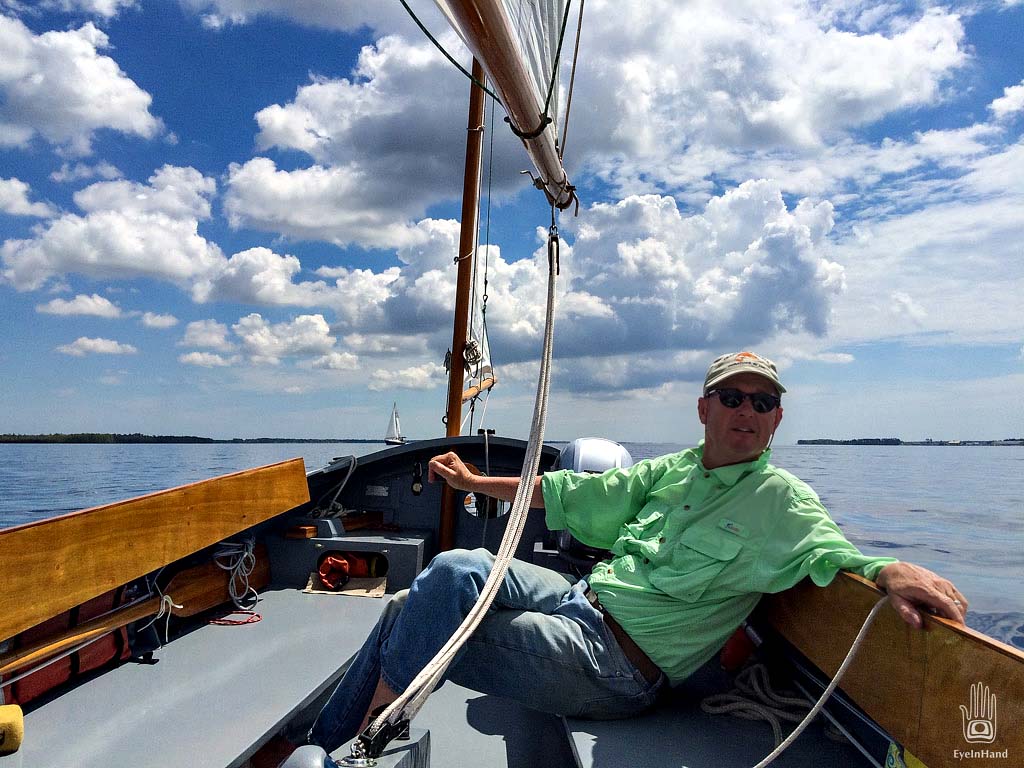 Steve Earley in Spartina near Elizabeth City 
 (Photos and text, video to come.)
Eighteen months ago it was the Elizabeth River. Now Elizabeth City. Steve tells me his home port of Chesapeake originally was to be called Port Elizabeth. There are other Elizabeths in his life even closer. HIs world seems thick with Lizzies, and he seems rather fond of them all.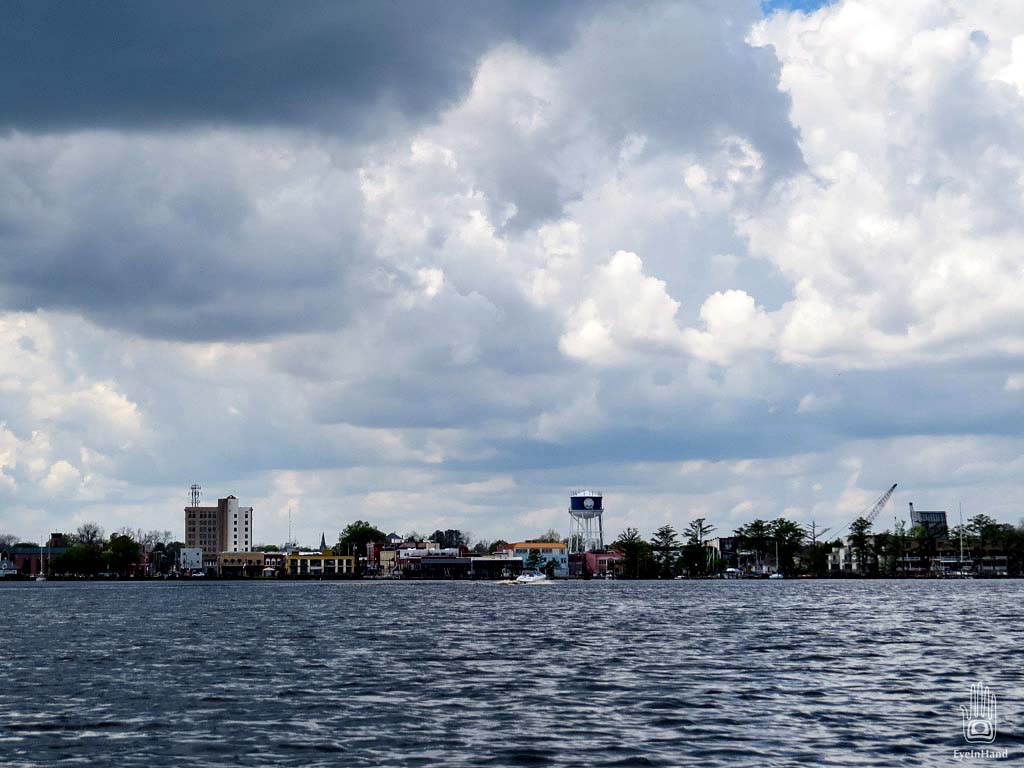 Elizabeth City from the water
I'd never been to Betsy Town, as he calls it. Elizabeth City was never quite on my way to somewhere else. I've been missing out, apparently, and will have to come back. Shores are lined with cypress and gum and slash pine, and at one time large tracts of Atlantic White Cedar, prized for shipbuilding and shingles. The water is steeped in the tannin-filled effluent from the Dismal Swamp, the color of strong black tea.
The Dismal Swamp Canal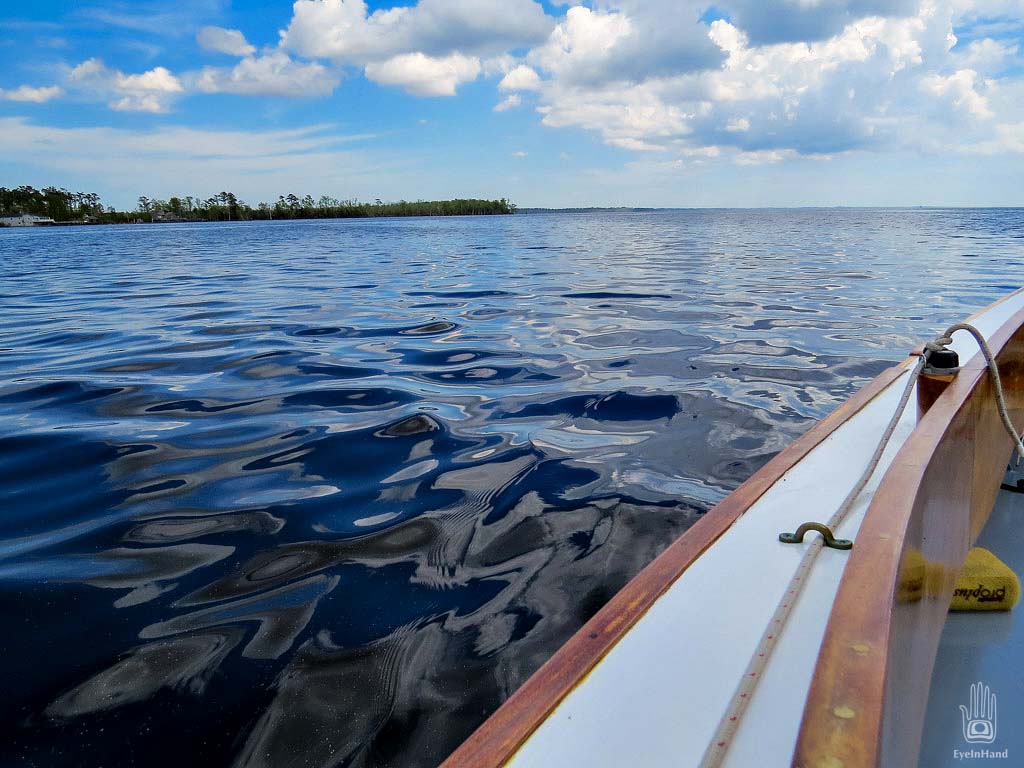 Black water
Elizabeth City has deep roots in varied commerce that comes with access to watermen. In the early 1800's, Elizabeth City was a major port, positioned at the North Carolina river entrance to the Dismal Swamp Canal, which was, at that time, part of the Intracoastal Waterway. Steady shipping traffic brought business of all kinds. The city was named (possibly) for the proprietress of a successful "tavern" who provided services to sailors and land for the town. True or not, it speaks volumes that this is the story the locals prefer to tell.
When shipping traffic on the ICW moved east to the newer, deeper Albemarle and Chesapeake Canal, the Dismal was mostly abandoned by all but recreational traffic. The town, betrothed to the old canal, was left jilted at the alter. It's like she's been waiting there all this time, still in her wedding dress.
World War II brought a temporary new suitor in the form of defense contracts – ship building to fight sub warfare, and dirigibles. From the water, Steve pointed out a dirigible hangar still in operation, and an air base to guard it, and a Coast Guard Station; but the last half century has been slow paced, based mostly on agriculture.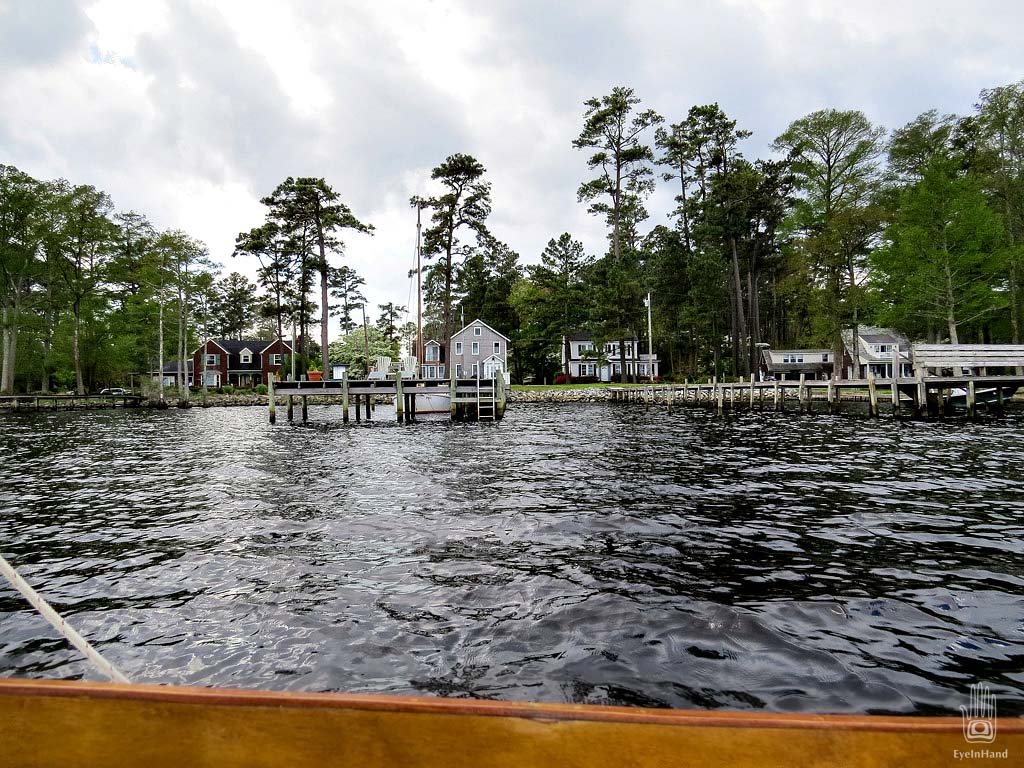 Homes and streets and storefronts were left empty a long time, so have been well preserved since the earlier era. In this way the town, small and southern, is a little like a grandmother's attic: Full of old treasures, a little dusty, but otherwise still attractive.
By virtue of its proximity to the water the town is having a bit of a revival. Streets are getting improved, fresh landscaping, some new businesses moving in. In the coming years it could be a happening place. Way back in the day, this is where my Dismal Swamp relatives used to come for a good time. Maybe before long they will again.
We'd been hoping to get a trip in for a month or more. As Steve mentions in his post, the weather outlook by Friday turned from great to maybe not so good. I had not been on the water this season, though, and I didn't want to miss the chance. I hadn't seen Steve in quite a while, either, and we had a lot of catching up to do.
It was still dark when I left Scottsville, and the sun rose over foggy fields. Here, fog often means a falling barometer, which often means storms coming.
Morning fog near home
Steve was rigged at the dock when I got there, after an hour of sailing already. A nice fellow from a much bigger boat chatting him up and asking questions. Steve says this happens all the time. People with big boats, once over the first blush of new ownership, begin to suffer the maintenance headaches and other high costs of keeping it. They eventually start looking longingly at smaller boats you can simply sail. No docking fees, electrical systems, no plumbing systems, no navigation systems, no systems systems, to constantly fail, and no crew needed. Despite the obvious limitations, it's really hard to beat a small boat for pure enjoyment.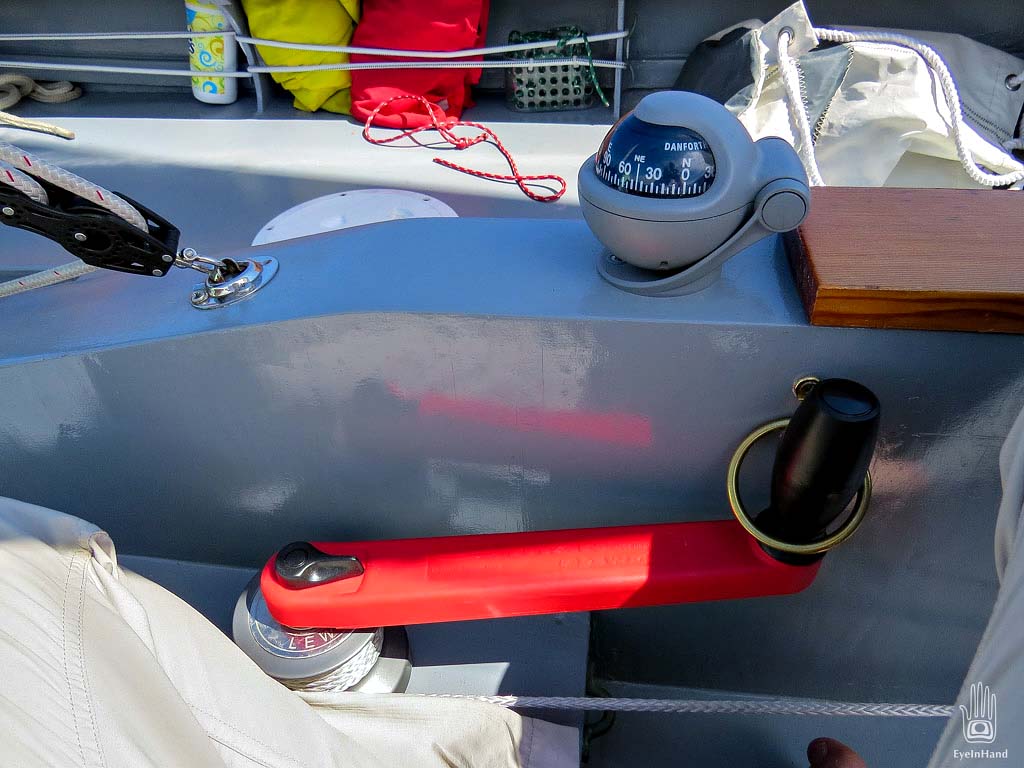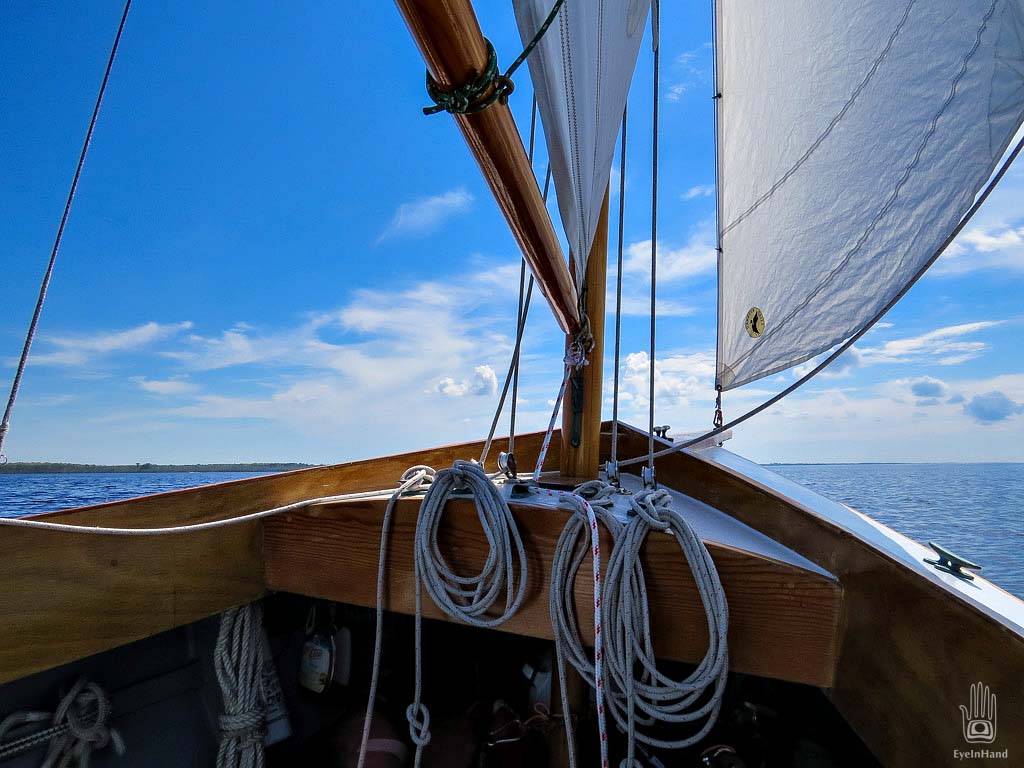 Most people figure that out eventually. The people who really take to the big boats seem to be those who live aboard them for extended periods. They just aren't much fun for seasonal weekend use. As we cast off and pulled away from the dock, Steve wondered if the guy with the big beautiful ketch was hoping for an invitation to come along.
The first few hours were hot and still. There was enough wind to get us out into the river away from shore, then we mostly drifted. For maybe a couple of hours? Hard to tell. The conversation drifted, too, and we sort of lost track of time. The boat did not require our attention, so we gave it to publishing, daughters, work, history, technology, boats, friends, growing old, etc., etc..
When some wind finally did appear, we realized it was from a big thunderstorm that popped up quickly. Radar showed it moving our way, so Steve took us in to tie up at the old shipyard docks while it passed. He wanted to look around, see what had changed since his days here with an earlier boat, a Nancy's China, and show me some old boats up on stilts.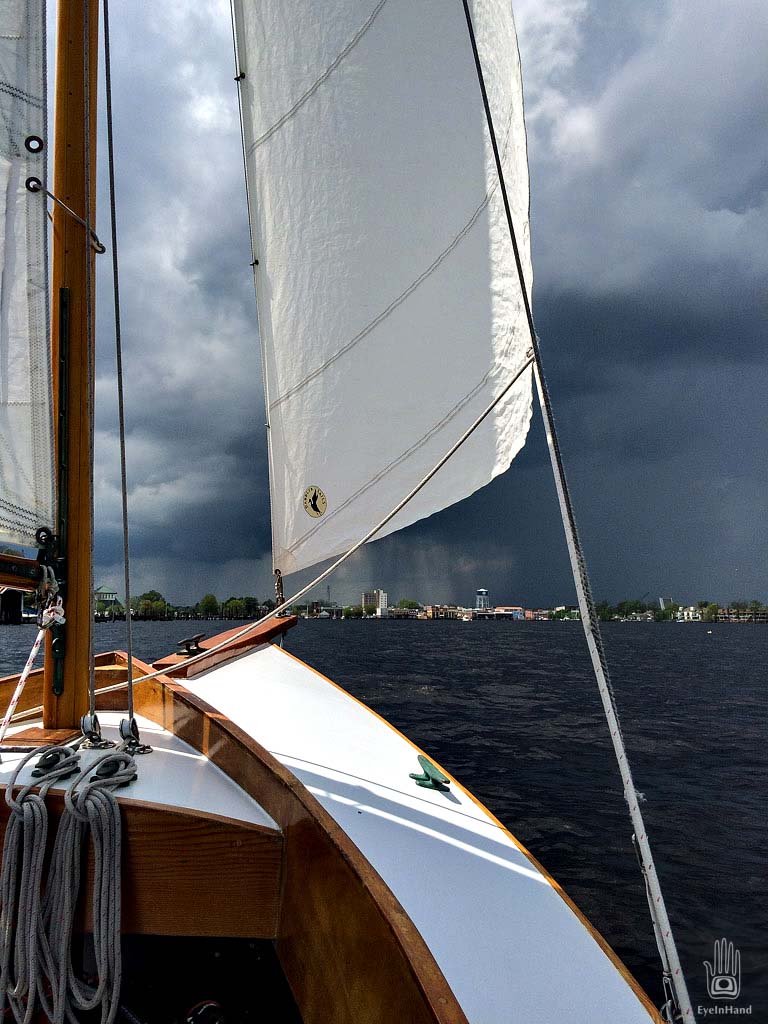 Once we got closer, it looked like many grand old vessels had suffered hurricane damage.
The shipyard had been in some form of operation as recently as 2013. Now it appeared all but completely shut down, an eddy collecting all manner of rusting cast-off equipment and derelict boats. Steve said it had once been a bustling business.
The storm slipped by to the west, and we got another couple of hours of nice sailing on a steady wind.
We got a text from Kevin and Doug, who were sailing at the same time somewhere north on the Chesapeake.
 Kevin's Navigator "Slipjig" snapped by Doug in his Marsh Cat "Comfort"
A great day overall. And I got to take home a dozen oysters and a pound of sea scallops from Uncle Chuck, which made for a very nice meal to top off the whole weekend.
In a little over a week, I'll meet up with the guys from Philly and NJ for the annual Chesapeake Float, and a trip to Tangier Island. Can't wait.
Thanks Steve. Have a great trip on your Spring Cruise.