Curt looking for The Hole in the Wall
This is going to be fun.
It is true that I should have left 15 minutes ago. Yes, it's still dark, and the mountains to the west are a deep cold blue like waves crashing on a beach of stars; but the horizon in the east is glowing embers. Fifteen minutes is easy to make up. Normally not a problem when driving 2 1/2 hours east, to the Chesapeake.
But crews have been replacing two of the old steel truss bridges on the River Road along the James. In the semi-dark I sit at temporary stop lights blinking on deserted roads, deep in the woods – no work crews around, no other cars, just me sitting in the dark, alone, listening to the car idle and the katydids and the tree frogs and the fish jumping in the Hardware River below, dutifully waiting tor some imaginary line of cars to pass so the light will turn green and let me safely pass. Is that a police cruiser in the weeds on the other side? A ticket would make me really late. I have to do it all again at the Rivanna. I love these old bridges, and will miss them when they're gone. I miss the one they took down a few years ago on the road north from town. A double insult to be delayed by their funeral.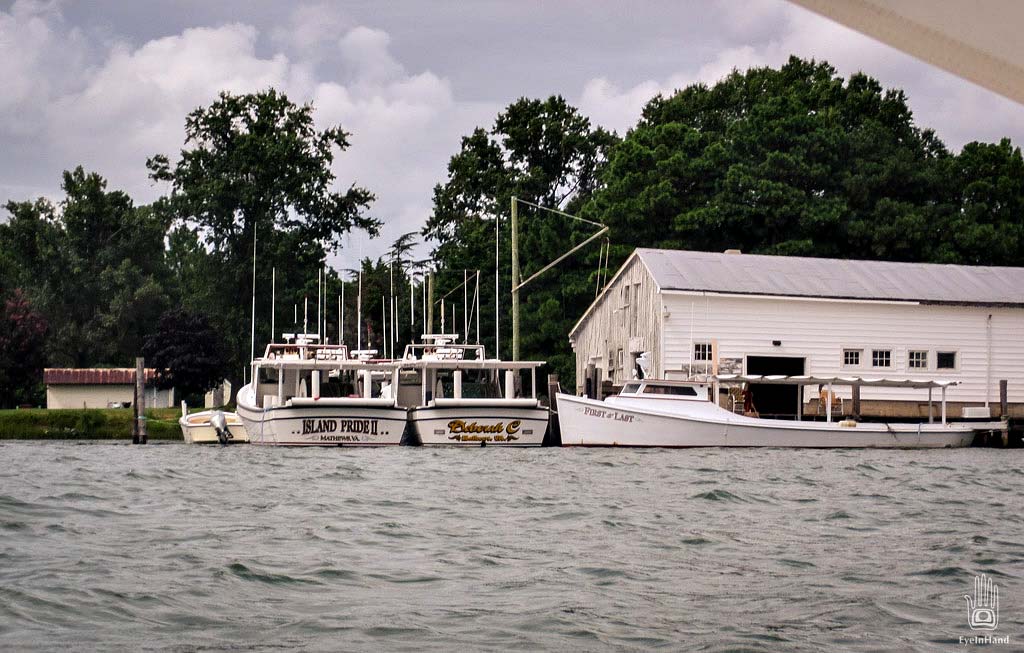 deadrises at Gwynn's Island
At Richmond, crews are repairing yet another bridge; this one carries the interstate over Shockoe Creek, an industrial valley through which trains flow down to the James. But these crews, city folk, are wide awake at this hour and working diligently under klieg lights. The only time they can shut down the highway is when I need to get by. Multiple lanes of traffic feed down to one lane, slowing to a crawl.
Beyond Richmond the way is clear, but too late – the time is already lost. The sun is high. Surely Steve and Curt are pacing about in the hot white light, waiting.
Finally, three hours later and a mere two hundred yards from the destination, I am stopped again, this time at the old swing bridge to Gwynn's Island. The gates come down, the lights blink, a bell clangs like a wagging finger, and I am chastised for another 15 minutes. The old bridge, feeble and palsied, slowly pivots and lets something pass, not even tall enough to see. Then, just as slowly, pivots back, clanks into place, pauses, opens one gate, then another, and only then gives the green light to go. Jeeze, finally! Only 45 minutes late.
If you've already read Steve's wonderful post, you know how this ends – better than it started. Very well indeed. And Curt has also beat me to it (posting a great painting, to boot).
In the mid to late 1800's, many Impressionist painters were friends who, rejected from establishment venues, displayed their works together in the Salon des Refusés – the Gallery of Rejects. They liked to take excursions together and paint the same scenes in their own styles, hanging them side by side. Steve and I and Curt each took photographs on the trip, often of the very same scene, and will all three write about it, each in our own way. Since one of us (Curt) is an accomplished painter, the analogy seems appropriate.
Like I said, this will be fun.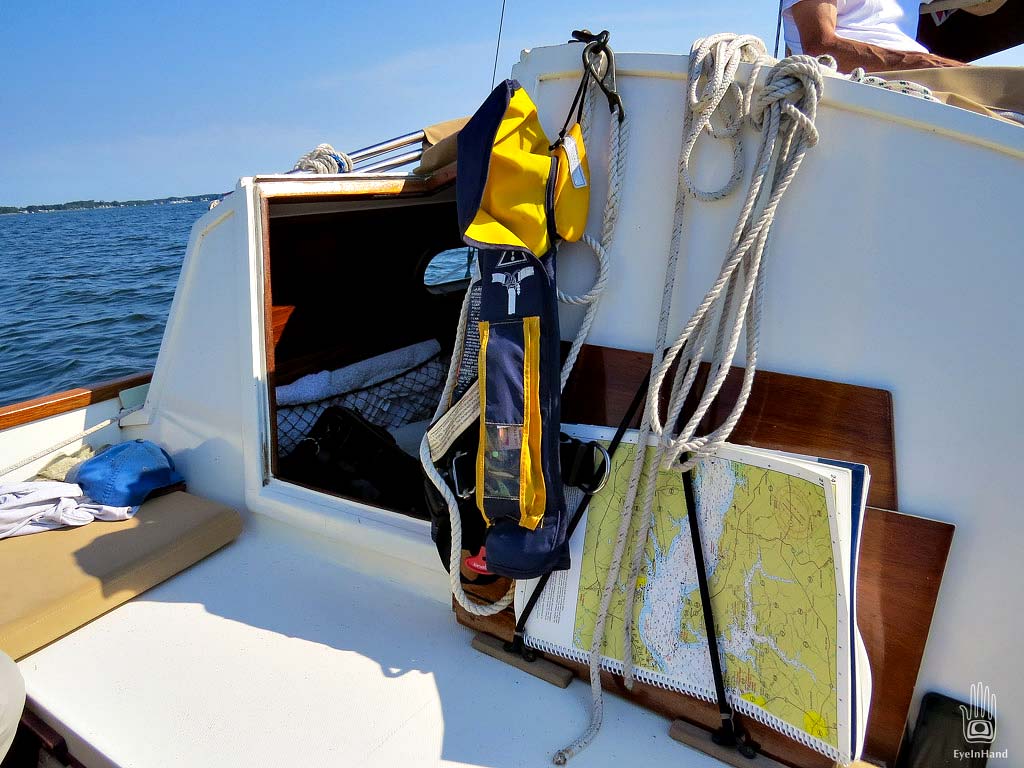 Gwynn's Island is a humble place, still very much like all of Tidewater was when I was young, before living on the water was cool. By virtue of being a little too swampy and a little too far from cities, it has mostly escaped the blight of development. The nearest McDonald's is almost an hour away. The marina where Curt keeps his boat is favored mostly by fishermen. I would meet friends here to go striper fishing in winter. As we mount up and motor through the drawbridge (obediently opening now on command) the shores are lined with workboats, not pleasure boats, tin-sided boathouses and modest homes, not condos; though it's clear this place is a holdout for only a little longer.
Out in Hills Bay, Curt raises sail, and Steve can't take his eyes off a fisherman standing in a jon boat casting toward the jetty, says he thought about bringing his fishing rod. Knowing Steve's professed lack of prowess in the angling arts, we all find this funny. But then, it is called fishing, not catching.
Curt aboard Annie at St. Michaels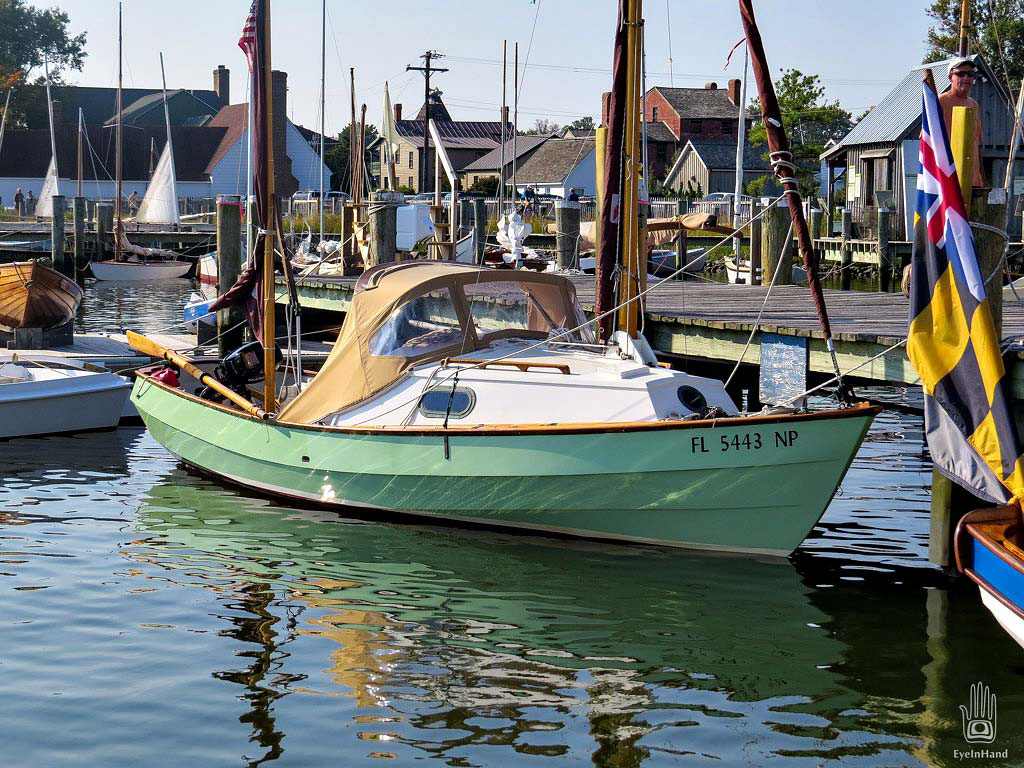 Annie, a Drascombe Longboat, on the Chesapeake Float in 2012
Annie, a Drascombe Longboat, on Day 2 of the Chesapeake Float in 2012
There is little to no wind, and it's getting hot. But Annie, Curt's Drascombe Longboat, is still making steady headway on the outgoing tide. Pleasant, but not really sailing. The loose footed sails are loose. More wind is expected later in the day. Curt suggests a side trip for the morning, so we drop sail and motor toward Jackson Creek and the Deltaville Maritime Museum.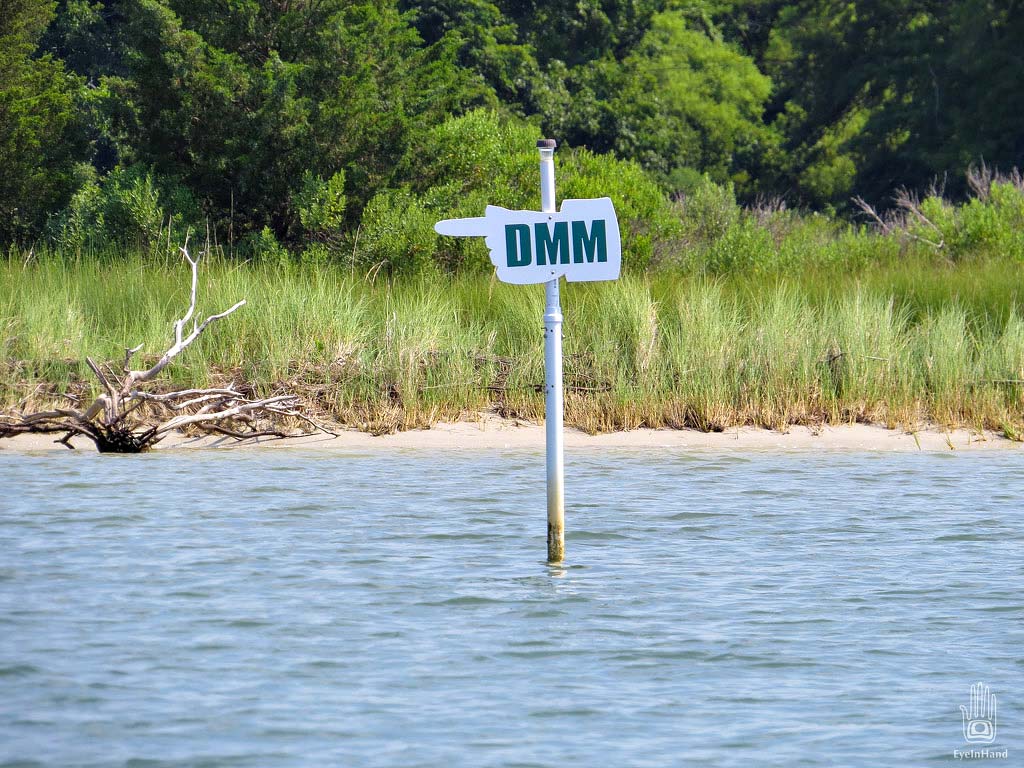 directions to the Museum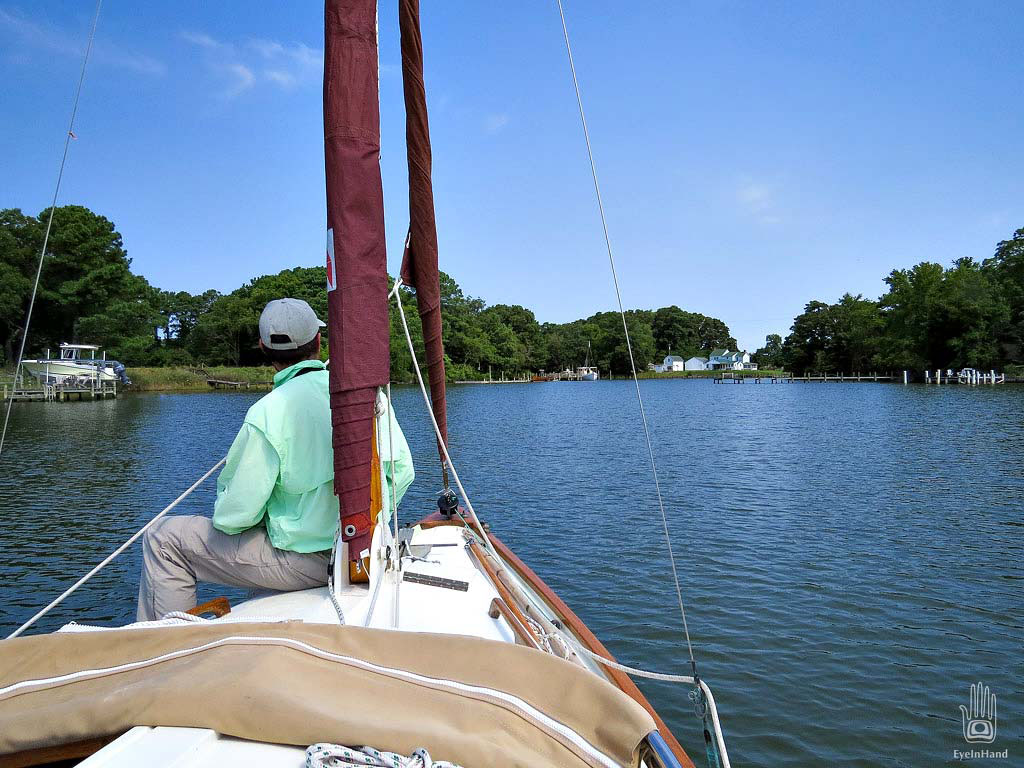 once in Jackson Creek it opens up, F.D. Crockett in the distance
If you didn't know it was here you'd never find it. Even on a chart the narrow winding creek looks impassable. The channel (if you can call it that) is not much wider than the boat, and marked by hand placed PVC pipes. These are topped with those solar powered stick-in-the-ground LED path lights you get at home supply stores, stuck into the ends of the pipes. Once inside and around the corner, following the cryptic handmade signs, the creek opens up, and there at the museum docks are several boats. The largest is the Chesapeake Buy Boat, the F.D. Crockett. It's a  big boat. I cant' imagine trying to bring that into the creek after dark. I'd put lights on those poles, too.
the new Museum Boatshop
I remember when restoration was underway on the boat. John England spent a long time and a lot of work bringing her back from the grave. Vera, his wife, sent out periodic emails with photos of the progress. It was fun to watch. This is my first time seeing her in the flesh and on the water. As we pull up to the dock, John motors by, heading out of the creek (in a lovely traditional wooden Chesapeake crabbing skiff, of course), and shouts he'll be back shortly, to make ourselves at home.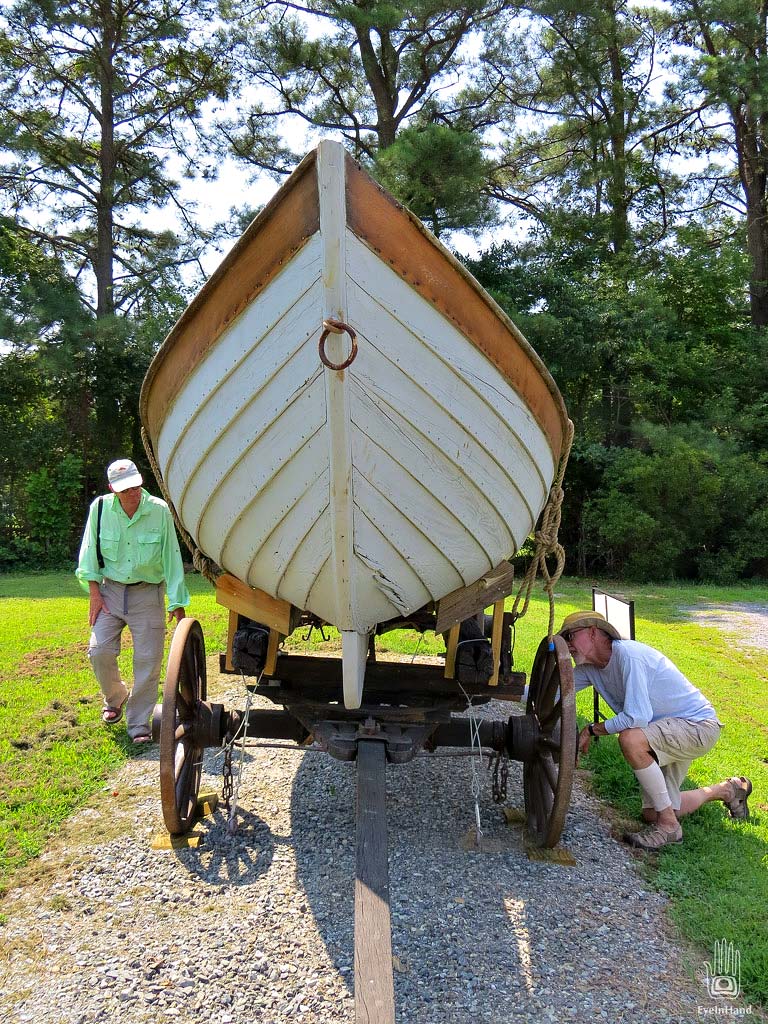 The museum has been completely rebuilt since it was destroyed by a fire in the boatshop a few years ago. Many, many irreplaceable artifacts and historic documents were lost in the fire. But the boating community responded with support and the museum has been completely rebuilt better than it was before. It's really beautiful now, the grounds and the buildings.
the Buy Boat F.D. Crockett at the dock
wheelhouse
Back at the dock we find John puttering on the Crockett. Always something that needs doing. Today it's adding a coat rack down in the hold, repurposed as a rough cabin for crew. He pulls out a photo album on loan from the most recent previous owner, who used it as a party boat throughout the '70's and '80's. Photos of girls in bikinis, of course, but also older photos inherited from the Crockett's previous lives, along with rare photos of other Buy Boats.
Curt Bowman, John England, and Steve Earley
I remember my grandfather pointing some of them out to me when I was a kid. We'd sometimes see them passing in the Rappahannock, or in harbors. He described how the Buy Boats wandered the Bay, and the watermen would flock to them, pull alongside and tie up to offload their catch, like piglets to a sow, so they could empty their boats and go back to fishing without going home. For this, the Buy Boat owners collected a tidy profit as middlemen, without all the hard work, just shuttling the catch to distant markets, whichever ones were paying the best prices. When fishing was light they carried freight of other kinds, often produce, but anything they could tote for a paying customer.
John says he's getting her ready to rendezvous with a dozen other Buy Boats on a multi-stop cruise down the Bay and into the Intracoastal Waterway, through the Dismal Swamp Canal, to the sounds behind the Outer Banks.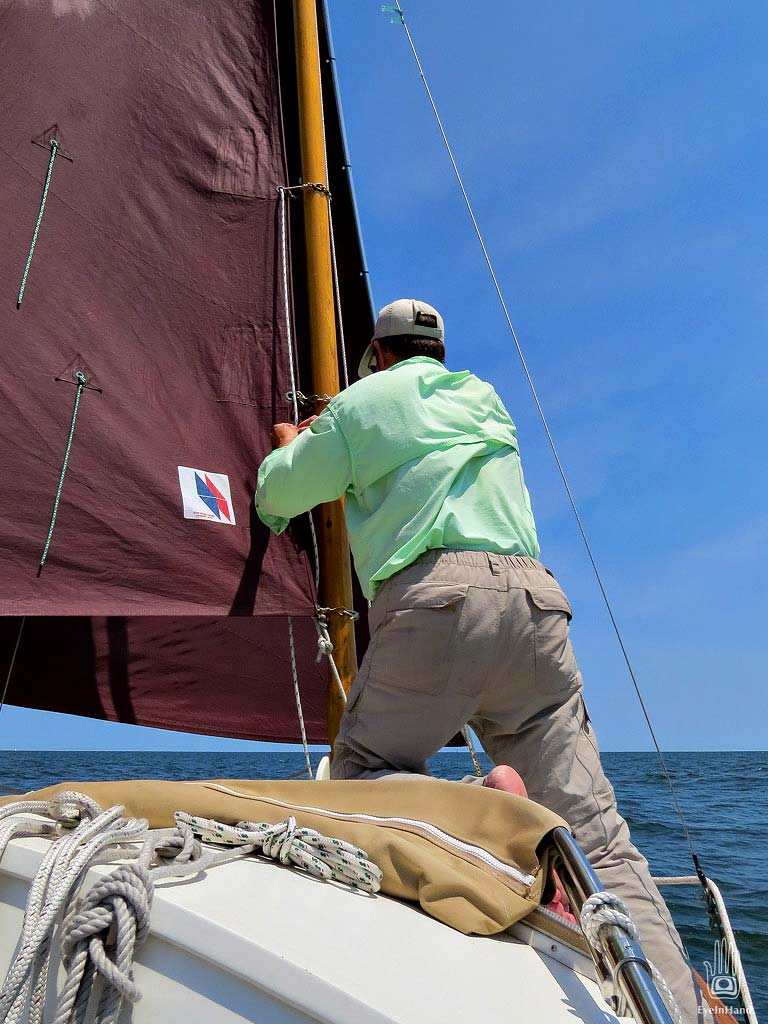 Steve mans the camera station, priorities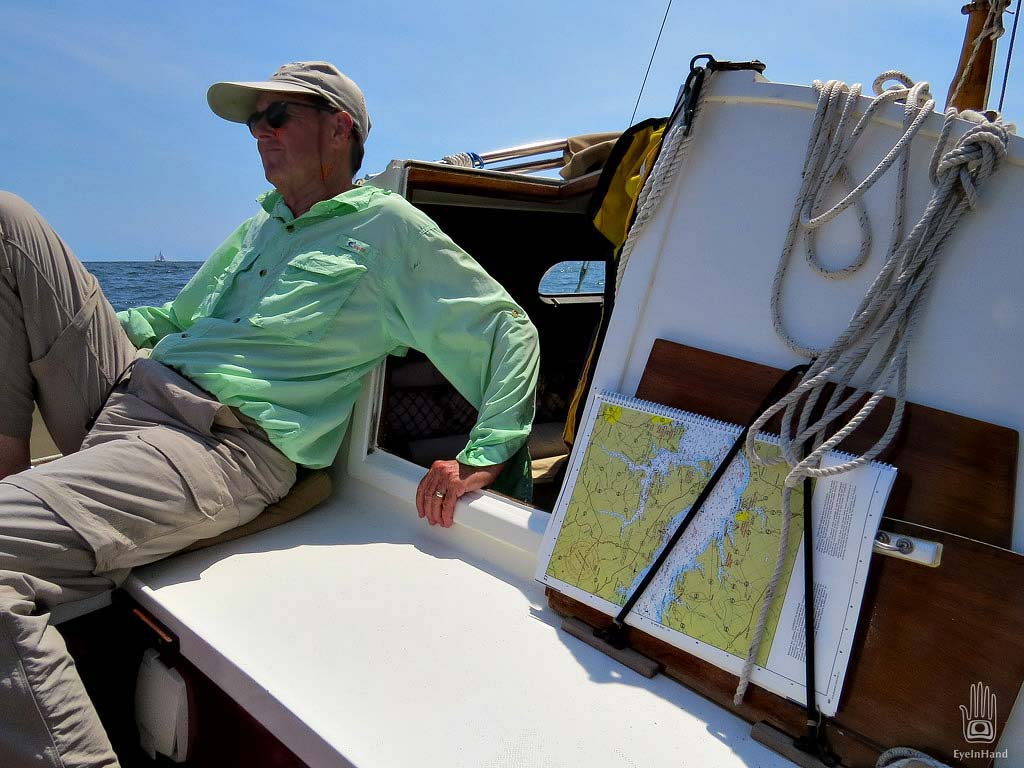 Back out in the Bay the wind has picked up. Curt sets the sails and points us to open water on a close reach. We'll have a long beat south to get around the island.
Steve and I are trying to figure out this loose-footed sail thing. What? No baseball bat to duck when coming about? No dramatic life threatening jibes? Doesn't make sense! Curt just smiles. He's taken this boat on very long cruises up and down the coast. Though not a big boat, she's comfortable and stable, not unlike one that Webb Chiles sailed solo across oceans. Except Webb's version was considerably more bare bones, a completely open boat. Curt has deigned to accept a few amenities, like a comfy enclosed cabin forward. I first saw her in St. Michaels before we met and, taken by her lines and obvious cruising heritage, snapped some photos of her.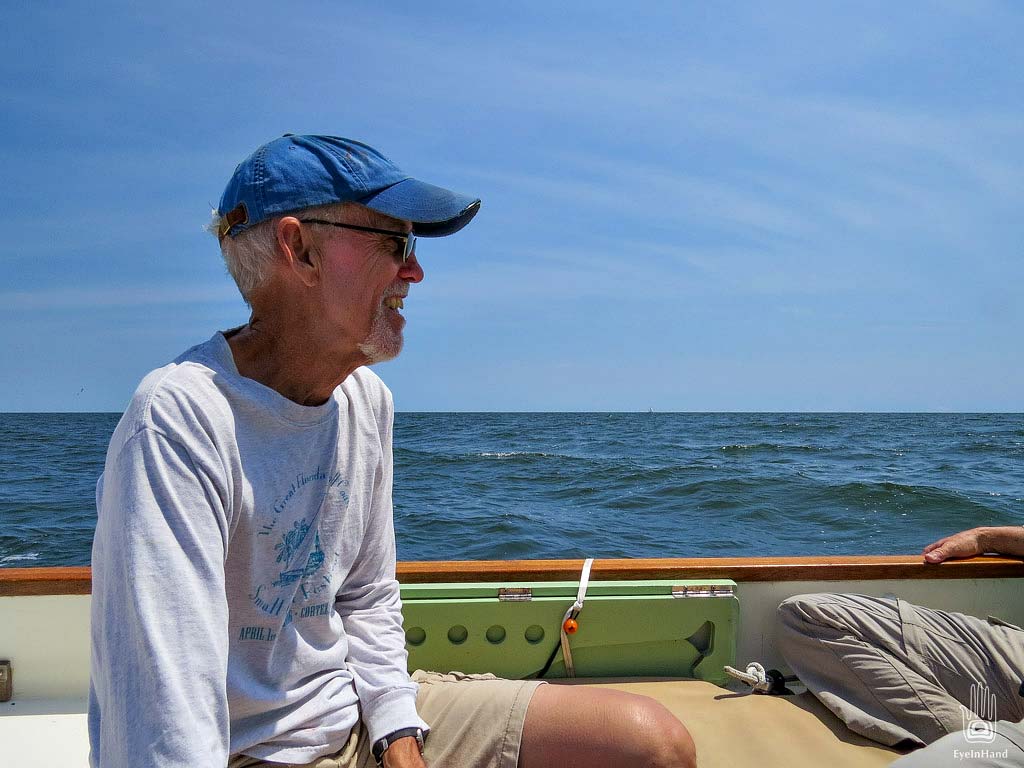 During conversation on the water, we – Steve, Curt and I – realize we each had daughters in school at VCU in Richmond at the same time. Those same three daughters are now all in California, 3000 miles away, but within a few hours drive of each other. We also realize a pod of dolphin seem to be following us, sometimes leaping from the water. And that we've crossed paths at various points in the past (not the dolphin, us) knowing people in common, even when separated by half a continent. That Steve's daughter thinks it's funny he and I dress alike. That we all like Curt's paintings. That the ketch coming over the horizon from the south on a broad reach is a lovely boat, and that we are beating the big sail motor-cruiser to port going to windward.
Late in the day at the south end of Gwynn's Island begins the not so simple task of finding our way in. This nebulous gap is known locally, and on charts, as "The Hole in the Wall." Though more open now than in the past, it's a moving inlet of sand, once part of the island now partially submerged, all sandbars and shoals. The centerboard touches bottom a few times even after we're across.
Safely inside Milford Haven, we risk a beer each. Curt happens to have a stash of canned anchovies and crackers to hold us until dinner, which makes Steve especially happy. He was just thinking how much he liked canned fish and crackers, and here they are. I guess we're all hungry.
dinner on the docks
On the way home, fulfilling a promise, I pick up a dozen Sting Rays to take home from the Rappahannock Oyster Company at Locklies Creek, which turns out to be 15 at about 66 cents a piece. Very nice.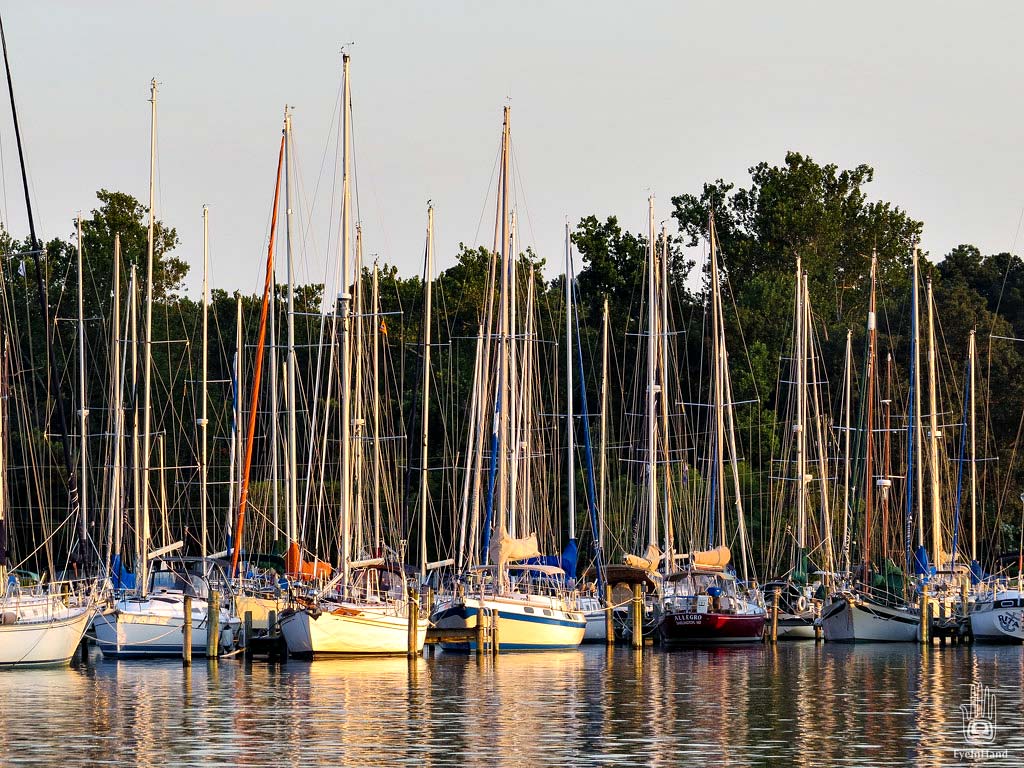 a forest of masts, Locklies Creek
Two and a half hours and many bridges later (all open this time) Terri and I sit around the kitchen table and taste the sea in the mountains.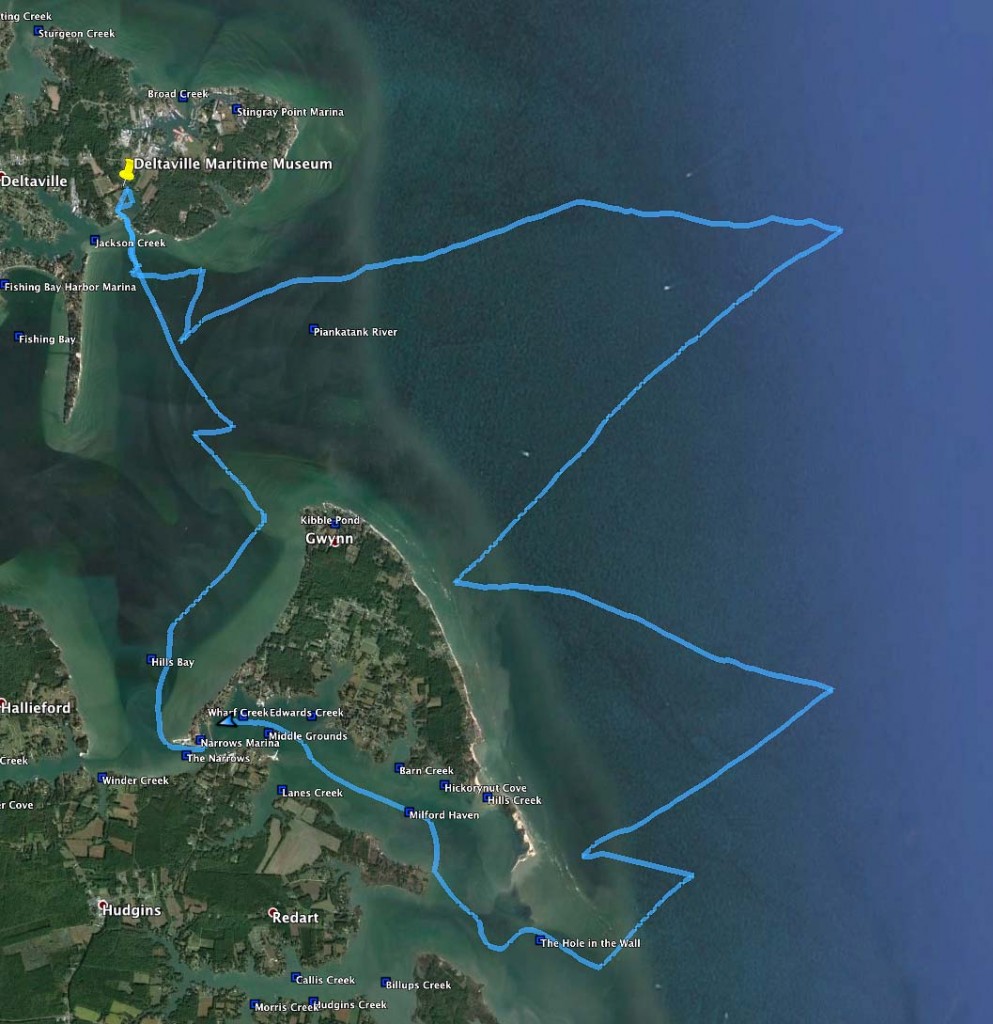 sail track for the trip