Sailing out into the Rappahannock River 
Doug and his family have only been back in Virginia from California a week – or rather, he's been a back a whole week – so it was high time to go sailing.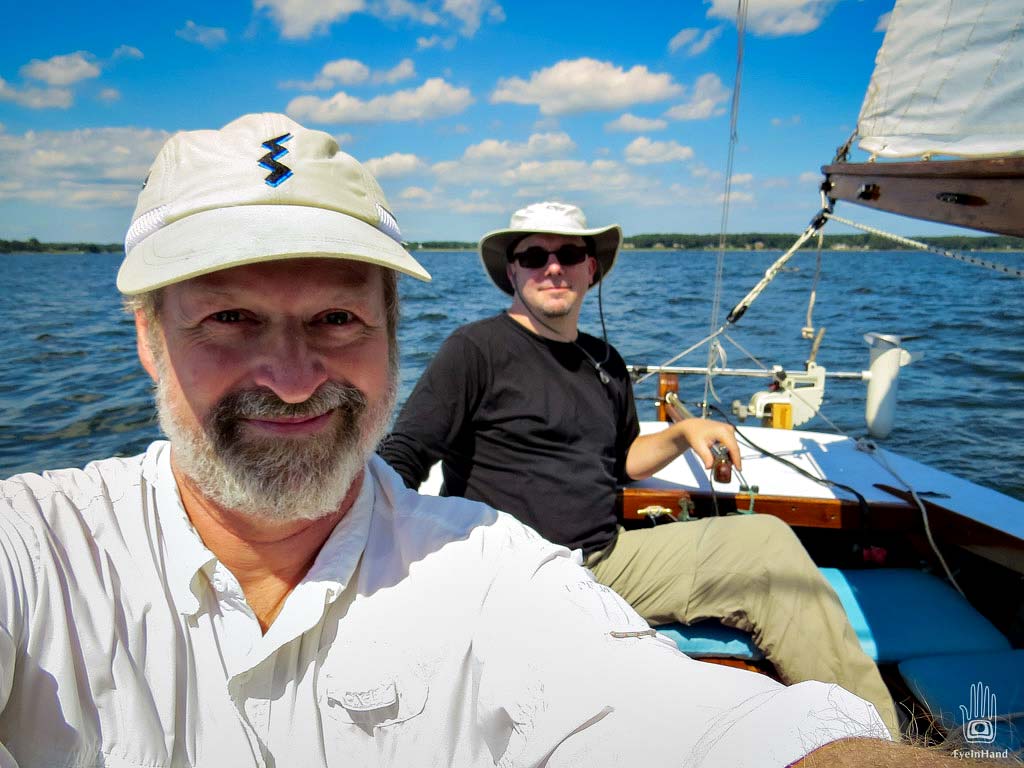 We left early and stopped in Richmond to visit Curt, see his studio, and pick up the painting he posted recently. It came with a really fine bonus breakfast and coffee (Thanks, Eleanor!)
On the road again, we make our way toward Deltaville and the Rappahannock, but this time the plan is to try someplace new. Years ago I scouted out a ramp in Irvington. It's small and private – $5 honor system fee – just gravel, but on a stretch of shoreline where there are few places to launch. Crossing the Whitestone bridge, we see whitecaps on the breezy river. Worrisome. It's calmer near the north shore. The wind is supposed to ease a bit as the day goes on. We hope it does.
We wander into Irvington and find our way to the water at another old steamboat landing. Carter's Creek is an unusually deep cove of protected water, making it prime waterfront. Several marinas and yacht clubs, the old Tides Inn, Prohibition Era estates and some recent ones, all scattered among the older historic homes of the past three centuries. Lots of big boats come in here.
In fact, many years ago for our anniverstary, Terri and I took a dinner cruise on the 127′ fantail yacht Miss Ann out of Tides Inn. (The boat is now for sale, if you have a million bucks lying around.)
the Miss Ann 
We had a great time, spending the weekend in a funky B&B set up in an old academy from the 1880's where girls could attend – rare for the time – the Hope and Glory Inn.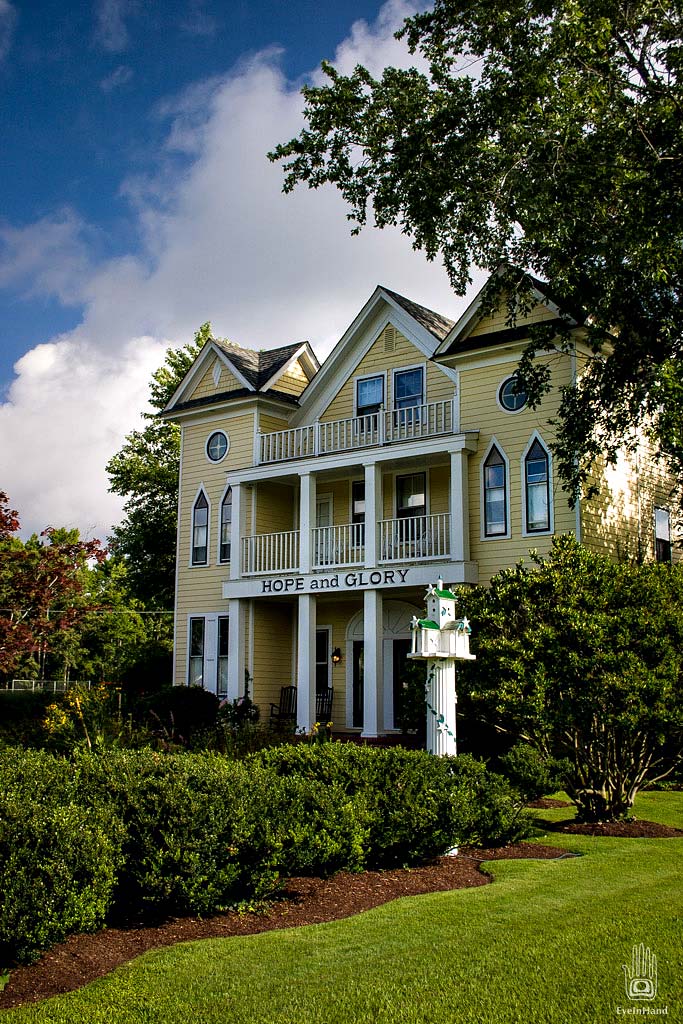 The Hope and Glory Inn, 2004
Hope and Glory Inn interior, 2004
Me and T, back in 2004
The Inn sported an outdoor bathroom, complete with
a shower and a tub with a view of the stars.
The cruise was especially fun for me. When I was a kind spending summers with my grandparents at Windmill Point, my brother and sister and I used to watch from the beach, barefoot and half naked, as the swells from the Miss Ann, in all their finery, were ferried ashore in a fancy launch for a picnic in a private gazebo. Twice a week during good weather. The huge old yacht seemed the epitome of class and elegance, and very far out of reach anchored offshore. To see our little beach and humble cottage from that perspective so many years later – from the deck of that same boat, dining on linen tablecloths, chatting with the captain in his starched whites – was a real twist on time and perception. So many great memories from that place. As it happens, we learned from the captain that the Miss Ann had just been sold to a company in Colonial Beach, and we were in fact on one of her final cruises.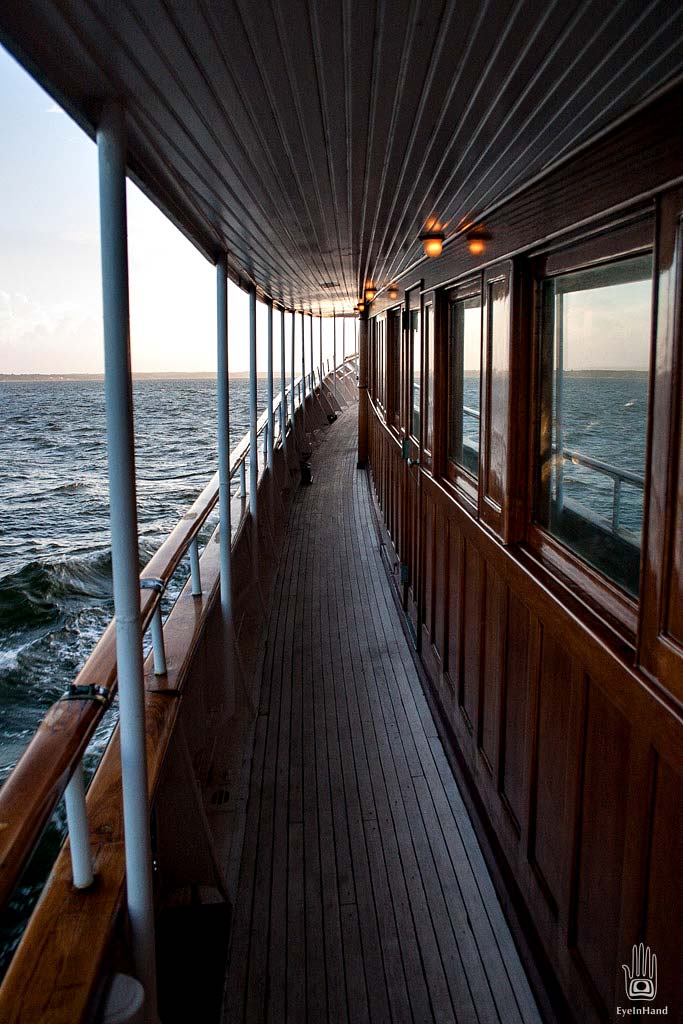 Aboard the Miss Ann in 2004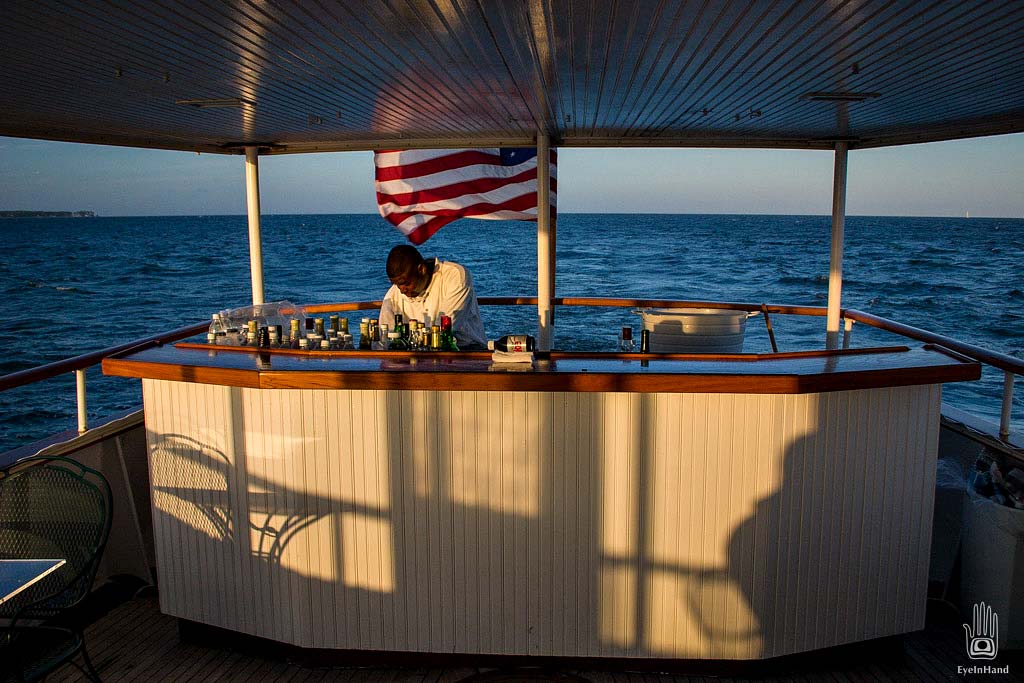 Bar on the rear deck of the Miss Ann, 2004, passing Windmill Point. 
I'm having a bit of a mental time rush as Doug and I scout the ramp. As it happens, the ramp is next to an old oyster shucking house once owned by my grandfather. My dad got started in the seafood wholesale business there. It looks very different now, converted to a yacht repair marina, but except for new siding and fresh paint, the place looks the same.
This time it only takes me an hour and a half to get the boat ready to launch. A new record! We're off and motoring down the creek into the wind, on what looks to be a very fine day.
It's a little gusty, still, so we start out with just the main and tack easily out the the main stem of the cove. There we raise the jib, and again are amazed at how much more power and speed this little sail adds. We cruise the beach at Tides Inn where we run out of wind, then turn and head for the mouth of the creek and out into the Rappahannaock.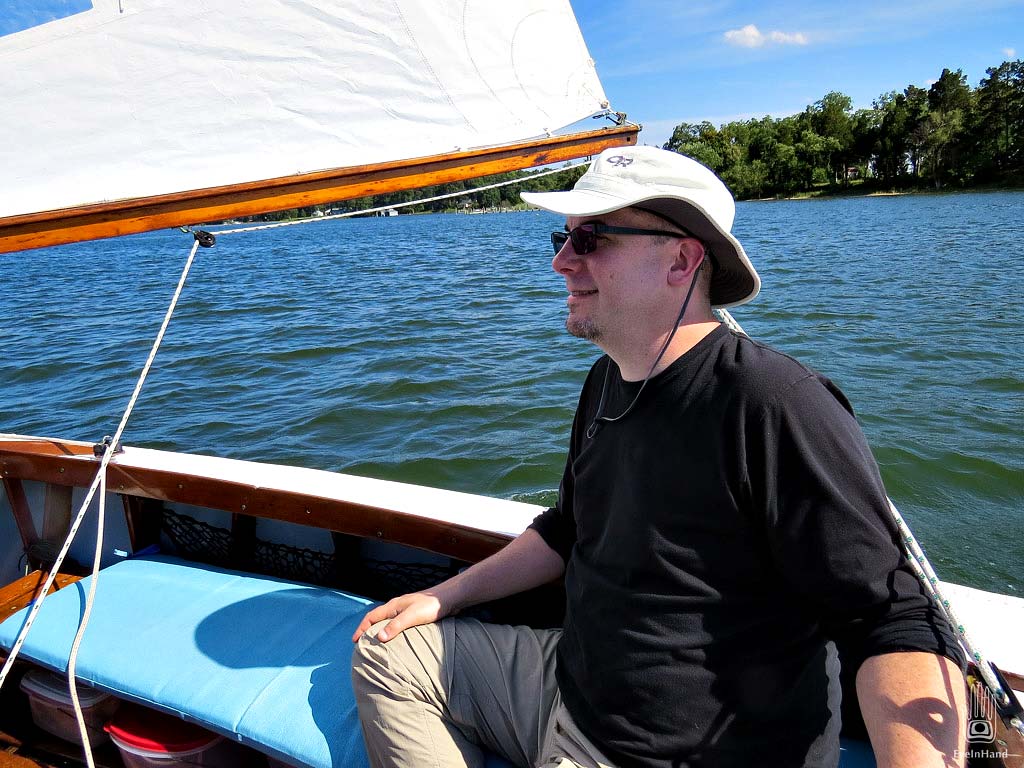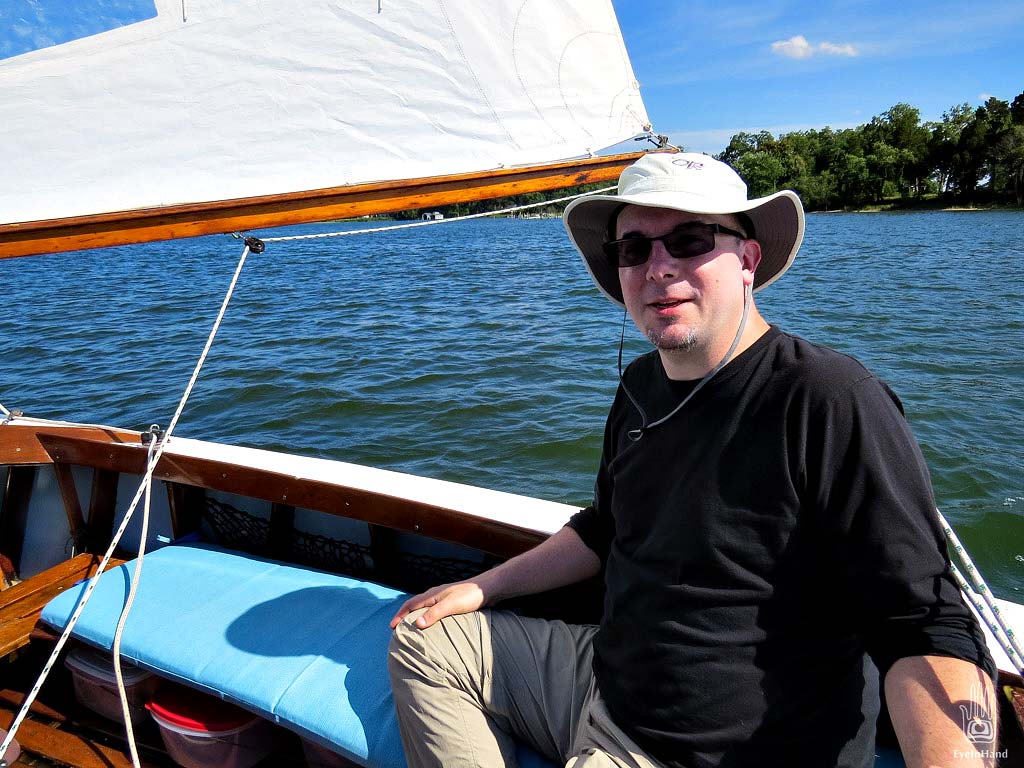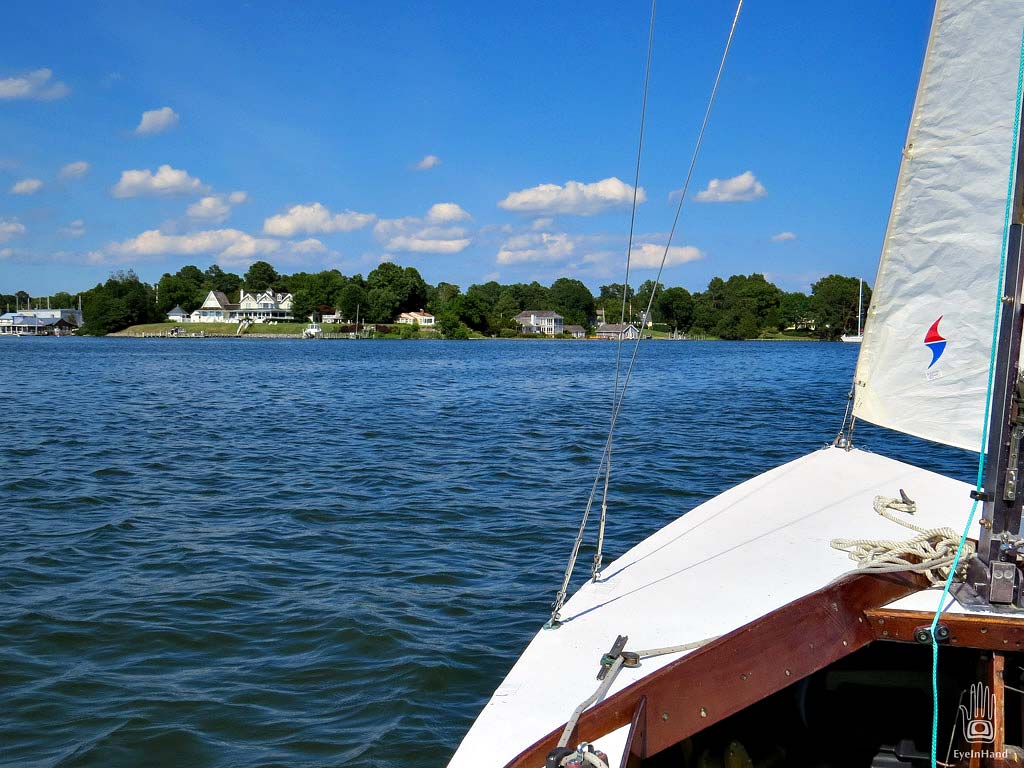 Doug and I take turns at the tiller. I play with the centerboard and shifting weight to see how these affect the balance of the helm. It's very easy to take all the pressure off the rudder with just minor adjustments, so the boat holds a straight and steady course without any effort at all. And she tacks without hesitation, even into a beating sea.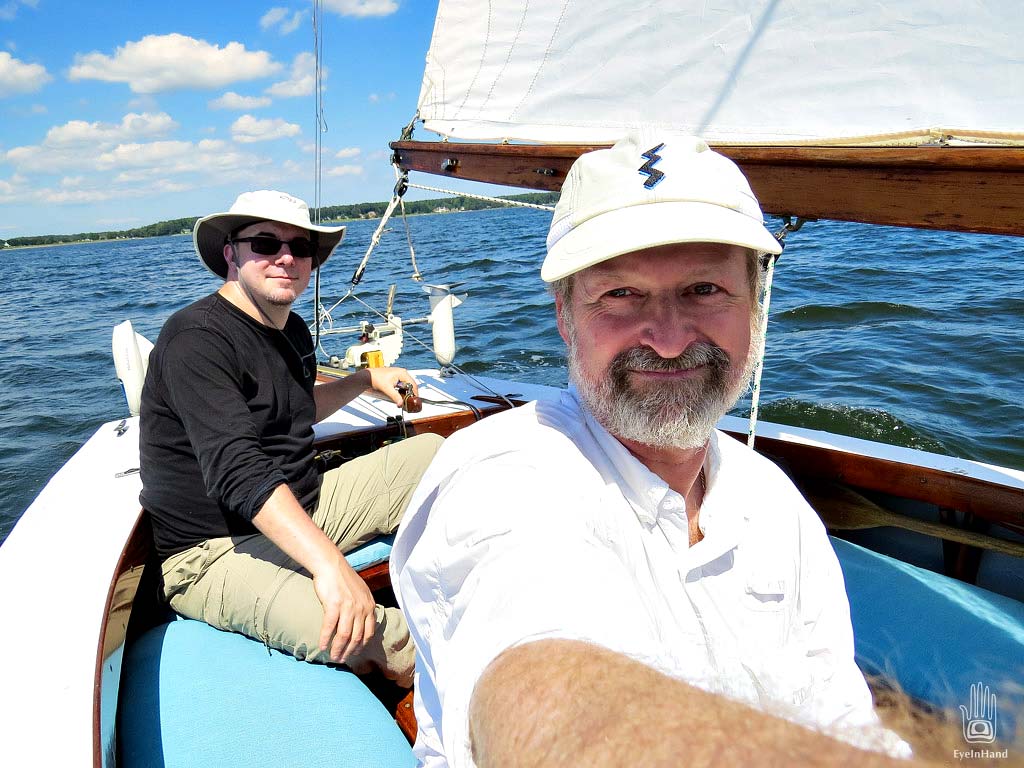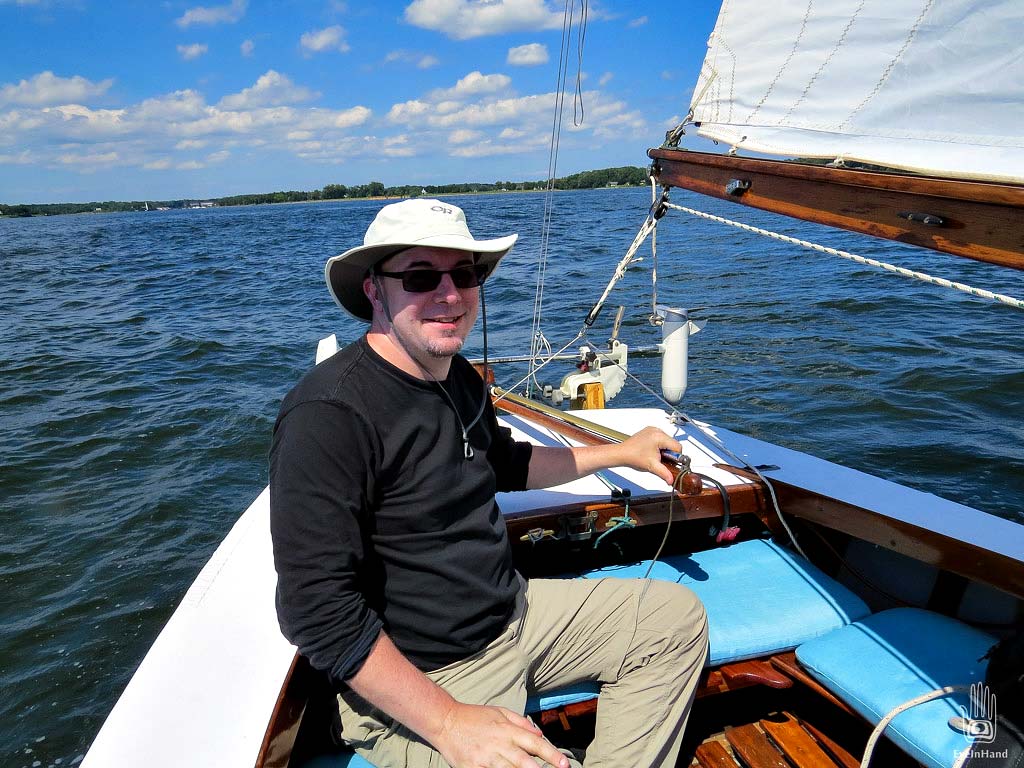 She sails like a boss. We consistently make 5 to 6 knots in a 10 knot breeze, even into the waves, and she's well mannered on all points of sail. All of this is very good news, and frankly not at all expected. Still, under strain from the rig and the pounding, the boat leaks like a sieve around the centerboard case. The case is fairly new, recently rebuilt and well made, but apparently not sealed well. Going directly into the waves, Doug notices that water forced up into the case squirts out the seams of the cap. I may get a season of use out of her like this, but If I keep her – and so far it looks like I will – there's some serious work to be done to tighten her up if I want her to last.
I'm pleased with the sails and the rig overall. It's a pain to set up, but once out on the water it's a real pleasure to sail. Lots of power and speed in almost no wind, and as other Lightning owners have said, dropping the jib is an easy way to depower it quickly. I'm already looking into roller furling as an option. It's not bad to bundle the jib up on the foredeck if you have someone on board to help. Doing that alone, though, and keeping it tamed in a blow, would be a challenge
After a couple of hours we turn and head back. Tommy, another Melonseed sailor, is down from DC racing all weekend out of the Fishing Bay Yacht Club on a friend's boat. We hope to meet up at Merroir for beers and oysters before heading home.
We sail easily downwind, wing and wing, back up the creek toward the ramp. Doug walks forward to bring down the jib. To Melonseed sailors like us, this is a real novelty. He stands on the foredeck for a while as we cruise in, just enjoying stability and the view.
For a final bow, we round up to the end of the dock perfectly, no need to even lower the motor.
We also took turns with the camera. Here's some video from the tirp:
At Merroir we get a text from Tommy saying he has to hit the road, so will catch us next time. Too bad. The oysters are amazing, as always, and we're famished. In fact, we're so hungry we get two rounds of oysters, two entrées, and are still hungry so we split a third  between us. The waitress brought another round of oysters by mistake – someone else's order. We would have easily eaten those, too, but she figured it out and took them away before we could grab them.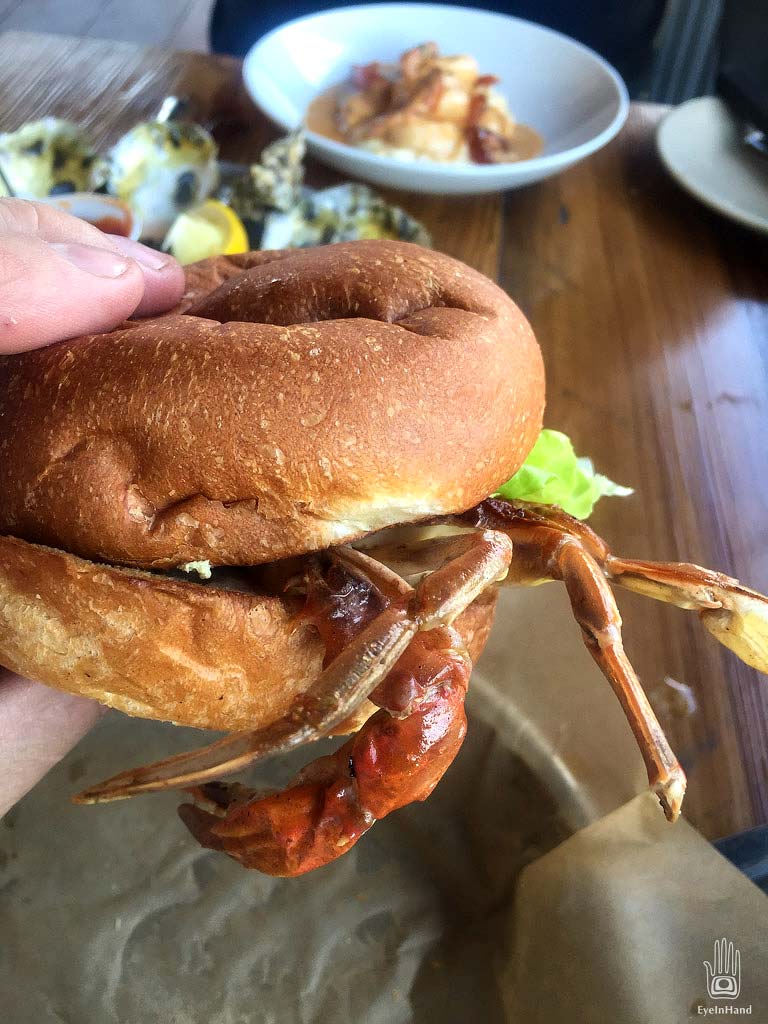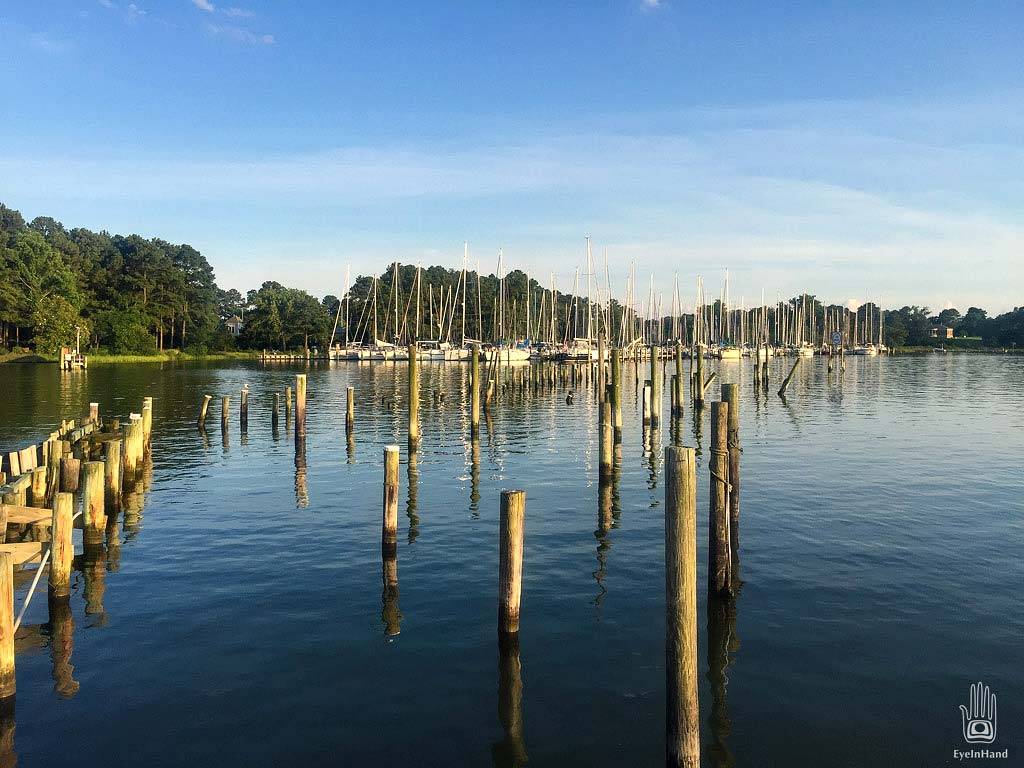 A great trip. When do we go again, Doug? Tommy?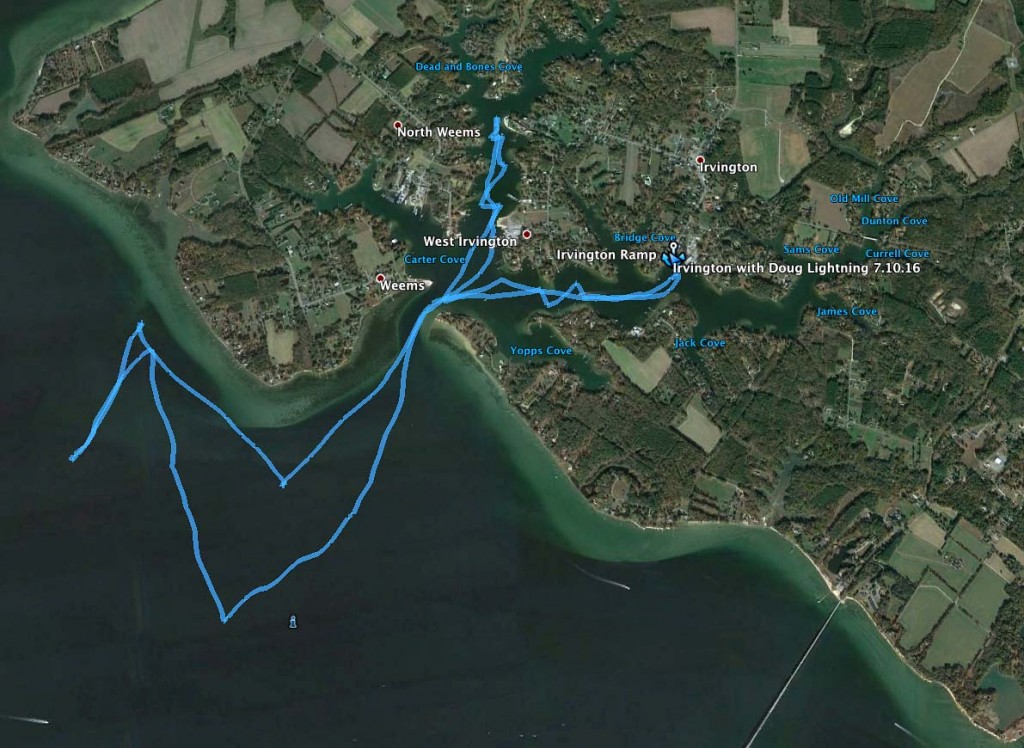 Sail Track – 10 miles, max speed 8.4mph.