"Barry Up Early" by Curt Bowman
An email from Steve contains the above subject line and not much more, other than a weblink. Following the link brings me to a page, which contains only the photo of a beautiful painting of a sailboat, with the title "Barry Up Early".
My first thought is: "It can't be me; I'm never up early." Terri, who knows me well, said the same thing, Very skeptical of anything that uses the words "Barry" and "early" in the same sentence.
But it's on Curt's blog, and Curt is a friend and a very talented painter. He never said anything about doing a painting that contained either me or early in it as a subject. I tried to think of when he might have seen such a thing. Steve and I sailed with Curt on Annie last year, making a fine day of it circumnavigating Gwynn's Island. But neither he nor I brought our boats that day. And I was late.
It sure looks familiar, though. Maybe from the Chesapeake Float up near Deal Island on the Eastern Shore. That was back in 2014, and Curt was there. I did, in fact, get up early one morning. Not intentionally; but the heat of the day turned into heavy fog during the night. More like cool mist really. Everything was soaking wet, including me, long before dim grey light sort of soaked into the mist. Big catfish rolled in a nearby trap all night, kicking up abrupt splashes that made it hard to sleep. At dawn I raised my tired head and looked around. I was the only one awake, the other boats scattered loosely around the cove, nodding at anchor in the mist. Then I watched as Curt worked his yuloh to slip Annie through the fog to one of the other boats for breakfast.
I stowed the bedroll and made a pot of coffee, then hauled up the anchor and ghosted in figure 8's and loops among the others in the creek, some of whom were still sleeping, before peeling off and heading for Dame's Quarter.
If the painting is from that trip, it's a very fine painting of a very fine memory.
Here's a link to Curt's gallery site.
He's done some very nice paintings of water related subjects this year, and had a couple of shows recently. Below are a some of my favorites, all of which are sold and now in private collections, although prints are available: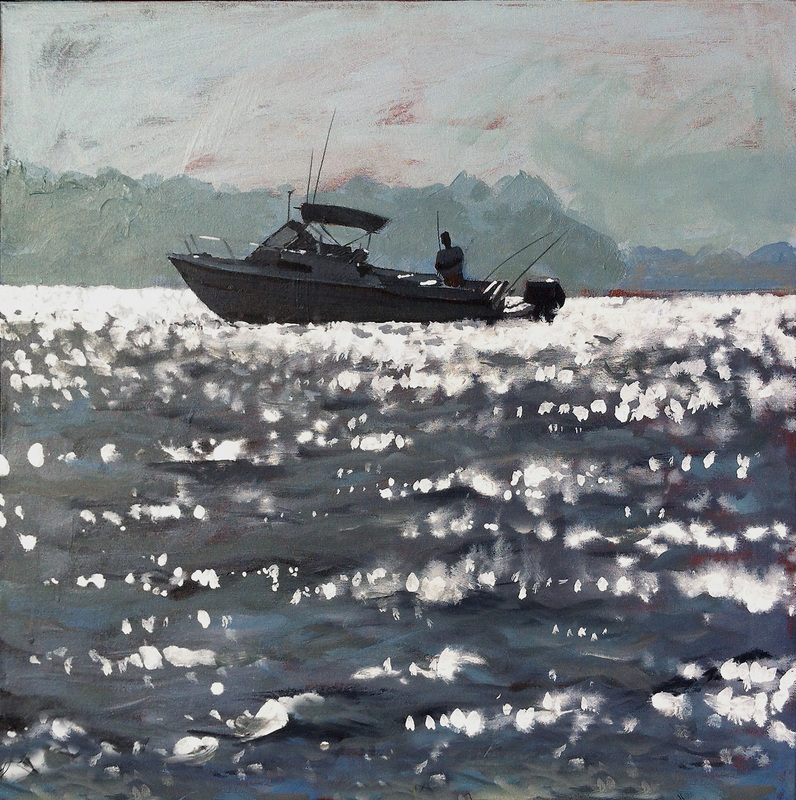 Moonlight on the East River, Mathews County/ 24 in x 24in / acrylic on canvas.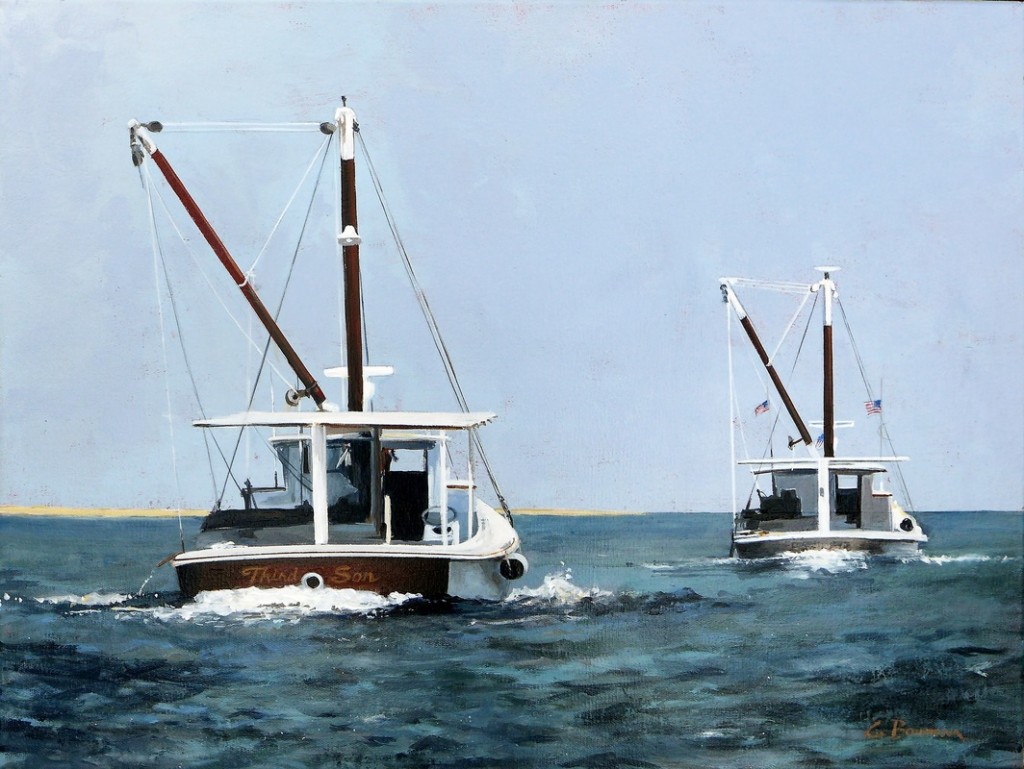 Out The Hole in the Wall / 18″ x 24″ / Acrylic on canvas
 Morning Sculler / 48 in x 48in / acrylic on canvas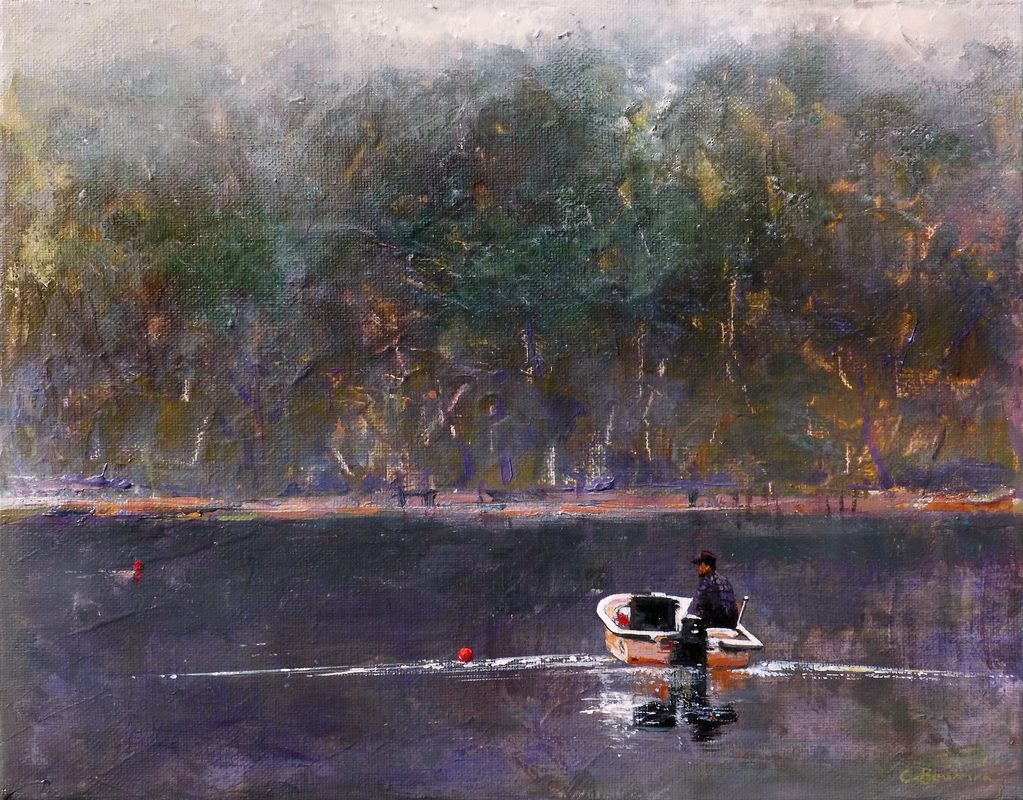 Checking the Pots / 9in x 12in / Acrylic on canvas.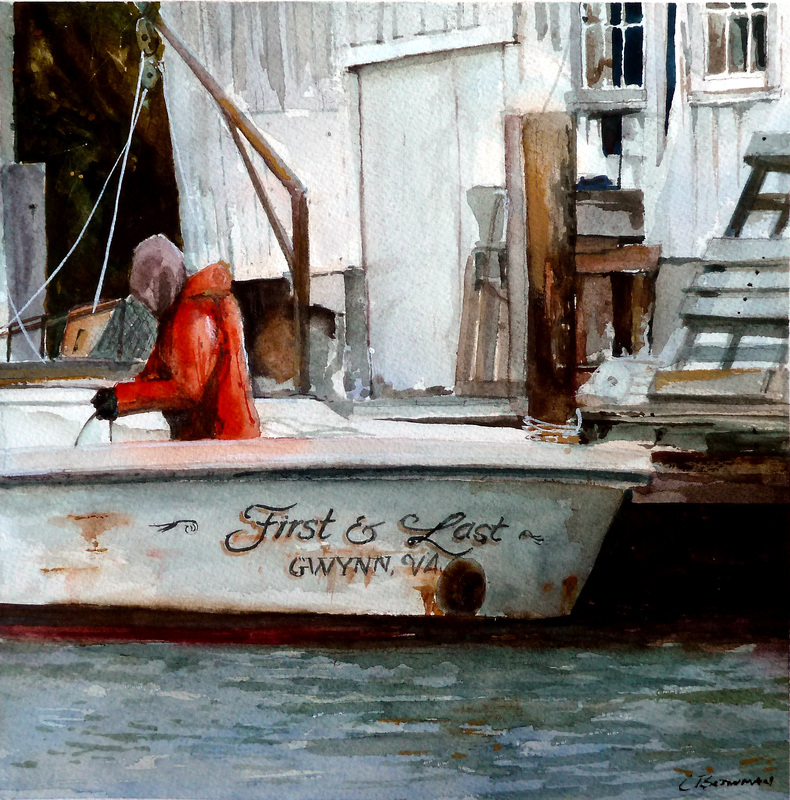 First Out, Last In / 9in x 9in / watercolor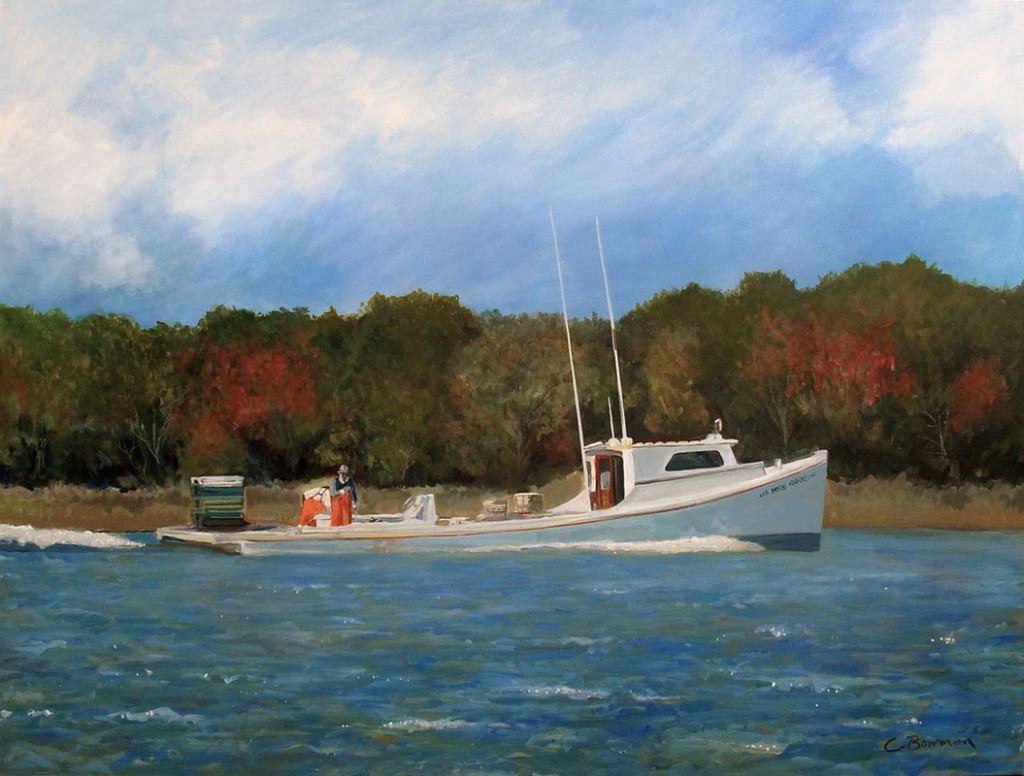 Heading In / 36 in x 48in / acrylic on canvas.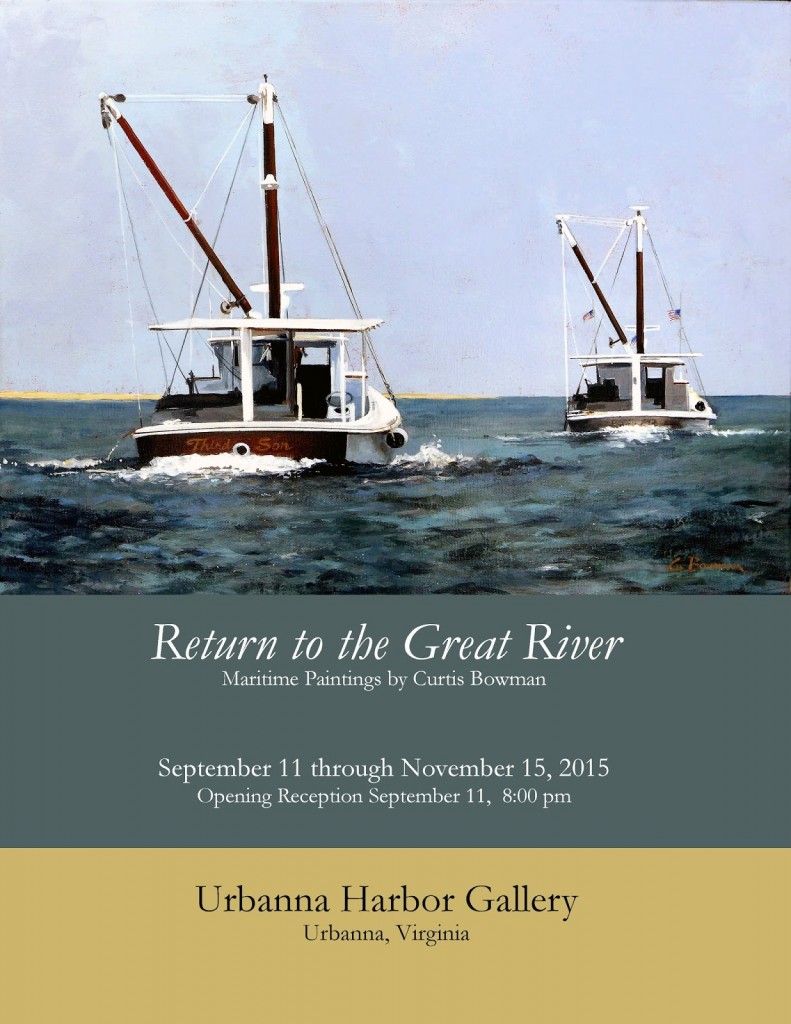 poster from a recent show in Urbanna, Virginia
I know Curt does commissions. I probably would never have thought to ask for one, but I immediately arranged to buy the ironically titled one of me in Aeon. Looking forward to having it hanging in the house.
Beautiful painting, Curt. Thanks.