Melsoneeds are designed for these marshes. Even with me aboard, both Aeon and Ceasura will float free in just 3 inches of water, and can sail in 6 with the board up. This place is their playground.
Even so, I got stuck on three separate occasions. Mostly due to inattention. Tacking right up to the grass at the edge of a creek, the boat would slow a little. Then, the centerboard deep in the mud, she would decline to come about. We'd get blown into the marsh grass. Looking behind I could see the graceful path cut through the mud by the centerboard, like a finger through chocolate pudding. Raise the board, push off with an oar, and away again.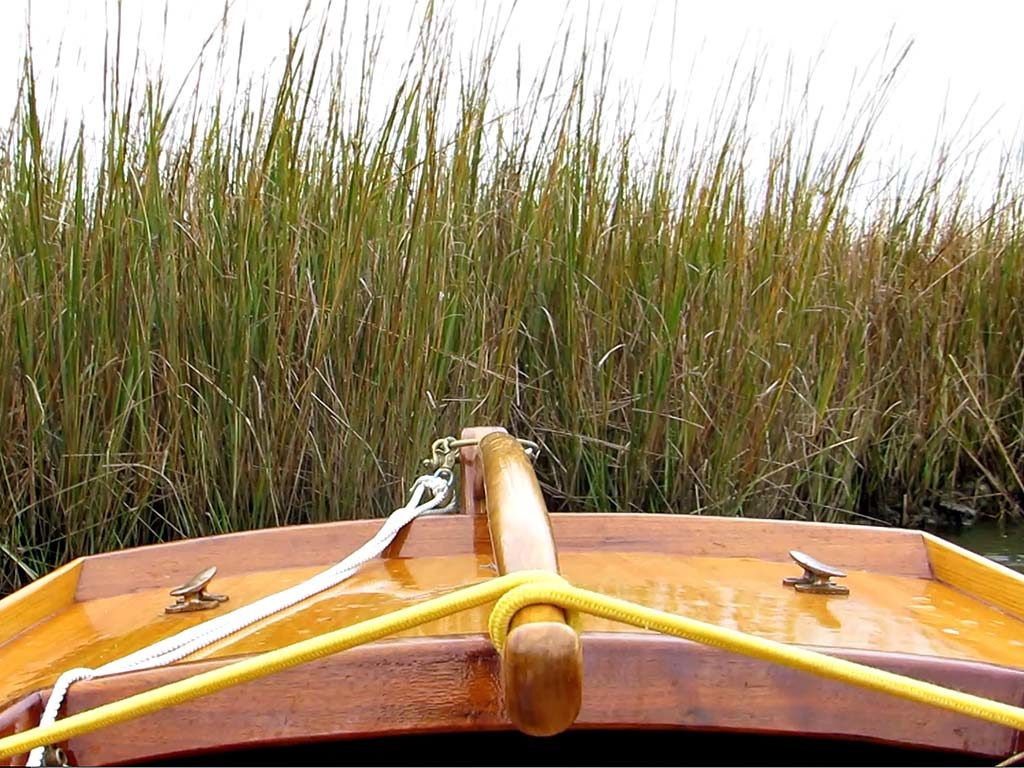 I sail into the marsh, alone or with others, five times in 7 days. The camera only came out a couple of times, though, and only once when the wind was up. I'm still gun shy from a little mishap in St. Michaels, soon explained, when I should have paid more attention to sailing and less to taking pictures. So I only have a few photos. Video is coming.
But this I can tell you: There's nothing like hissing through a salt marsh creek on a fresh breeze in a pretty little wooden boat – tall grass rushing by on both sides, past duck blinds and oyster bars, bow wave giggling along the rails.
Or gliding along at sunset, silent as a cloud, and rounding a bend into a flock of hidden ducks. The sudden explosive thunder of flapping wings and cackling calls sets your heart pounding.