Sunday is better. A little at first, then a lot. The Small Craft Warning is downgraded to an Advisory. It will remain gusty for the first half of the day, big gusts, but they will be spaced further and further apart as the day progresses, and lose their punch. By late  in the day it is as close to perfect as sailing gets.
Our hotel in Warsaw is not far from the one where Paul Manafort is spending a few nights before his trial, and not that unlike it, apparently. Warsaw had the closest available rooms we could find. Kind of weird for such a remote and unassuming place to be part of such a big story. There's a Hardee's and a McDonald's, a Tractor Supply, beauty parlors, a tire store. A pressure treated wood factory. And, clearly, a regional jail.
It's a 30 minute drive back to the marina. For such a small boat, a slip is only $25 for the night, with showers, a pool, a cafe. Well worth it. Next time we'll just stay on the boat and skip the hotel and the driving. With the kinks from yesterday all worked out, and the boat already in the water and ready to go, we're back onboard and underway with little fuss.
It feels like a repeat of yesterday. Same wind, same direction. Just a little more sun. It worked so well yesterday, we head back up the same western branch. But this time, as the wind ease a little and our confidence restored, we sailed several miles up the creek.
On the way back we're overtaken by a good sized sloop, this one actually sailing and doing it well. It has fully battened sails and a self-tending jib. A boat clearly set up by someone who loves to sail. There's a couple onboard, and as they come alongside they ask about the Marsh Cat, tack back and forth behind us a few times throwing compliments, then round up and head off down the river.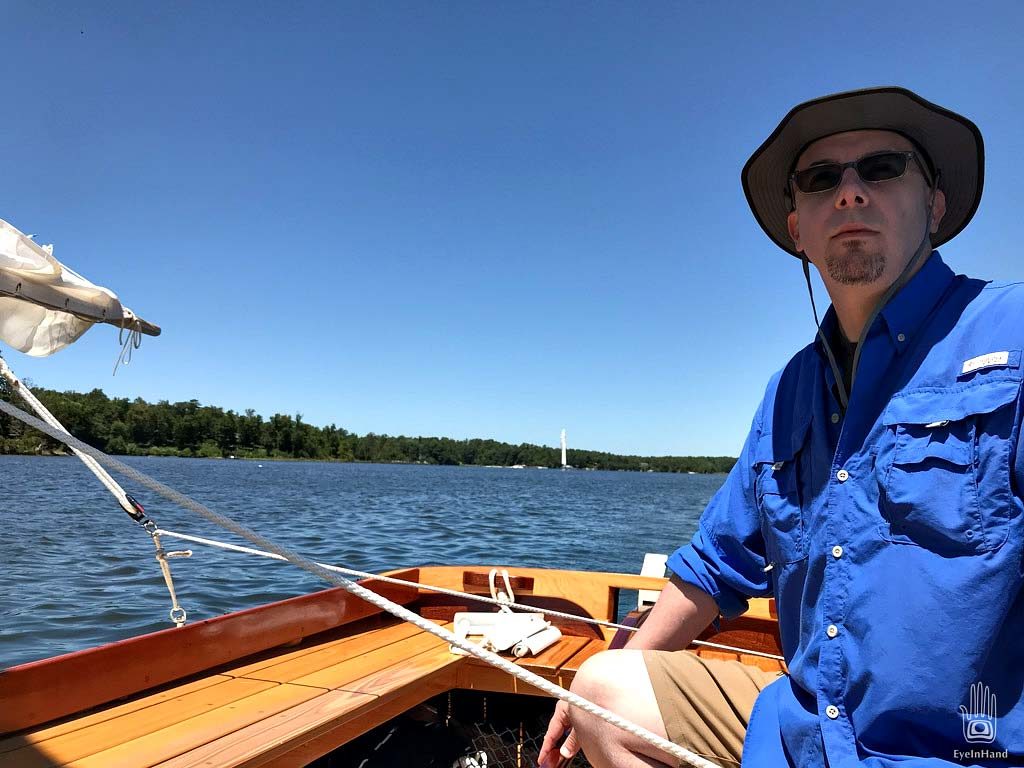 As do we. Things have moderated more by the time we get back to the main stem of the Corrotoman, so instead of reaching back up the way we came, we turn downwind and head toward the Rappahannock. It's a fast, easy ride. I've had the GPS running both days, and we've held a steady average speed of around 5kts even with two reefs in. This is basically hull speed for this boat, so even though the sailing feels easy, there's really no point in shaking out a reef just to make it harder. Also, we don't know exactly what we'll find once we get out in the Rappahannock.
But in the lee of the north shore, things are relatively sedate. The water is bumpy, but not from wind driven waves so much as the reflection of those bouncing back – there's no real pattern, just general lumpiness. Occasionally a dark stain appears across the water upwind as a gust works its way toward us, but we've kind of stopped paying attention to them.
The bridge is about 3 miles away. We decide to go at least that far before turning back, and it doesn't take long.
On the way back, I mistake Carters Creek for the Corrotoman until the Tides Inn appears. We turn and continue on, running along the shore, where it is strangely quiet. The only sounds are eagles and ospreys, songbirds, summer cicadas, and the chuckle of water on the hull. A man walks up from his dock toward the house. We're close enough we could have a conversation, but we pass so quietly he doesn't know we're there. We round up and shake out a reef, mostly for the practice.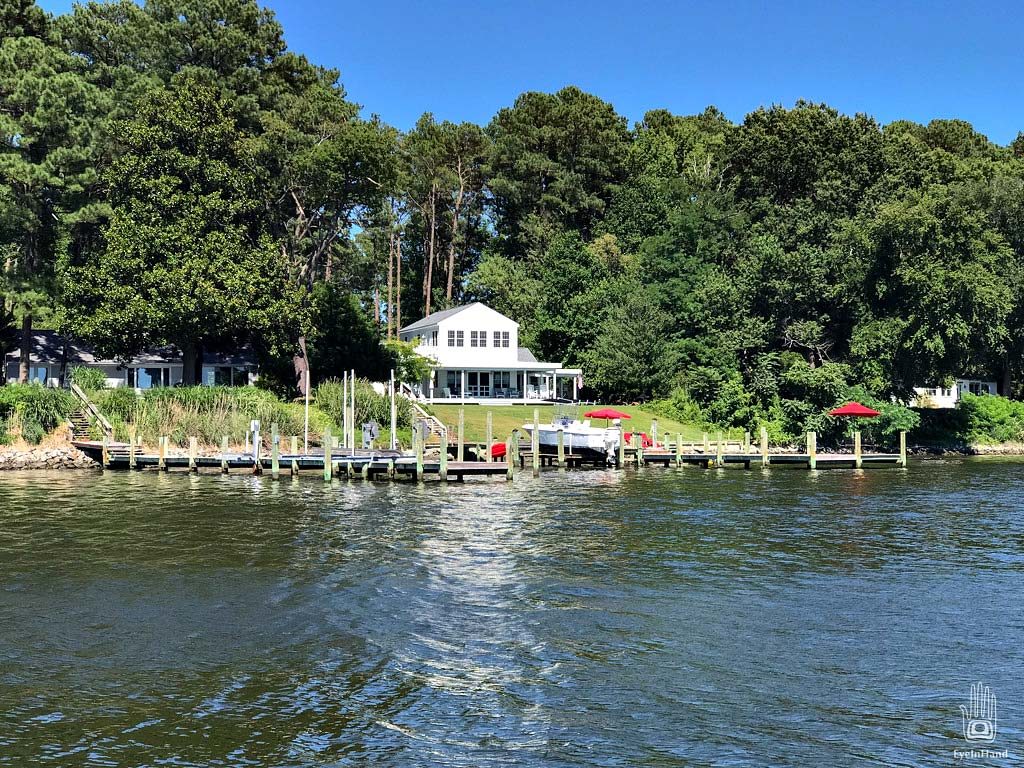 At the mouth of the Corrotoman again, the wind now unobstructed picks up again to maybe 15-18kts. Enough that with only one reef we have to pay attention again. A text comes through from T, saying she's been following our progress on the iPhone app, and sends a screenshot.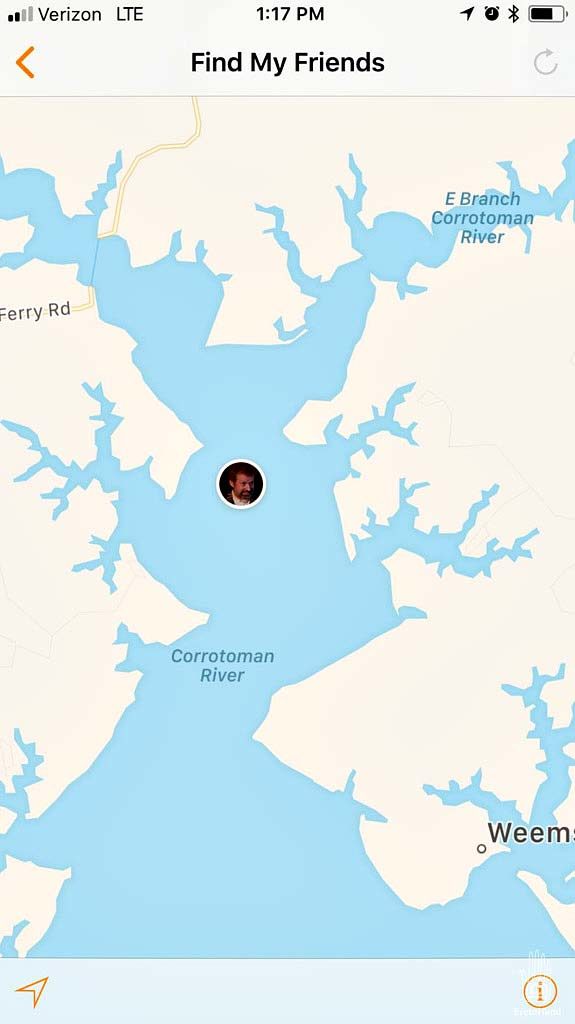 It's a sporting run back to the marina to haul out and break everything down. Strange to be standing on the dock in no wind for the first time in two days, and it's hot again.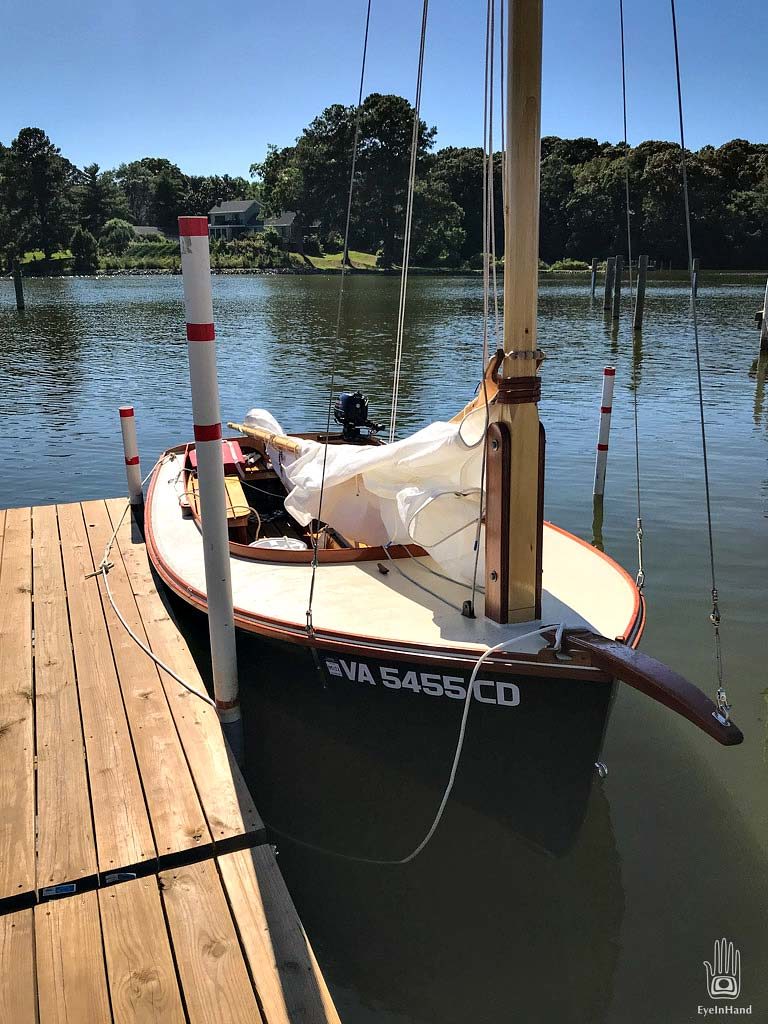 Another seafood dinner to cap it off before the long drive home. We both feel the table swaying when the wind blows, though apparently no one else does. Altogether, we covered exactly 30 miles of sailing in two days – 23 of that today. A very good day, and we're very tired.
Stopping for gas west of Richmond at a station that's closed. Just katydids and the whine of the highway, then home by midnight.