First sails for new boats are often troublesome affairs. Nothing has been tested or put under strain. Things go wrong. Little details left undone and  forgotten suddenly get remembered, always at inconvenient times. Knots come untied, screws come loose. It's common enough that most builders take a "shakedown cruise" before the first official launch. Gives a chance for glitches to surface and get worked out under safe conditions, preferably without an audience.  So taking a new boat on its first real sail for two solid days, in a Small Craft Warning, is not a conservative move.
But that's what we did.
Almost a  year has passed since Doug brought his new Marsh Cat back from the mountains of southwest Virgina.
See here:
and here:
When we picked up the boat, we got in one quick sail on a lake with Marvin, mostly as a celebration for a job well done, and to acknowledge it was, in fact, a boat that floats. There was a christening. I seem to recall whiskey was present.
A lot of life intervened since then, and except for a couple of trial runs on a nearby lake to break in the outboard, the boat has been sitting in storage. Now another summer is upon us, almost half gone. While Doug was overseas for work a week ago, he sent a text saying he was determined not to let another summer go by without getting her on the water. Was I available next weekend?
With that weekend approaching, we watched a little in awe as new weather developed. Days of near 100 degree heat were about to be broken by an unusual cold front. It would pass through Friday night, bringing heavy rain and flooding to Tidewater, dragging strong winds behind it. Early forecasts kept getting revised up, and up, until Small Craft Warnings extended over most of the Chesapeake. And, instead of ending Saturday morning as first predicted, the warnings now extended into late Sunday. By early Saturday morning, the buoy off Stingray Point was registering 40+kts gusts and waves of 4 feet.
On the plus side, it would be 20 degrees cooler, breezy, with no humidity. Awesome for mid July.
So we adjusted our plans. With wind coming out of the North both days, we reasoned a North shore would be more sheltered, with less wind and less fetch. We chose the Corrotoman, a deep inlet on the north side of the Rappahannock. There's a friendly protected marina there, Yankee Point, where T and I sailed a few years ago.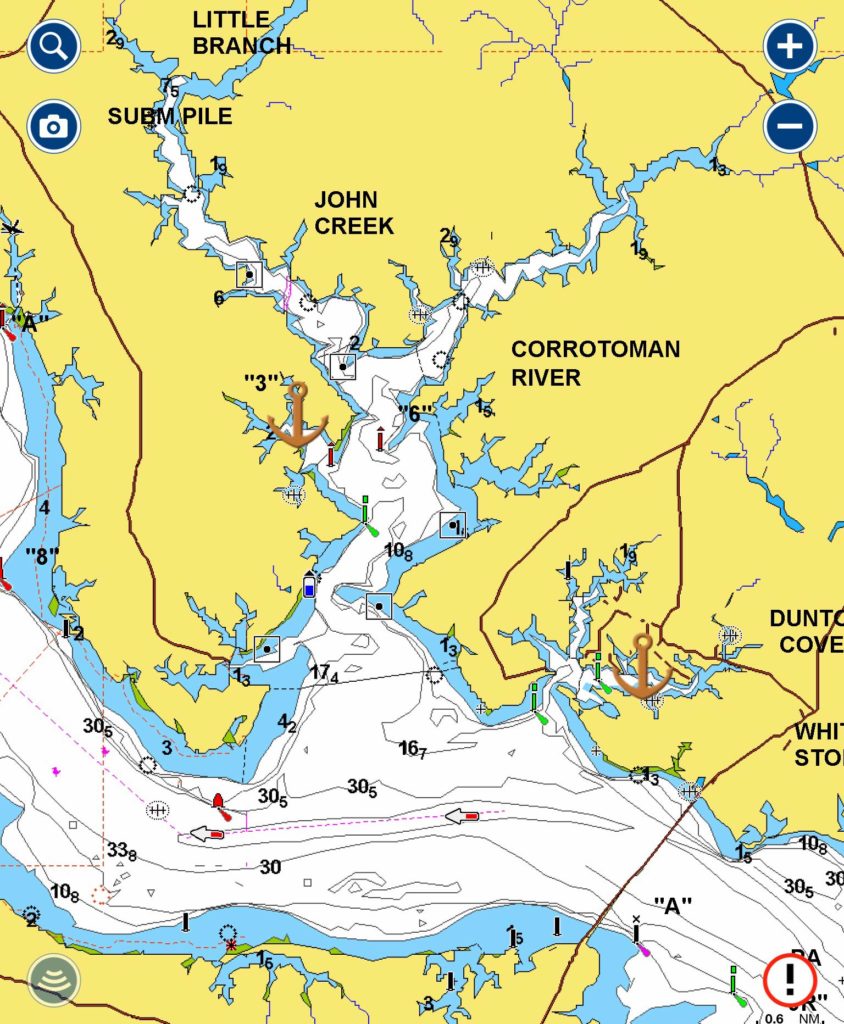 Getting there, though a long drive, is part of the fun. It's pretty country, still mostly rural farmland. You can take a tiny four-car cable ferry across one of the upper arms of the Corrotoman. From the ferry, we reasoned, one could get a sense of conditions on the water. We arrived a little before 12:30.
Which is, of course, lunchtime. As a one man operation, the ferry closes down for a half hour while the crew eats his lunch. A friendly guy, he still has to eat, and I guess the state doesn't want him eating a sandwich with one hand while steering the ferry with the other. This lunch break hiatus is the only thing resembling a schedule in any way associated with the ferry. It is a fact posted on permanent DOT signs. After a short gustatory pause, our boat and trailer and one other car squeezed on for the short ride over. Though the wind was still gusting to 30 out in the Bay, here on the upper reaches of the creek things were blustery, but not at all unreasonable.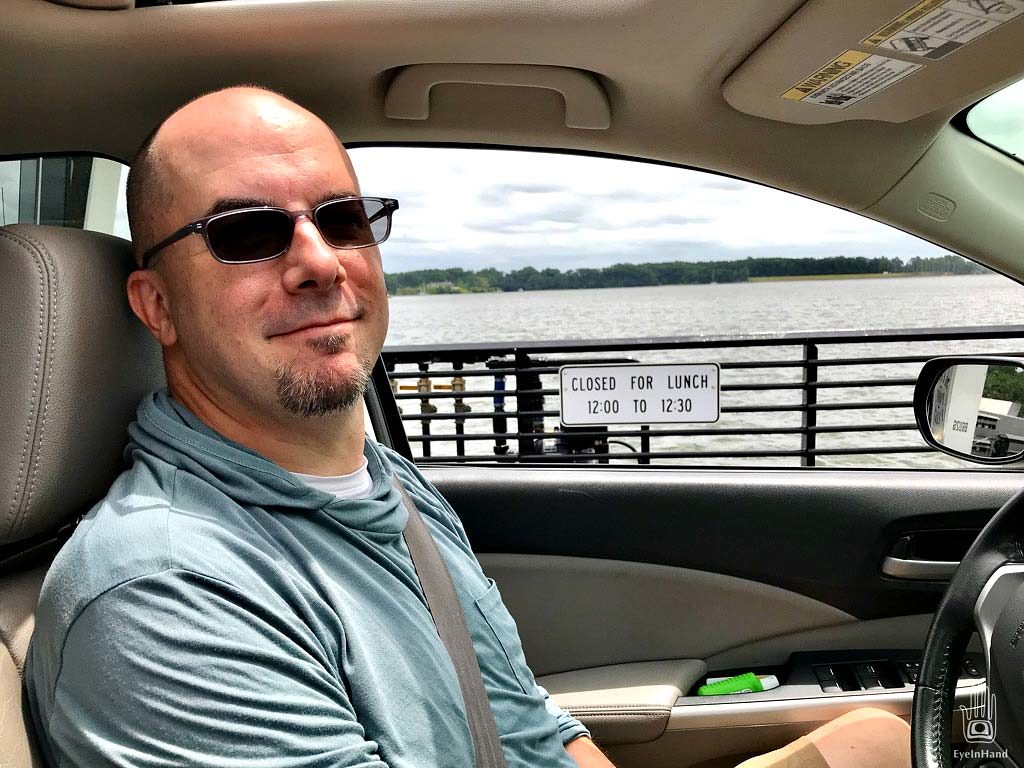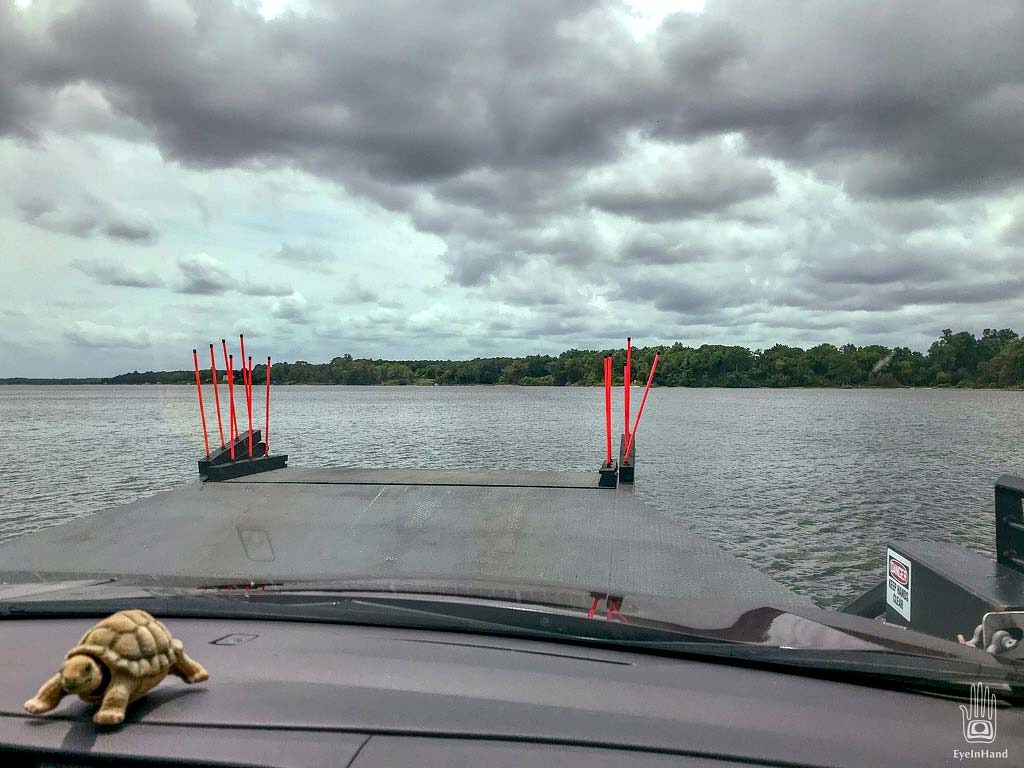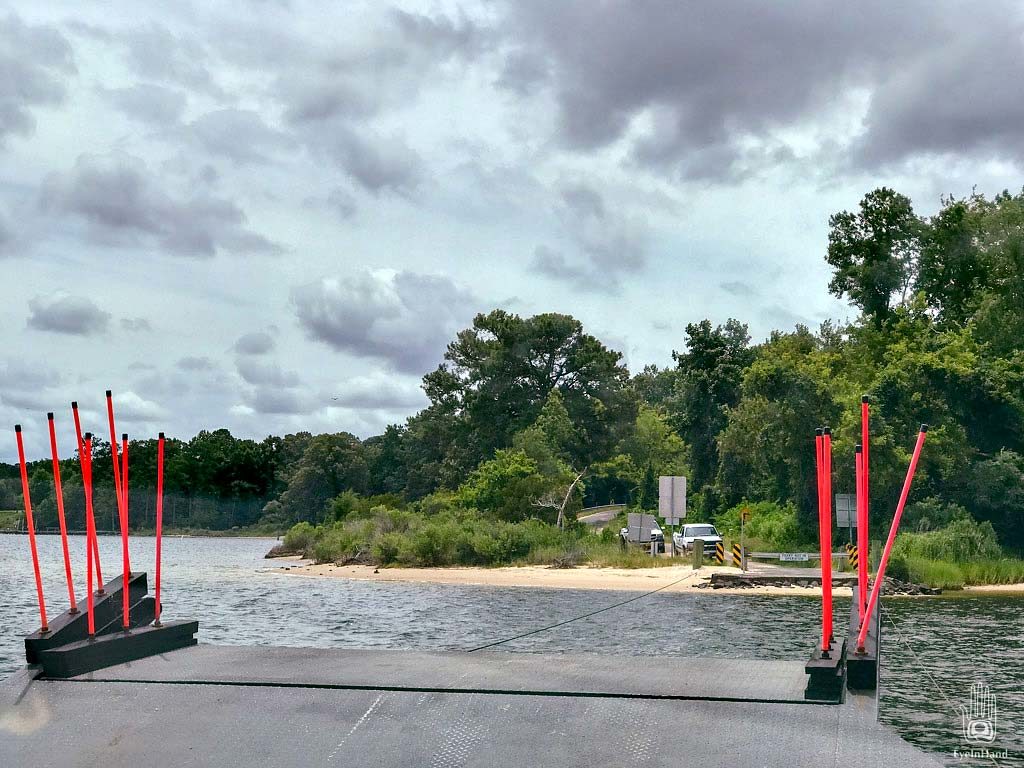 The harbor master at the marina said maybe 20 big boats were scheduled to sail over from Fishing Bay, but a third of those cancelled due to the strong wind, and the rest were motoring over. These were 30 to 40 foot cruising sailboats. Motoring. Ours was all of 15 feet. When we gave him the length and draft so he could assign us a slip, he assumed we had an outboard skiff. Was delighted to hear it was not only a traditional style catboat, but was made of wood. To his credit, he did not raise an eyebrow when we said we were going out today. And it was the first real sail. He did, however, stop by for a good look once we got in the slip. Perhaps so he could relay an accurate description to the Coast Guard.
Rigging up to launch at the marina, a big thing left undone reappeared. We had tied in reefing lines in the sail, but had nothing ready for the cringles at the clew and the tack – the points that actually make reefing work. The beautiful mast hoops could not slide past the tabernacle to lower the luff of the sail to actually tie the reef points. There would be no sailing either Saturday or Sunday without reefing. So we improvised something we hoped would work.
A few more odds and ends and we were launched and in the water.
Next up was to get the new motor running. No small task. After a half hour of messing with it, and some volunteer help from the marina staff, turned out the problem was one of the safety features. The deadman switch was too sensitive. Neither of us was dead, but it took doubling the spacers on the switch to convince it of this. Also, helps to open the vent on the gas tank. And put it in neutral, with the choke either full or halfway or off. And open the fuel valve. Otherwise, motors are cool.
Once we made all the mistakes just once, the motor started easy and ran fine all weekend. We motored out the marina and into the two mile wide neck of the Corrotoman. Then turned up the west branch toward the ferry, and kept going until chop stopped sending spray over the bow.
At a sheltered place next to the shore, we raised the double-reefed sail, cut the motor and . . . were pleasantly surprised. The wind was gusty, but even the biggest puffs did not cause alarm. Everything felt a little urgent, but very well behaved.
We reached up and down the Western Branch, broadside to the wind, for a couple of hours. No mishaps, nothing alarming. Alert, yes; alarming no. It's a very well designed, well balanced and stable boat. Two reefs in maybe 23kts of gusty wind is no problem. And the water was flat. Coming here was a good call.
On the way back, we passed a couple of those big sailboats motoring to an anchorage for the night.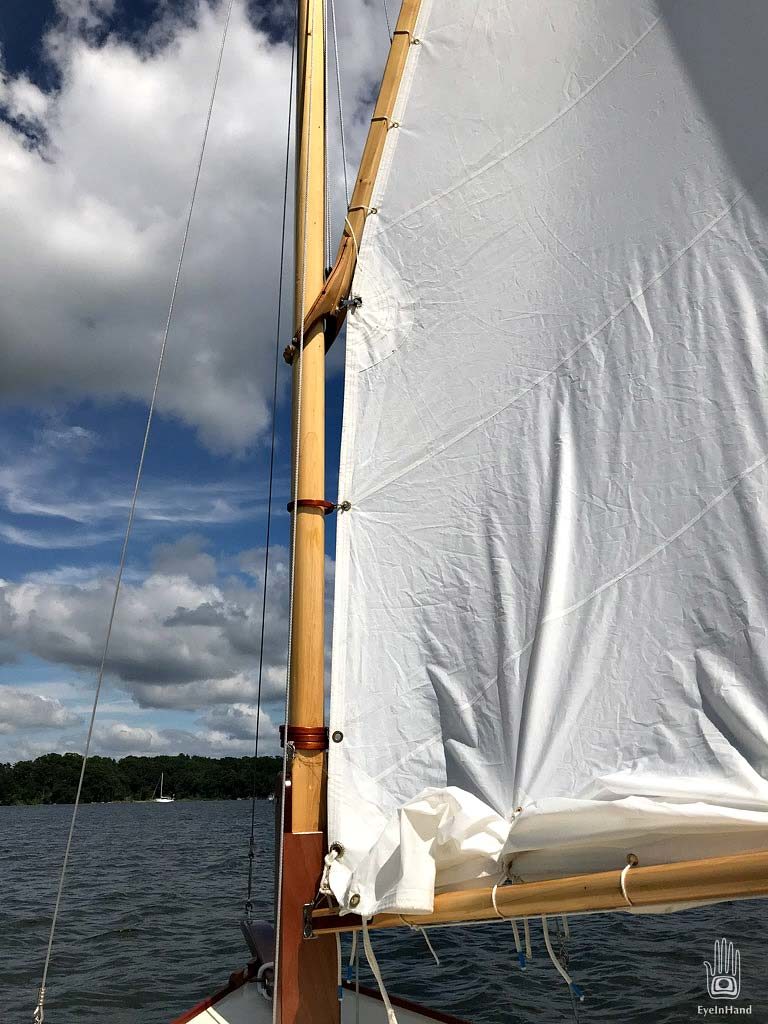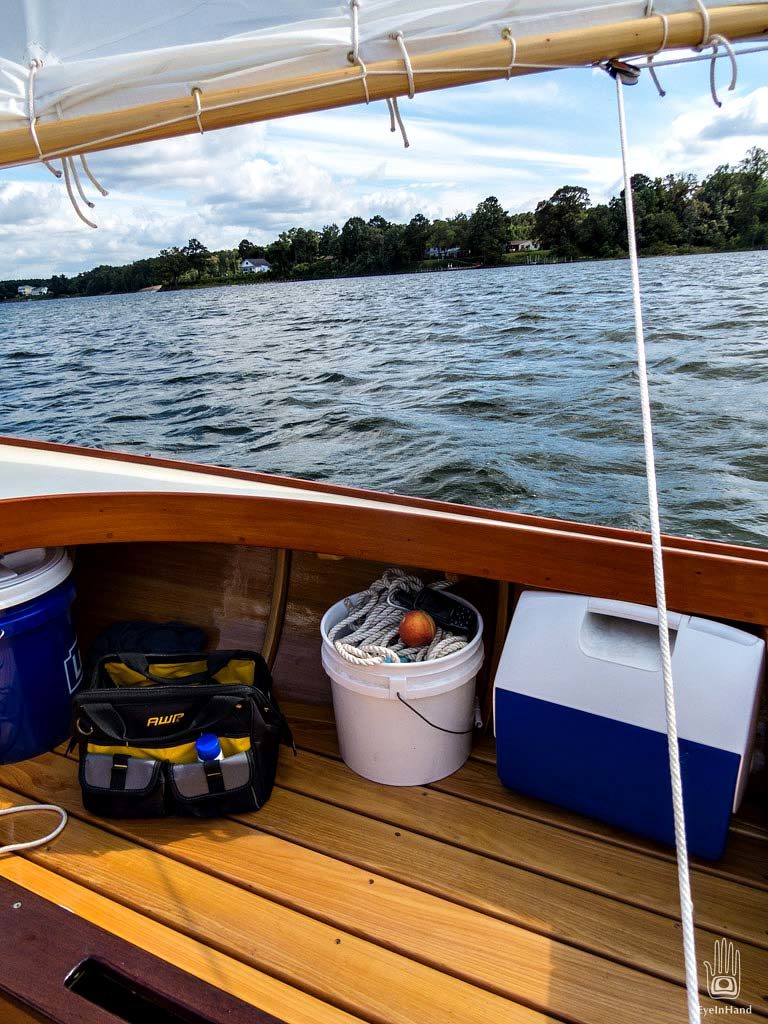 The harbor master seemed very happy to see us when we returned. He was eager to brag on us braving the wind in our little open boat, while those big ocean going power yachts stayed home. He was probably also glad he did not have to spend his Saturday night filling out reports on us.
We settled the boat in the slip, pitched the boom tent to see that it still fit with the new tabernacle, and headed across the Rappahannock over the White Stone bridge for dinner. It's a very high bridge, but even from up there we could see white caps, and the pitching motion of what few boats were out. Conditions definitely got worse as you got closer to the Bay – just a couple of miles made a huge difference.
At Merroir, the floating docks were bucking like bulls in chutes at the rodeo. Wind tore at ladies' skirts. Still, a beautiful evening in spite of all the drama. We treated ourselves to oysters and scallops, and good local beer. Followed by some amazing ice cream at a local fudge shop.
Before calling it a night we tucked the boat in, checking the dock lines as the tide had fallen. The sky was clear and full of stars, leftover fireworks from the 4th popping off along the treeline.
Maybe Sunday the wind would ease a little.