Forty years ago, in my first semester of college, I bought some plants to furnish the room. The dorms were dim and dogeared, depressing. Plants were cheaper than chairs, so I picked some up at a campus sale, all in little 4″ pots. For a few bucks they brought a little life into the place. At least for a while. The room was so dark, most of them died by the end of the first year.
One, though, managed to hang on. An odd little thing, just a grey scaly bulb the size of a billiard ball, with skin like an elephant, half buried in the soil. A stout trunk tapered up from the bulb, topped with a pom-pom of grassy green leaves. It looked like something right out of Dr. Seuss. A botany major friend determined it was a ponytail palm. I became rather fond of it. Frond of it?
The next year I moved off campus and it came with me, suffering mightily for the rest of my college career – knocked over by inebriated housemates, dug up and defecated on by ill-behaved cats, neglected when I went away for holidays. Even stayed home alone the summer I went abroad. It survived all that, and eventually outgrew the original pot, earning a splurge on a new larger non-plastic container.
I left college, and the plant came with me.
Years went by and wherever I went the plant went, too. Cars and furniture and clothes and jobs got shed along the way, dead husks shucked off like snake skins, but after each purge the plant remained. If I dug through all the photos of my life over the past 40 years, this one odd thing would keep popping up in the background like a silent Forrest Gump:
In a cabin on the York River where I had my first wooden sailboat, sitting on the old grain scale that served for an end table.
In the apartment in downtown Atlanta just off Peachtree Street, where I squatted under a tree next to John Lee Hooker playing the blues in Piedmont Park, and saw R.E.M. in a bar in Athens for $5, which included a pitcher of beer.
On the iron balcony of a pink victorian in the historic district of Savannah, where church bells chimed on Sunday mornings and Spanish Moss collected on the railings, and finches twittered in the aviary I built for them that summer when the Challenger exploded with a teacher aboard.
In the basement of my grandmother's house in Richmond, when Apple and Microsoft started marketing the first viable desktop computers, and the Berlin Wall came down.
There in the attic in Richmond when I logged onto the World Wide Web for the first time, and stayed up all night exchanging messages with people across the world over a dialup modem.
In the background, a little bigger now, when my daughters were born, and learned to walk and swim and ride a bike.
In Scottsville, where they played soccer and finished high school and went off to college themselves.
In the sunroom where Terri and I drank coffee and planned trips to the West Coast or the Low Country.
All the while that funny little plant kept going, eventually filling a large oriental porcelain pot the size of a bucket, standing in the corner so tall it brushed the 9 foot ceilings in our house.
Until the night of the fire.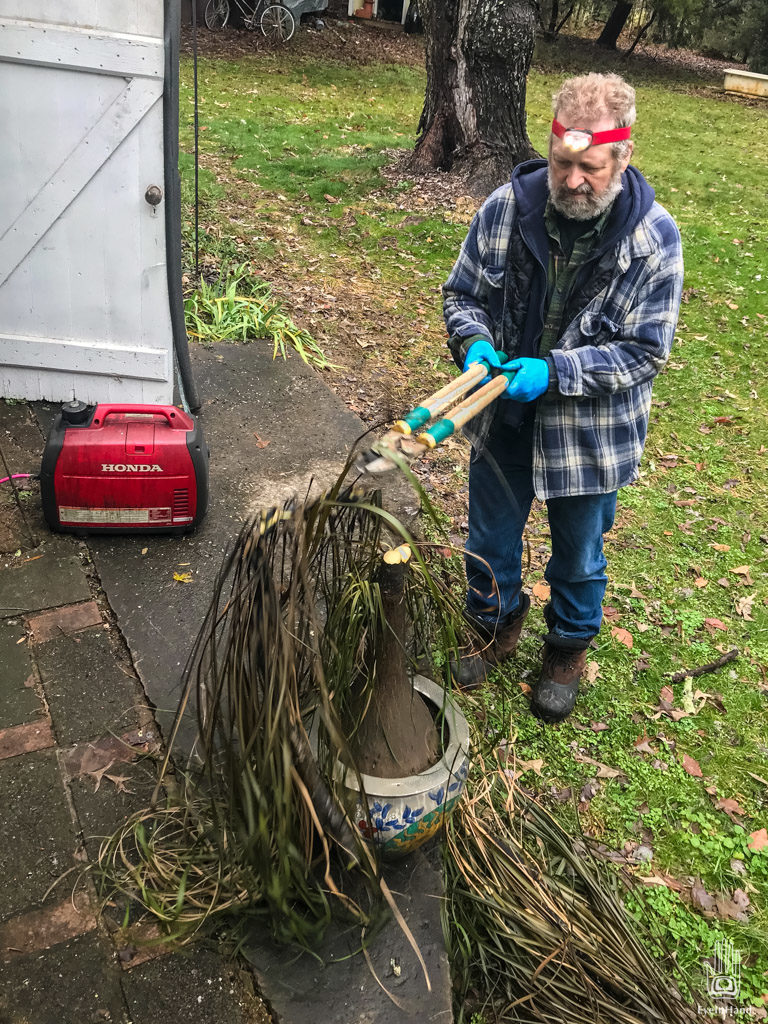 When we walked through the house the next day, all the plants were wilted, black like everything else. That night it got down to 16 degrees. Though heat from the fire kept the whole house warm for a day, it dipped below freezing every night the following week. There was no power and no heat in the house. Everything froze.
Seven days after the fire, I gave Doug a tour of the damage. When we came to this plant – black and wilted, covered in soot –he said, you know, that's a pretty big root ball, it might be OK, maybe you could save it?
So a few days later I took it out back, lopped off the stalk, and stuck it in the neighbor's spare room with the other smokey things we hoped to save. A month after that, I brought it to the cottage, still bare and black, and set it near the window and watered it.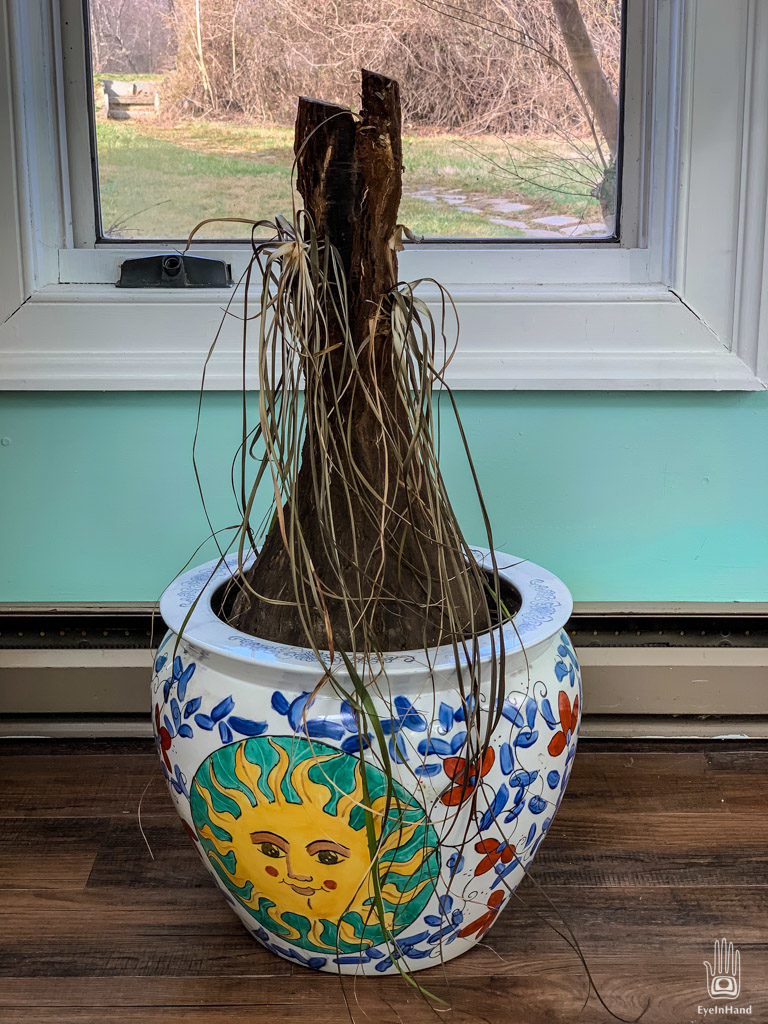 A month later still, two months after the fire, I noticed a small lump on the stalk. Then, a few days later, a tiny spud of green broke through.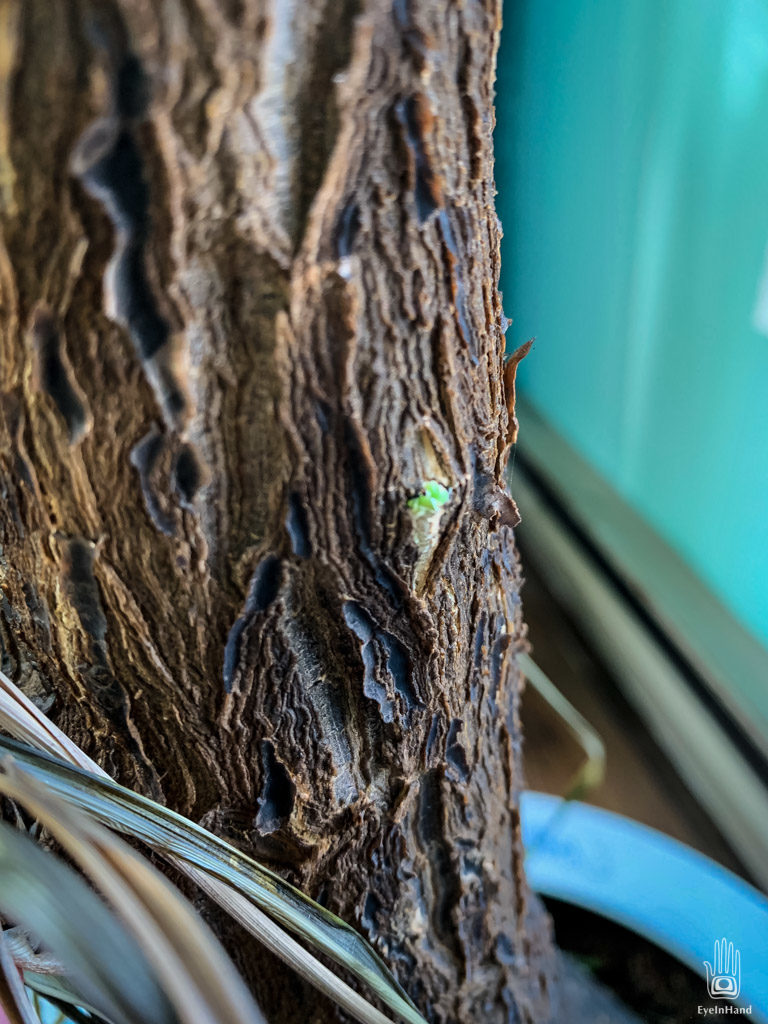 I tipped the pot over and let all the black sooty water drain out, added some fresh soil. A week later, another spud appeared, then another.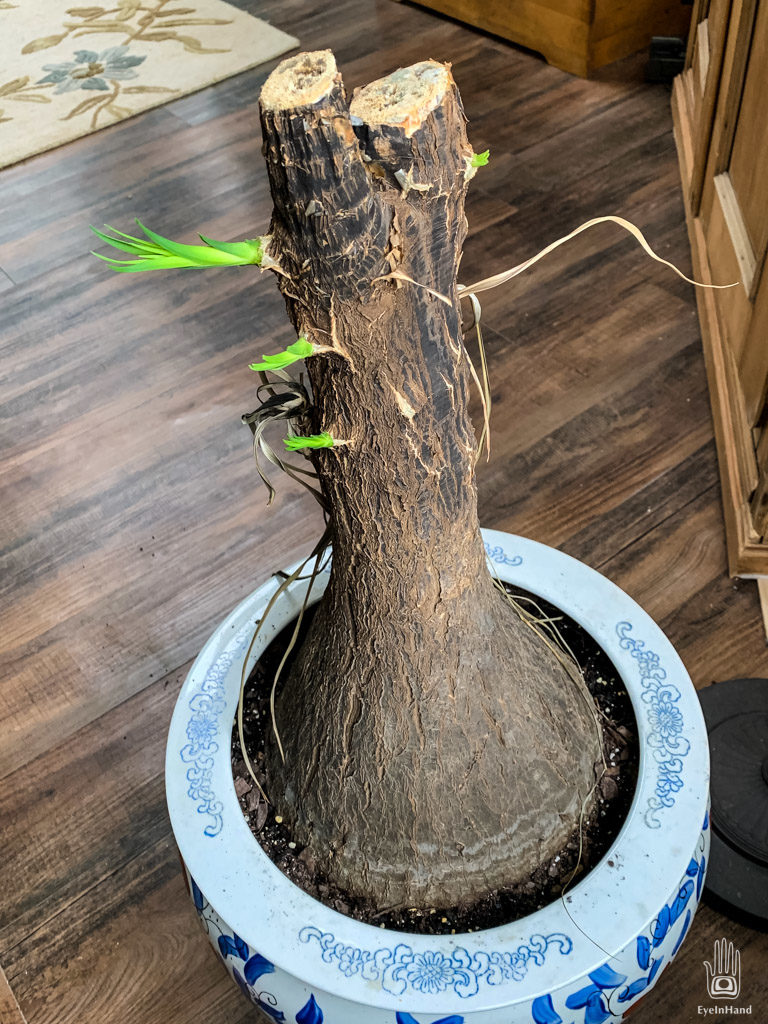 Now, there are several sprouts of green, and it seems this tough old plant refuses to die.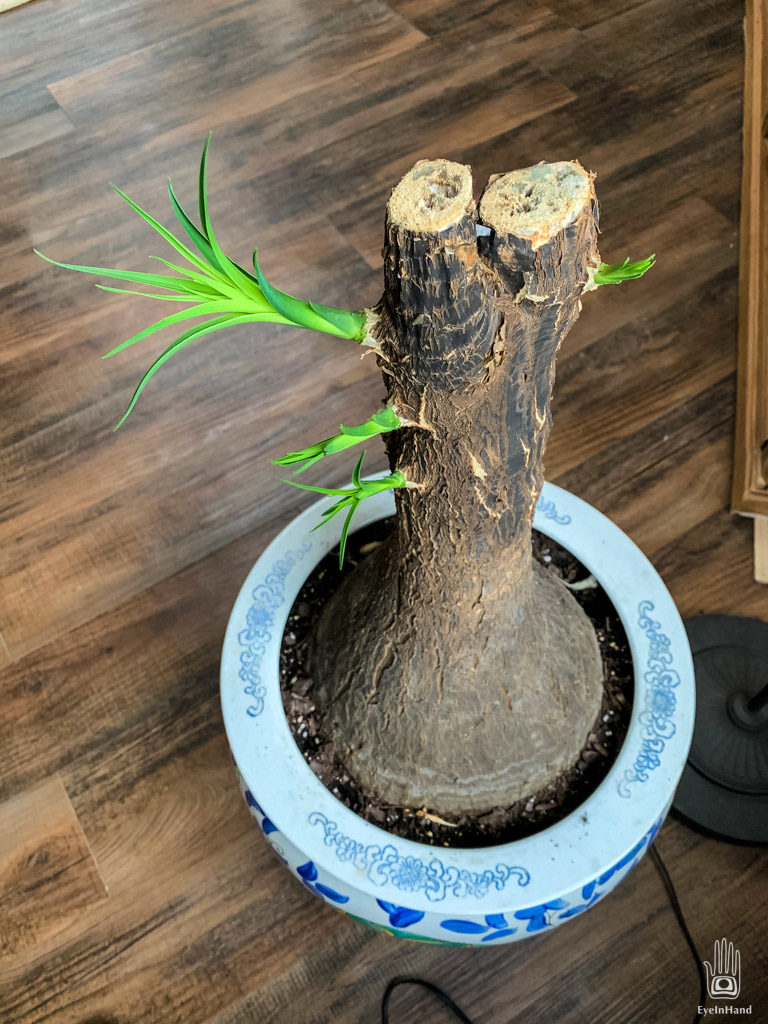 When I lived in Savannah, I discovered a remarkable native plant called "Resurrection Fern". It spreads out along the top of big Live Oak limbs forming a fringe of little bonsai forests.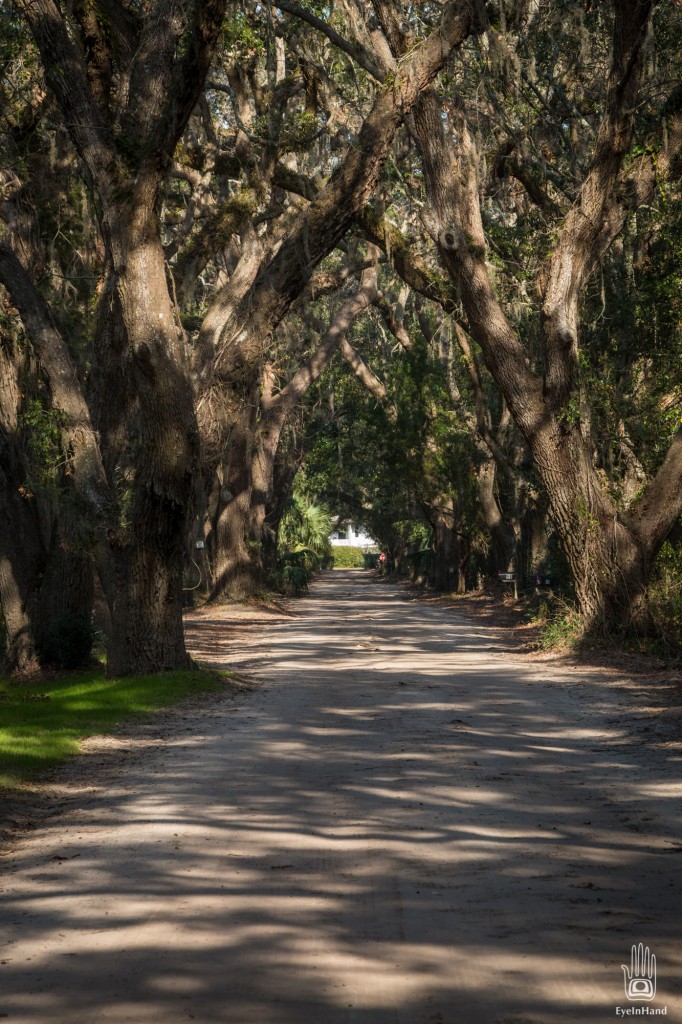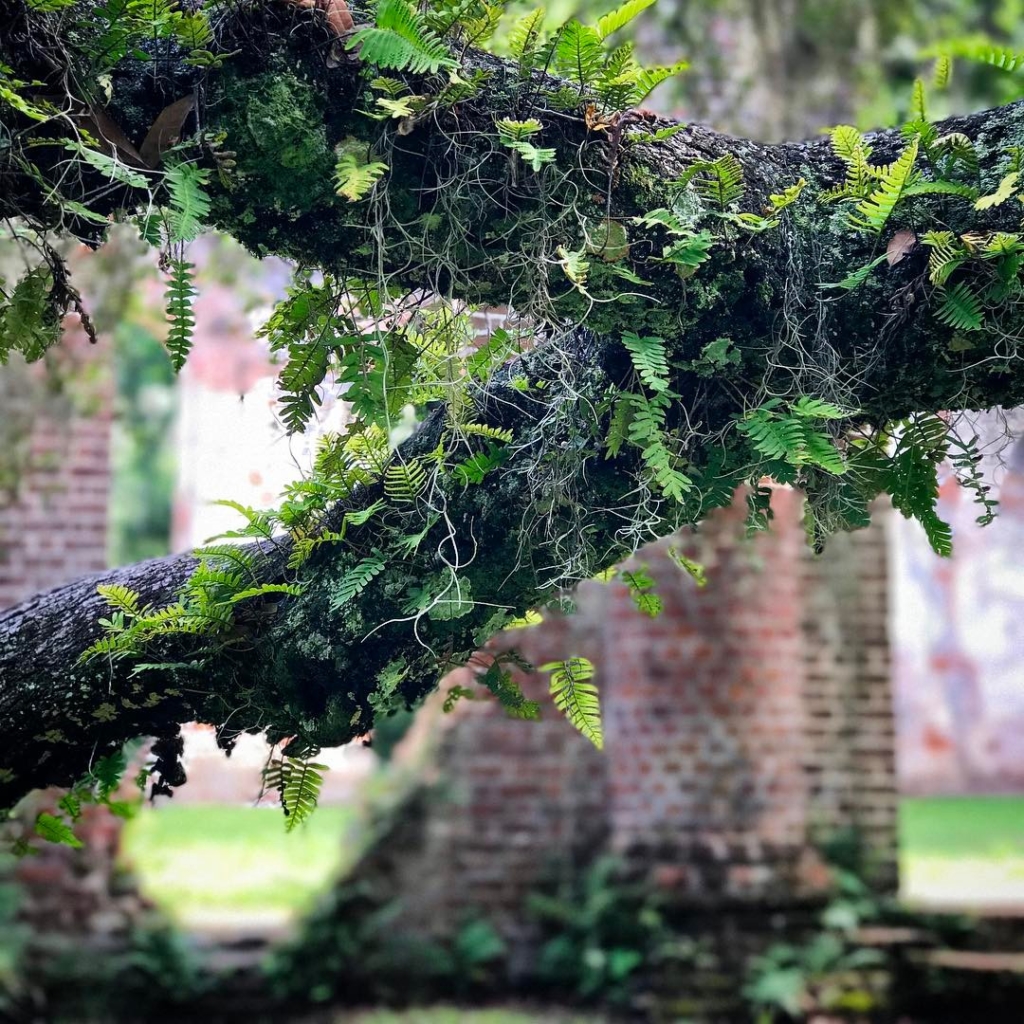 An epiphyte, it has no root system, since there's no soil where it grows. It clings to the bark and survives in the humid southern air on nutrients in the dust and rain dripping down the limbs.
In periods between rains it turns grey and shrivels up like origami ashes, losing up to 97% of it's moisture and going dormant. But it revives and turns vivid green again within hours after the first splash of rain. Most plants die after losing only 10% of their water, and don't come back. These plants could remain dormant without water for over a century, and still revive.
Very impressive, these little ferns.
So I'm christening this tough and homely house plant of mine the Resurrection Palm.