Wireframe Boat
In the complicated calculus of my conscience, there are many things I have to do to earn the right to do something I really want. I know, I know. But that's just the way it works.
Therefore, before spending a year or more of time and money building two boats for me (okay, and the family), there were certain things I was going to have to do first. One was wait until my daughters were in college, because high school is not the best time for a father to disappear on his two teenage girls. The other was to make a viable studio workspace for the lovely T, my artist wife, who has been forced to use the dining room table and various closets as a work space for years. Patient, she is. That meant finishing the basement, referred to hereafter as "The Cave." On the plus side, I would get to use The Cave first for the boat project, before turning it over as art studio.
Previous construction adventures erupted not from The Cave, but from "The Shed" which you can see in the background of the picture above. The Shed was constructed for a Model T, at about the time one would possibly have a Model T, so it has no heat, no electricity, no room unless you remove all the yard tools, and the groundhogs have significantly modified the foundation to their liking, which means the floor is as swaybacked as a dead mule. Still, Boat #1, a trial run, emerged from there in 2003 in a matter of weeks (more on that later).
Building even one Melonseed would require access to heat and power; two meant I needed a lot of space, and that meant I would need to use The Cave before it became a studio, and that would mean fixing The Cave.
This is it, before:
Laundry Room, Before
Like a real cave, it was dark and wet, the home of bats and mice and snakes (no joke). Water ran down the walls in little rivulets when it rained. Anything stored there rusted or turned to soggy mush. Fiberglass insulation dripped from the ceiling. Rusted window frames were filled with plywood in place of glass. There were only two electrical outlets and a few bare bulb pull-chain lights. In other words, not a small project.
Going in:
B & T, The HazMat Team
Above is the door out of which the boats will emerge. Yes, I checked. The picture at the top of the page is a wireframe version at actual dimensions, taped together specifically to be sure there was enough clearance to bring a fully constructed boat out through that hole. It will be tight, and will take several helpers and a slide ramp, but they will fit.
After more than a year of hard and often sporadic labor, here are the results:
Work Bench, Before
 Work Bench, After
 Corner, Before
Corner, After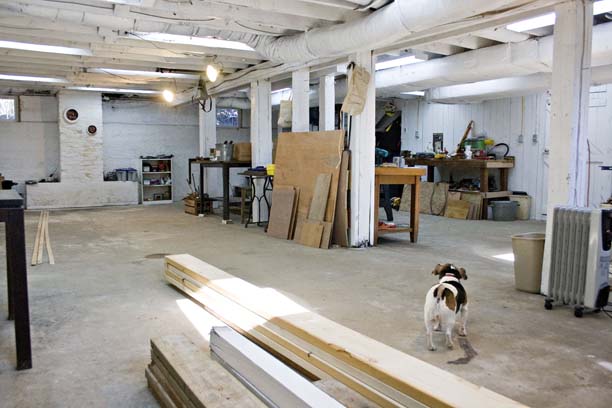 Big Room, After
 Big Room, After
melonseed skiff, mellonseed skiff, melon seed, mellon seed