Winter Wheat, Start of Summer
Pastures are smooth again from a first cut. Winter wheat is followed with corn, green shoots poking up through straw stubble, and what hasn't been bailed or reaped is tall in Chicory, Day Lilies and Queen Anne's Lace. In a few days the Solstice will pass, and we'll enter a third season.
The local paper did a story on the boat project, and now people in town stop me to ask about it. From these conversations I learn many things. For instance, that someone I've known for years used to surf competitively as a teenager, and made his own custom boards. Things like that.
We threw a garden party birthday for the First Mate, attended by lady poets, writers, musicians and artists, and the preparations took precedence. We're also trying to find a car for Em, since her sister got the one they shared. Life intervenes.
In the meantime, snatching a half hour here and there to work on the boats reduces progress to a slow trickle – a row of planks get snuck in, then lights off again for a few days – but it's progress. You take what you can get. After three weeks, the decks are nearly closed up, almost ready for sanding and glassing.
Except for the slow pace, this part is surprisingly easy going. You could do it all in about four days, if you had four days. Bungies and a few clamps set the bend, and the hot glue holds it.
The Cypress is nice to work with – smooth, consistent and well behaved. My grandmother, on my father's side, grew up in the brackish swamps on the edge of the Dismal Swamp in North Carolina. Her brothers and cousins were watermen of one kind or another – a tug boat engineer, a sailing yacht delivery captain, and such. She always kept a smooth polished Cypress knee with her wherever she and my grandfather moved. It was an odd looking otherworldly thing, like a stalagmite from a deep cave, about two feet tall, and usually stood on an end table or the bar. I realize now it was a little piece of home she carried with her everywhere, and must have reminded her of that strange world where she lived as a little girl, where the ground was mostly water, and there were more bears and bobcats and alligators than neighbors. It will be nice to have some of it on the boats.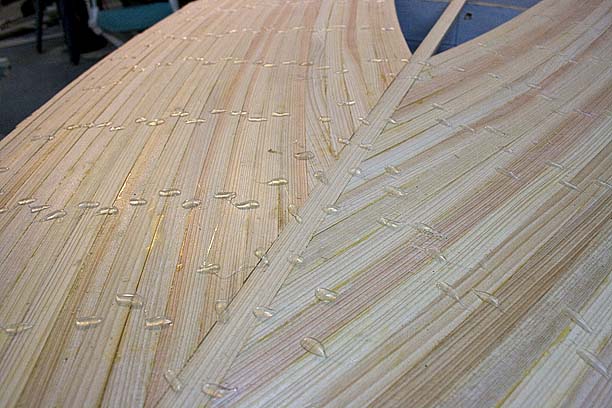 The folks who've done their decks in mahogany plywood have had trouble getting the prescribed crown in the foredeck. To get the wood to lay down they usually have to shave off the tops of the frames. Since almost all the boats I've seen were done this way, it seems odd to see a deck with the actual shape shown in the plans. I keep rechecking the measurements to make sure I haven't made a mistake, but everything checks out. It just doesn't look as flat and trim as a ply deck. The incomplete stripping only adds to the effect, so at first it was really worrisome. Now the lines are beginning to take shape, though it still looks a little proud.