Rough Sanding (earplugs in for safety)
For Father's Day I got to work on the boats all weekend, and the girls made a donation to the sail fund. Beats the heck out of getting a tie.
I had Friday off, too, so made good progress – finished planking both decks and did a full round of rough sanding with the antique belt sander. Even so, I'd wander down between other chores, just to have a little look, but it's hard not to pick up a tool. Terri caught me doing bit of sanding sans OSHA approved footwear.
Though the strips were slick smooth from the planer, there was enough slippage and misalignment that the decks still needed a good deal of sanding to level everything out.
Part way through planking I ran out of glue sticks and had to switch to a different kind. The first type was better – it set up hard and popped off easy. The second type was more elastic, so didn't hold the strips quite as firmly, and yet stuck to the wood more tenaciously. It still came off with a putty knife, and is probably better as a glue, but the first kind was better for stripping.
The bows look better, now that the decks are fully planked.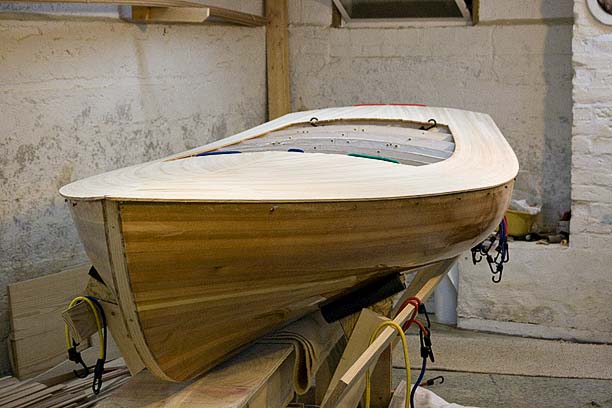 North
South
Even with a rough sanding, the contours are taking shape, and converging lines look good.
South
Next is fine sanding by hand with the fairing board to remove sander ripples, and then finish up with scrapers.
melonseed skiff, mellonseed skiff, melon seed, mellon seed