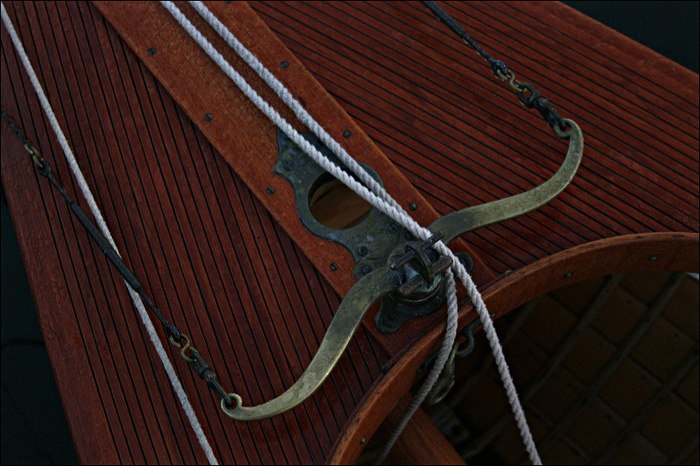 Detail, Canoe Jewelry
The first weekend of October is the Mid-Atlantic Small Craft Festival in St. Micheals, Maryland, at the Chesapeake Bay Maritime Museum. I've been to four now. On my first visit in 2003 I saw a Melonseed for the first time and knew I wanted one (the same one is still tied up there, owned by one of the Museum volunteers). A year ago I came away so inspired it pushed me to take the plunge. Deciding I couldn't put it off any longer, I began building these boats and started this blog. Terri and I went again this year, and it was an amazing weekend. I've come away newly inspired to finish the boats and get them on the water.
The event draws builders and boat lovers from all over the eastern seaboard, from Florida to Maine, and far inland as well. It's a four day event if you take part in everything, with the peak of activity on Saturday. The Museum opens up the grounds for people to camp, with hot showers and clean restrooms provided. There's a grill-your-own cookout Friday night, with fresh crabs and oysters prepared by the Museum staff for appetizers, and an awards dinner Saturday. There are prizes for boats judged in many categories, and a big race that's more a stunning parade of sail than a competition.
This year, the honored guest was Silent Maid, and she arrived in a glorious golden twilight Friday evening, like a princess to the ball. John Brady and a crew of three brought her down from the Philadelphia Seaport Museum where she was built by Brady and a small army of volunteers. I managed to stow away on her and take pictures during the race on Saturday, an unbelievable treat and a stroke of good luck. (Thanks John!)
Terri and I also got a chance to sail with Dave Lucas, John Guidera and a new friend, Timm Schleiff of West Virginia. The MASCF is without question the largest group of truly nice people I've ever encountered. And the boats are just gorgeous. This year, the sky gods put on a show, too, with a full moon, lightning in distant clouds, rainbows, and sunlit fog. Terri and I together took over 1000 pictures. I winnowed them down to about 450 before I got tired. That batch has been uploaded to a full gallery here:
Some sample images: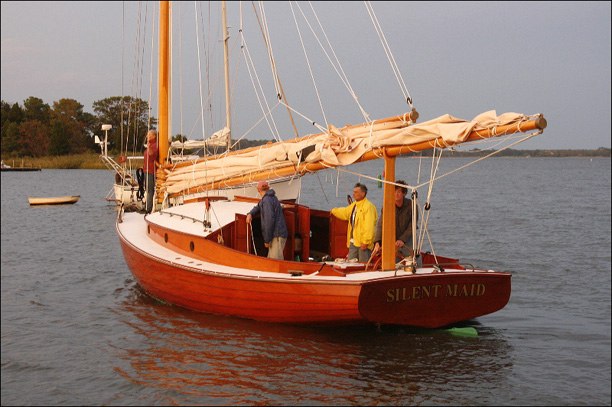 Silent Maid arrives at twilight
Moonrise, Skipjack
Lightning across the Miles River
Log canoe Edmee S. ghosting along
Fog bank at sunrise
Back in June, when things were progressing so quickly, I thought there might be a chance I'd have the boats ready in time for the event this year; but by August I realized that the last 25% of the work takes 75% of the time. The only way to make the deadline would be to work really hard really fast. The risk of making a big mistake, or just doing sloppy work that would become part of the boats permanently, just didn't seem worth it. That's one reason I've taken my foot off the accelerator lately (that, and these next few steps are just really difficult to get right). At this point if the boats don't get done by Christmas, I'll have all winter to paint and varnish.
On the other hand, seeing all those pretty boats really makes me want to finish.
melonseed skiff, mellonseed skiff, melon seed, mellon seed