South, framing done
Another great weekend, and the first full day of Spring. Bonus!
Really got a lot done in two days. Ordered my sails Friday from Dabbler Sails, and spent half Saturday writing out all the specs and measurements to send to Stuart Hopkins, sole proprietor. Dabbler makes some of the best traditional sails anywhere. His shop is also on the Northern Neck, just up the road from where I spent summers and learned to sail at my grandparents' house on Windmill Point. So, besides the quality of his work, for sentimental reasons I really wanted to get my sails there. Last year at this time he had a six month backlog of work, and I was worried I had waited too long and would have to get them elsewhere. But the shaky economy must have more sailors using their old sails another season, as he only has six weeks of work lined up at the moment. A big relief, for me anyway. He says he'll have them ready in 4 to 6 weeks, probably be done well before I am.
I actually finished the breasthooks last weekend, but not much exciting to see there. Just blocks of wood glued up out of Ash and shaped to fit. They help hold the bows together, so they don't get pried apart by the mast, and make a good solid backing to mount hardware. Barto's plans call for a flat 3/4" plank of wood, but that doesn't leave much thickness for shaping the crown to match the deck. A flat piece might work for a plywood deck, but everyone I know has had trouble getting the deck to lay down here. I suspect it's because the decks are curved and the breasthooks are flat. Makes the problem worse when you try to screw down cleats or other hardware if there's any gap between the deck and the breasthooks – you can punch a big hole in the deck easily. So I built a crown into the breasthooks, too, to make solid contact from underneath. I added an extra layer, then used a batten as a guide to shape them.
Sunday went like gangbusters. I finished out the framing of both cockpits and both hatches. Suddenly, the framing is all done, and you can see the final size and shape of everything. Very cool.
Work started Saturday, with ripping the carlins from cypress. There's a subtle compound curve in the sheer of the these boats in the rear quarter. When I put a carlin in place and checked it visually it just didn't look right, so I clamped them up in a bend overnight to set a small curve in them. Worked like a charm, and now they almost exactly mirror the sheer.
Pre-bending the cockpit carlins.
Using bar clamps to hold the carlins firmly in place during installation made adding all the side deck supports go in quick and easy. After that, it was pretty simple to add the hatch framing, and it was all done.
South detail
South cockpit
South side view, with curve to match sheer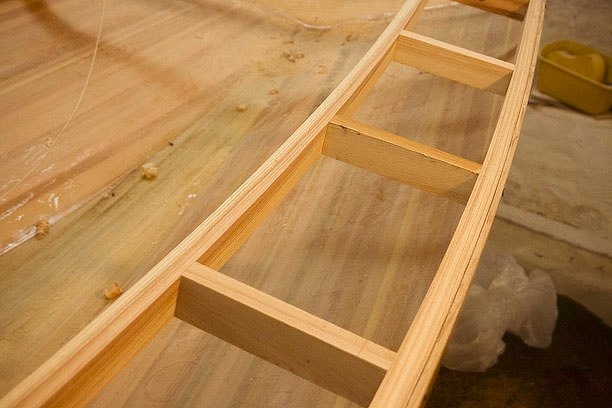 North detail
North cockpit
North hatch and breasthook
North framing complete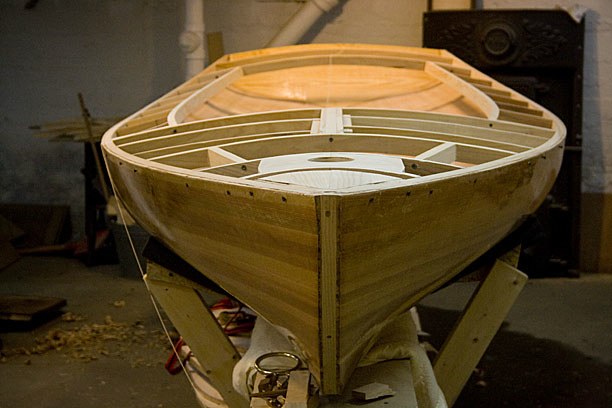 South, view from bow
At this point, everything is dry fit and held together with drywall screws. I'll have to think through the next several steps before I replace them with bronze screws and glue everything in place. There's that hole in the bottom that has to be cut for the centerboards, and the cases need to be fiberglassed and glued together. There's also a possibility I may want to fasten the stems in place with screws driven through from the inside. A few odds and ends left too, like knees and oar racks, plus varnishing the interiors. All this may be easier to do before the framing is locked in permanently.
Also, there's the little detail of checking to make sure the decks actually fit properly over everything. There's got to be something else I haven't thought of yet. But, for now at least, I can savor a little the pleasure of passing another big milestone.
melonseed skiff, mellonseed skiff, melon seed, mellon seed