First spars done, two sprits.
Wow, been too busy to post. No Foolin. Got a lot done last weekend, but been too busy to stop.
I've had to modify the build schedule a bit, and take a detour into spar making. Dabbler tailors each suit of sails to custom fit the boat they're intended for. Once I placed the order, Stuart Hopkins began asking for details I hadn't anticipated, and surely couldn't provide. I didn't know how much I didn't know about sails until he began to ask me for specifics. For one thing, he adjusts the shape of the sail according to how much the mast and components bend under strain. The only way to give him what he needs to proceed, and get it right, is to actually make the mast and spars. So to keep from holding him up I've become a spar making fool.
I've had a stack of prime Douglas Fir on hand for over a year, waiting for this. A big box store decided to stop selling the good stuff, and was liquidating all the stock, so I scooped up what I thought I'd need for half price. It's beautiful wood – straight grain, no knots.
After doing all the calculations, and laying out the cuts, I ripped enough planks to glue up four sprits and two yards with epoxy, though I only had enough clamps to do two a night. This gave the square blanks.
The next time-saving step requires a Spar Gauge. This little tool marks up square poles so they can be ripped to octagons on a table saw. I found a nice diagram and set of instructions for making one here:
It's just the right size for typical small handmade boats, and it can be knocked out in about an hour. Marking off the spars with this gauge let's you quickly trim the wood down to the lines with hand tools like a plane or drawknife, or you can use the lines to set the angle and fence on a saw.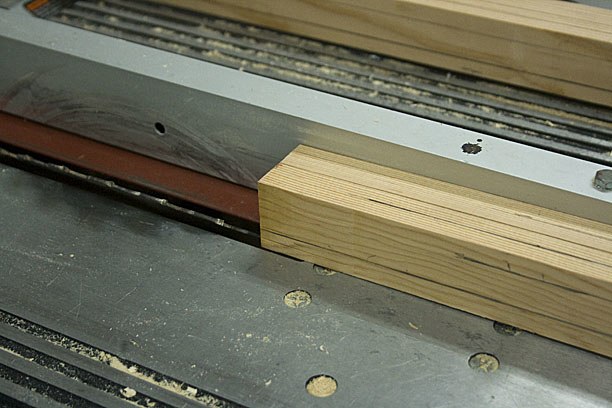 With octagons, it's pretty easy to rough shape them to round with a block plane. Seems to work better by feel than by eye, as your hand picks up things you can't see.
Then comes final shaping. I've seen a lot of people make spar sanding devices, drums attached to a power drill that let you spin an inside-out sanding belt to smooth down to the final shape on masts and spars. Tony Thatcher was able to use an off-the-shelf sanding drum with a small sanding belt that worked well. He's got a video of it in action here:
But I've got two masts, four sprits and two yards to make in a hurry, so I'd been thinking how to come up with something to power a bigger belt. I saw things other folks have done, and got some useful ideas, but nothing that really clicked. Then, while walking through the local flea market the other day, I happened to see a rolling pin like the one my grandmother used. A light bulb went off. A couple of bucks later I was heading home with my prize.
I sawed off one handle and replaced it with a lag bolt screwed in deep. Then sawed the hex head off of that. Then I worked a little Vaseline into the axle of the other handle so it wouldn't catch on fire in my hand. (Smart thinking, says I.) The whole thing wobbled rather alarmingly in the drill, until I realized the wood was just out of round, but spinning the drum at high speed against a real belt sander rounded it out fine. Finally, I cannibalized Terri's bike for the inner tube and cut that up into wide bands to wrap around the rolling pin, and I was in business. (Thanks, T!)
This works great. It's big enough to easily spin a 3" or 4" belt, with room to spare to keep a gloved hand out of harms way. And the two-handed operation makes it easy to control. Did a nice job, too, though you have to be careful not to stay in one place too long.
That was Sunday. As I write this I have all the sprits and yards in various stages of completion, and I've had enough practice to tackle the masts this weekend. Tomorrow or Saturday I'll start laying out the lines to make those cuts.
melonseed skiff, mellonseed skiff, melon seed, mellon seed