Aeon in her new blue dress
Had a very, very successful weekend. Not without its bumps and mistakes, but it all ended well, and results exceeded expectations. In fact, T no longer mourns the obliteration of all that gorgeous wood, which is really saying something. Those fairing problems I was worried about? Miraculously, it seems, they're now silent as the grave, all forgotten like dirt in a hole.
The plywood skiff I built five years ago was painted with house paint, which turned out only OK for what it is. It's a good example of Dave Lucas' "Ten Foot Rule" – if it looks good from ten feet away it IS good. You get closer, though, and you see what a crude job it was. Drips, runs, ripples, sags, curtains – it's all there. None of that is out of place on a work style boat, even lends a certain amount of charm, but these boats really need better than that, and I've never done better than that before.
Tony Thatcher helped out again with a bunch of painting tips to get started (Thanks Tony!) Good paint (expensive) makes a huge difference if you really want high gloss and a smooth finish. This time I splurged on Interlux Brightsides and their 333 brushing thinner. Aeon is Flag Blue, and Caesura is Hatteras Off White.
Thinning the paint according to conditions – temperature, humidity, air circulation and your own work style – is essential. This much I can tell you: There's no way to know how all those things will interact before you are already deep into it, so plan to adapt as needed. I was halfway through the first coat on the second boat before I figured out what was wrong. Once it dried, I had to sand off most of that first coat on three of the four sides and start over.
Here's the problem: The paint starts drying the moment you open the can. It dries even faster in the roller pan. It dries really, really, really crazy fast when rolled out thin on the hull. As it dries, it gets thicker, and thick paint doesn't flow out flat, leaving brush strokes wherever you touch it. You have to add thinner to keep it running smooth. There is a constantly moving window between too thin and too thick that you have to stay within to get it right. My problem turned out to be too much thinner. But not in the paint – in the brush.
A capful of thinner to a cupful of paint was just about perfect for a 70 degree humid basement, and a cup was just the right amount of paint to do one full coat on one side. Instructions with the paint, and from Tony, were to wet the brush with thinner. This keeps the paint from drawing up into the bristles and drying in the brush as you tip out. What I didn't realize was that the brush was overloaded with thinner, and was releasing it into the paint as I worked. The paint was streaking, but I didn't know why, so kept dipping the tip of the brush in the thinner. This diluted the paint more and caused the pigment to retract into ribbons. I didn't know what to do, so just kept working.
Streaks hardened into ridges in the paint, too much thinner in the brush.
By the time I got to the second boat, the thinner in the little cup I used had evaporated, but I was working too fast to stop and refill it. As the brush began to dry out, the streaking slowly dissipated. Then I dipped the brush in the paint to moisten it instead, and Bingo! Wow, it was like magic. The last side of Aeon was absolutely perfect. Amazing.
The other three sides, already painted, hardened into ugly streaks. This could have been really, really discouraging; but I knew now I could make it work and was ready to roll. Spent half of Sunday sanding back almost to the primer, then buffed out the scratches again with a Scotch pad on a sanding disk. Cleaned and dusted again. Then applied a second coat using what was learned the day before, and all went well.
Bad stuff sanded off three sides, scuffing the one good side for the second coat.
Second coat. WIN!
The paint went farther than expected. I started with two quarts of each color, but so far have only used one. There's enough paint left in the opened cans to do one last coat, and I'll do that this week; otherwise, that paint will just go bad, and it's too expensive to waste. It will do far more good on the boats, whether they need it or not. I'll save the two unopened cans for next season.
I had found descriptions of rolling and tipping, but little that shows what it looks like in practice. Technique is everything. Everyone has their own variation, but whatever style you use, get into a rhythm and move quickly and efficiently until the job is done.
You can't stop halfway down a side, even to mix more paint, or there will be a visible ridge where you stopped and started. You have to keep working while the paint is wet and flowing. If you have paint left over when you're done with one side, you can either pour it back in the can or mix a fresh batch to add to it and keep going. But mix enough to do the whole section, and plan your stops at logical end points.
After some trial and error, I came up with a method that worked well. I found I could only roll and tip a section two-roller-widths wide, and still have the new paint and the previous strip wet enough to blend evenly. When I tried do more than that, the previous strip was already so dry it held brush marks. In fact, I could actually feel the difference in the brush from the start of tipping out a section to the end of it. If you want to see what it looks like in action, at least what worked for me, Terri filmed a bit of the process. As you can see from the smile, this was shot AFTER I had it figured out: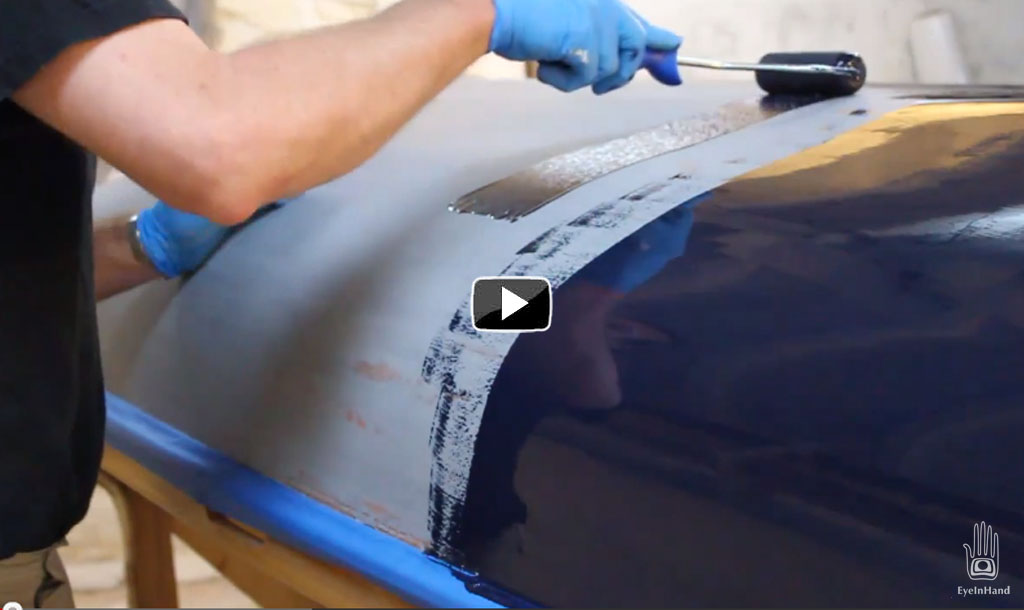 Youtube Link
melonseed skiff, mellonseed skiff, melon seed, mellon seed