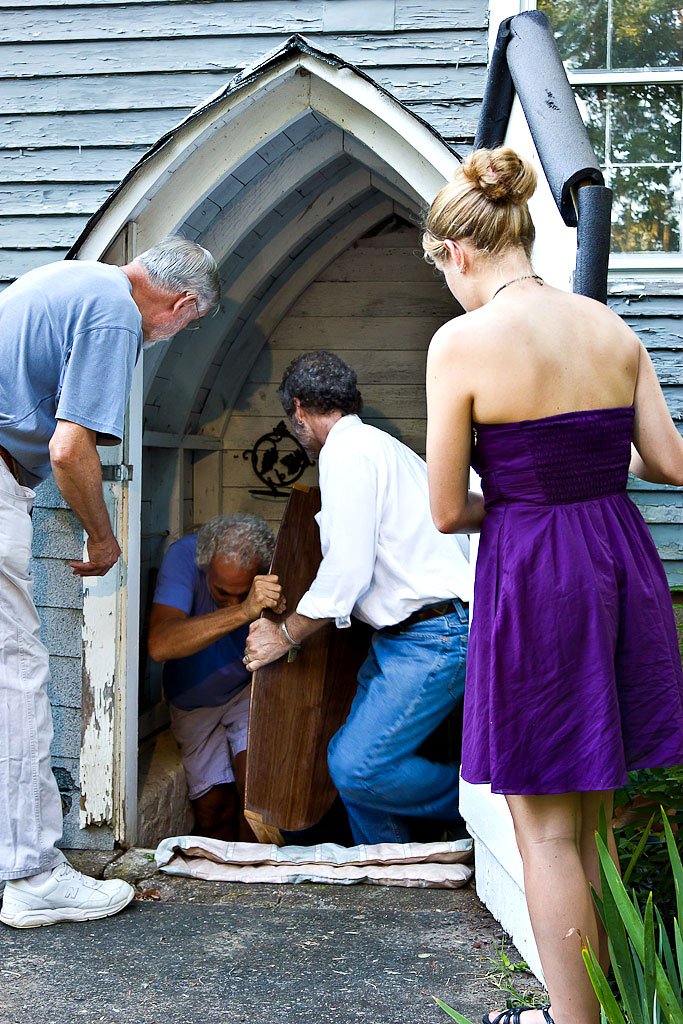 Extracting Aeon 
Wow. This is turning into quite a week.
The boats came out on Sunday. Now the first hurricane of the season is headed this way. This week we're closing down the company where I have worked for over 20 years. I've had to beg, borrow and steal time for 2 1/2 years to work on these boats; now starting Friday I'll have all the time I need. Bizarrely, the largest earthquake I've every experienced, 5.9, felt all up and down the East Coast, struck only moments ago as I write this. It was centered right here in the little town of Mineral. Funny how turning points and transitions can ripple out through a life. Weird.
The Boat Birthing Party was a great success. Great friends came to help and brought great food. It makes me realize what a diverse group of people we know. In this small gathering there were poets, farmers, librarians, social workers, writers, artists, photographers, small business owners in horticulture and environmental science, gourmet chefs, students, teachers, and more. All good people, and a big thanks to all.
Terri and Emily took photos throughout, Emily took a bunch. All these are theirs. John Robinson, a friend and excellent freelance photographer, will send some of his after they're published on Tuesday. Thanks guys!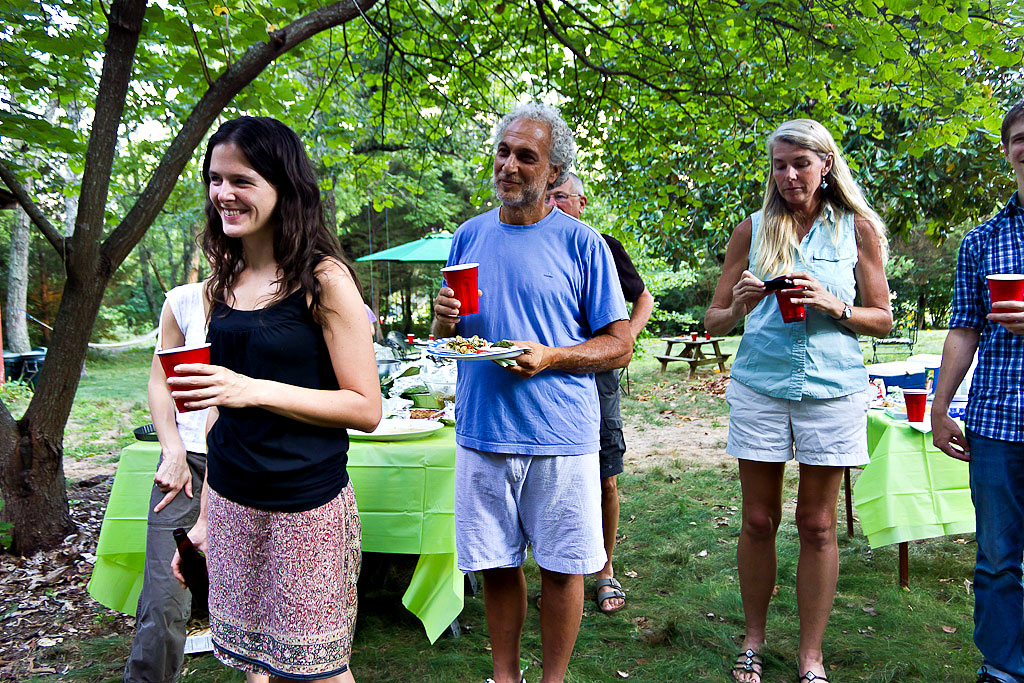 As an afterthought a few days before, Terri sent out some emails to local news sources and, to our surprise, a TV crew and reporter from the local weekly paper showed up. I suppose in these hard times good news is hard to come by. This story definitely had a happy ending, so we were happy to share.
Prudence being the better part of luck, we decided to bring the boats out safely before the serious celebration got underway. A tight squeeze, as expected, but aside from a few bumps a clean exit.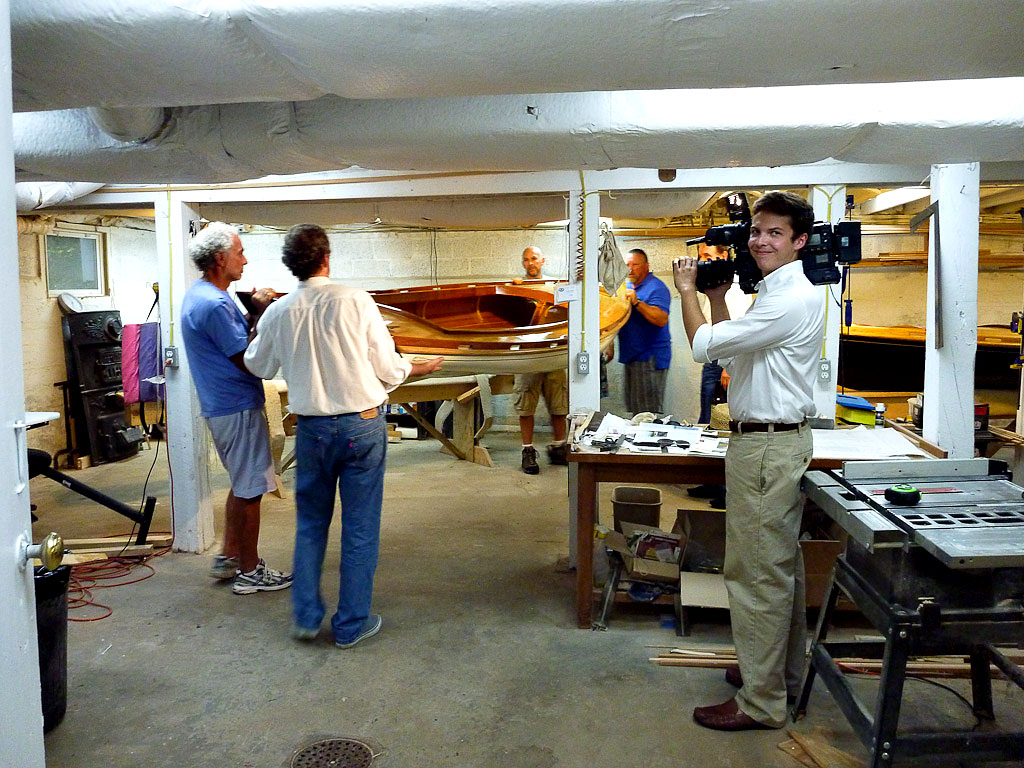 We did the christening and baptism right away. Whiskey seemed more appropriate for duck hunting boats than champagne, so they got three fingers of the same amber elixir (new bottle) used for the Whiskey Plank celebration. We even had a real live Scotsman on hand to approve of the single malt, though Charles did frown a bit at the plastic cups.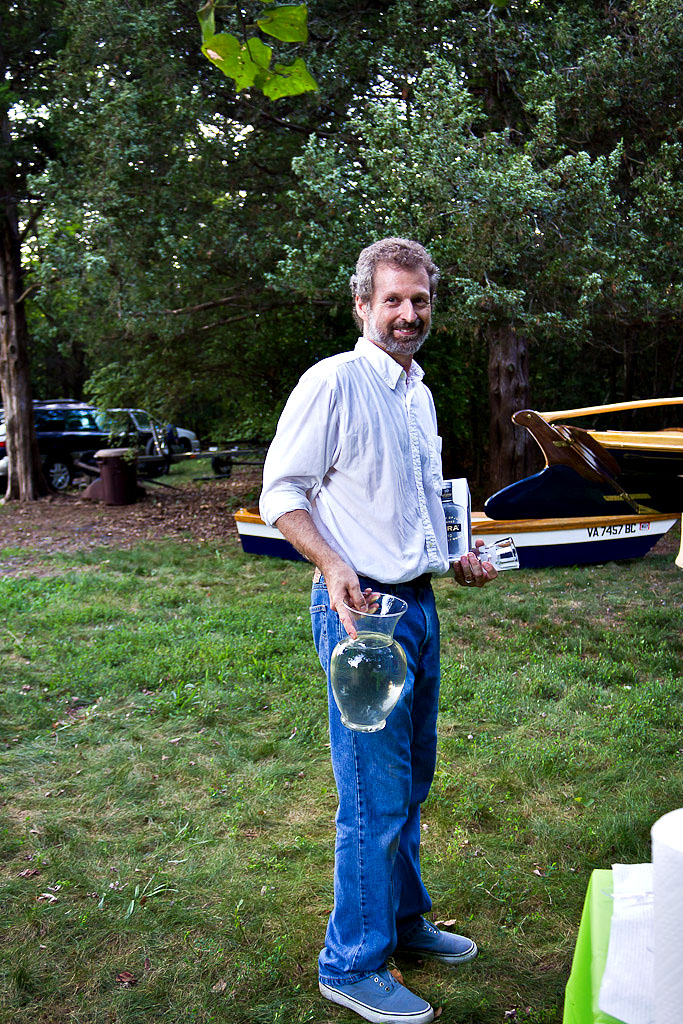 Since few guests will be able to make the trip to the first launch, the boats were quickly baptized there on the spot.
During the final stages of construction I realized an odd little fact. I've lived in Virginia most of my life, in a dozen different places spanning well over 100 miles. But all of them were within walking distance of the James River, the same river that runs through our home town now. I was born within view of the James. I went to school in Williamsburg, and often rode my bike to the river to get a break from classes, or took the Scotland Ferry past Jamestown to Surry if I needed to feel I had actually gone somewhere.
My daughters were born in Richmond, where we crossed the Nickel Bridge every day on the way to their school. They learned to swim in the James, floating downstream face up through the rapids and chutes – long hair floating around their smiling faces like little Ophelias – until I snatched them up and set them on the rocks where they would hop and skip back upstream to do it again. This river, I realized, has run through my whole life.
So the first water to touch these boats had to be from the mighty James. They both got a generous dousing, scooped from our own Scottsville Landing, where we swim and fish; and where, if I chose to, I could launch a small boat and float downstream past all those landmarks from this life, to the Chesapeake Bay, and the Atlantic beyond.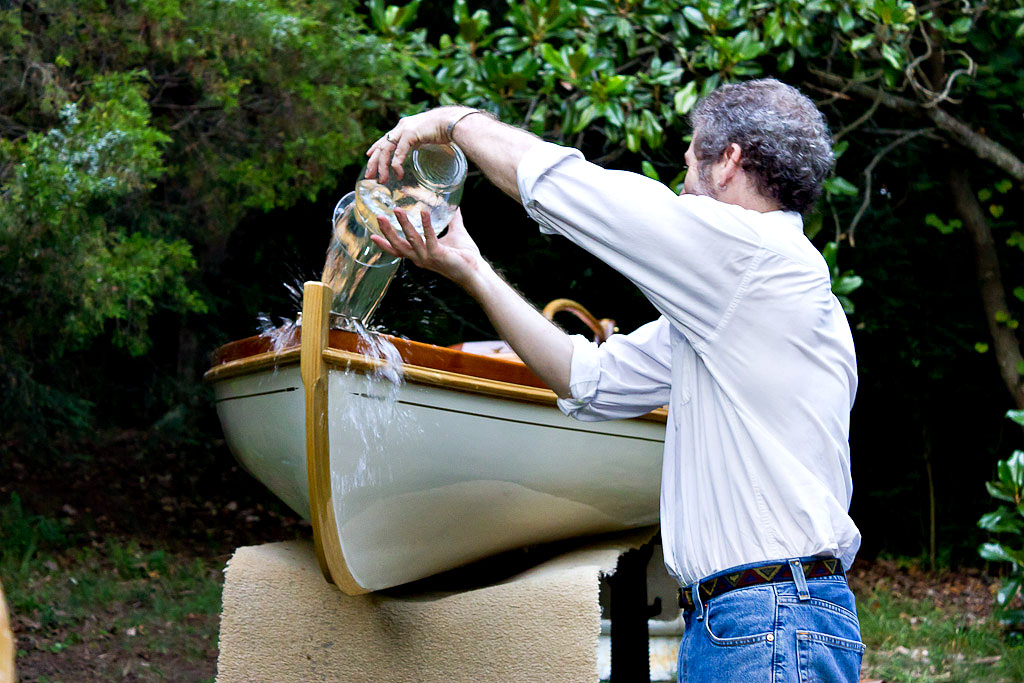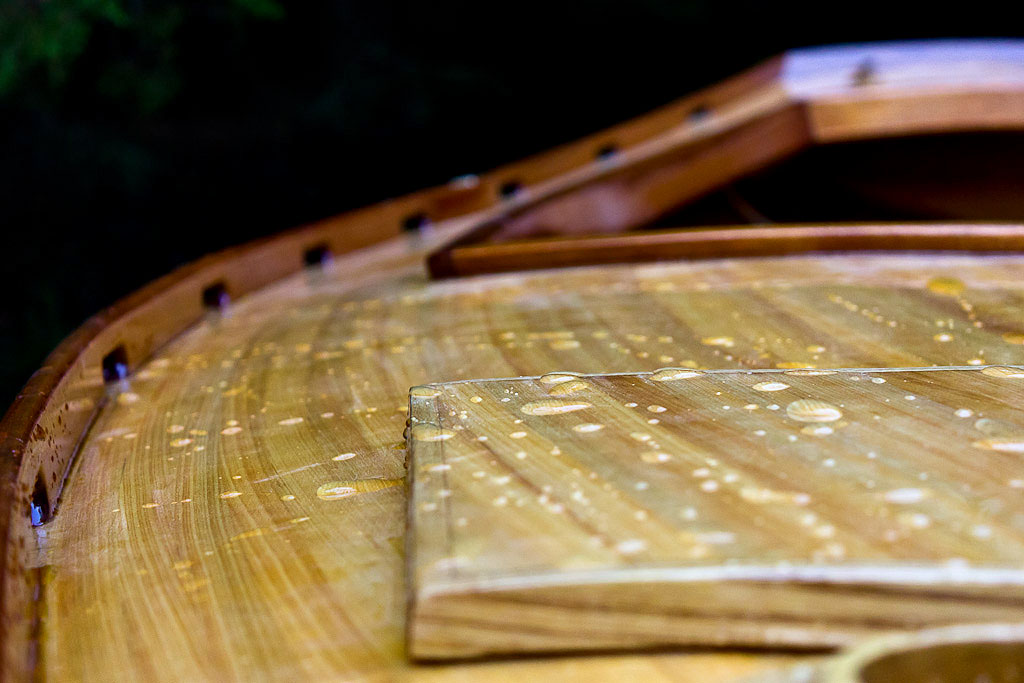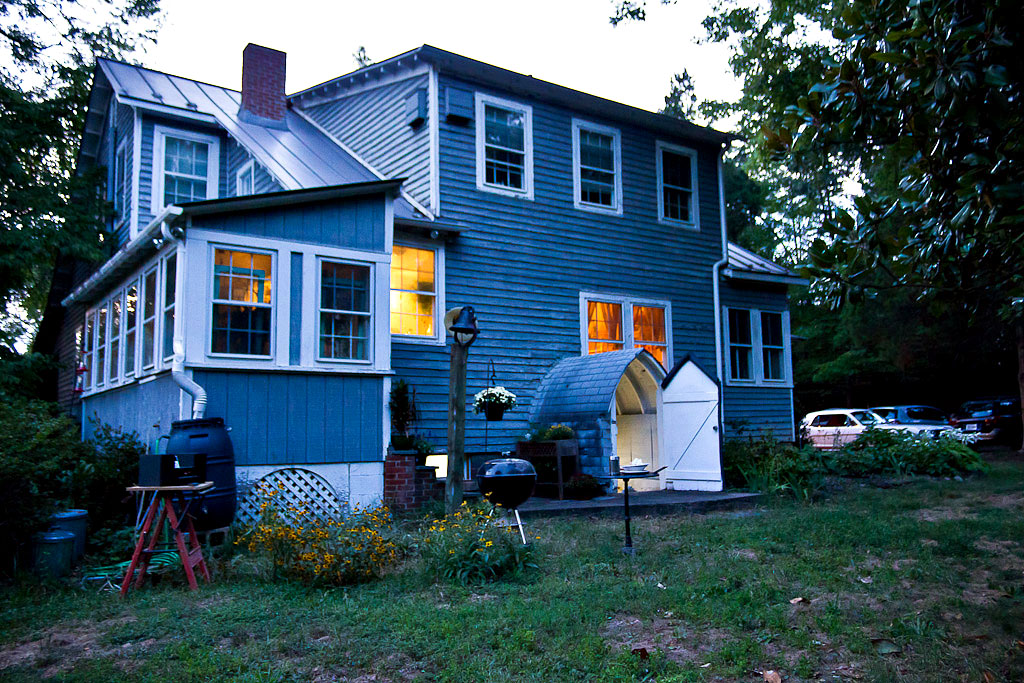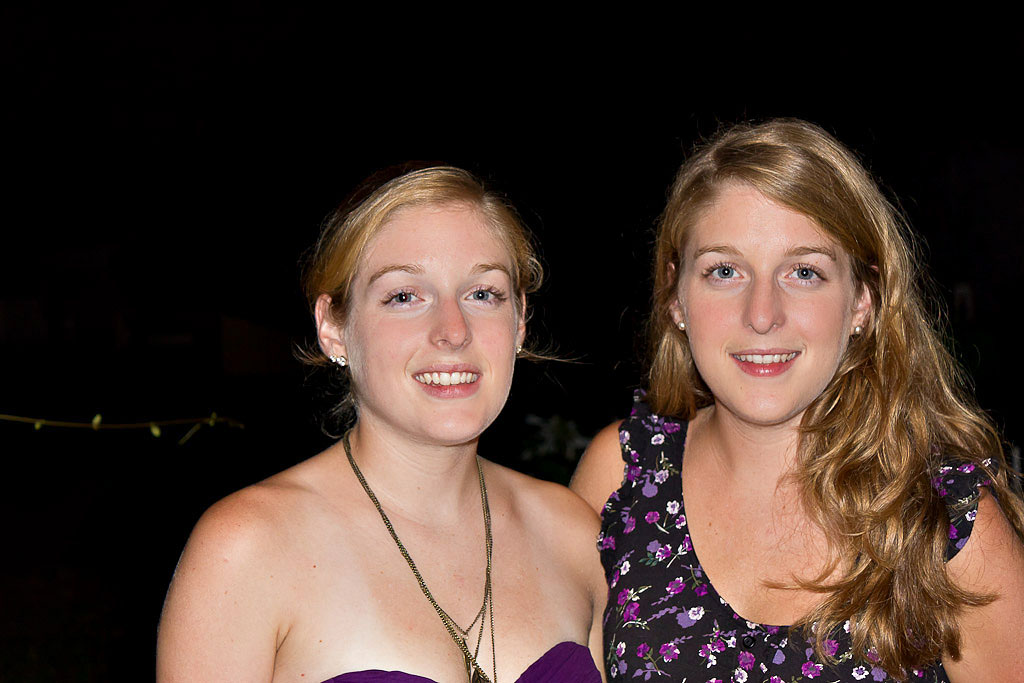 The basement is now sad and empty. It will be strange to walk through there and not see the boats glowing under the lights. Now they sleep out under the stars, and they get covered with dew instead of dust.
Cheers, everyone.
Here's a link to the TV news clip, which is very complimentary. We thought the interest would be about boats actually fitting out the basement door, but they liked a more personal story. I'll post a link and more photos from the newspaper when it comes out in a few days.
link to video only (sorry about the ads)
Still working out a good way to display a large gallery of photos. Not crazy about this so far, but when you click on a thumbnail it will open all the images in a clickable, scrollable window, scaled to fit your screen, and clicking on the photo advances to the next one: