Inside
click to open the images, then you can zoom and pan 
Outside
Got a first shake-down sail over the weekend. Not a long one, but the weather was fine. We had a long, chilly Spring this year. A few years ago, our first sail of the year was in February. It's now nearly June, and this is our first time on the water.
Always best to approach the first trip with low expectations. Took twice as long to load and get on the road, as half the gear had scattered during the Winter:
Took a half hour to find the flippin anchors. The bucket they were in only moved 5 feet from where I left it, but that was enough to elude me effectively.
I see I'll have to replace a tail light on the trailer. Clearly one got in a tussle with a fixed object, and did not come out the better for it. That took another half hour to diagnose.
Even tying things down and rigging up take much longer, as you have to relearn the system all over again.
Then there's all those little things you meant to fix over the Winter, and of course didn't, and didn't remember you didn't until you see them again 8 months later. "Oh, right. Meant to do that . . ."
We decided to try a new place this time, somewhere I haven't been sailing since I was a kid. By lunchtime we were in Deltaville, Virginia.
Deltaville has long been a sailing mecca of the southern Bay. My grandparents lived across the Rappahannock from Deltaville, at Windmill Point. My brother, sister, and I spent long idyllic summers there when we were young. To this day, our strongest and fondest memories are of that place.
In the evenings sometimes after dinner, they would drive us over to Deltaville, and Grandfather would let me walk along the docks around the yacht clubs to admire the boats until dark. I was smitten by beautiful ketches and classic old sloops. I still remember the names of my favorites: Strega and Windamere.
My grandfather didn't sail, or even swim, but he kept a small sailboat at the house for me to use, because he knew I was fascinated by it. A Blue Crab, I think it was called. Not even as big as the Melonseed, and not nearly as seaworthy, but at least unsinkable.
I taught myself to sail in that boat. Mostly by trial and error. There was simply no one to teach me, or even come along – the watermen neighbors all worked diesel deadrises, not a sailor among them.
The river is five miles wide here at the mouth, where it opens out into the Bay. By the second summer, at the age of 12, I was sailing all the way across the river to Deltaville and back alone. I would be gone all afternoon. I can't imagine letting one of my kids do that today. I don't imagine they would have let me if they'd known that's what I was doing. I didn't tell them until I got back.
But I learned a lot in a short time, more than I ever would have under more careful supervision. I learned what it means when the wind dies and the tide is against you, how to work eddies into the creeks against a current, how to read the water, and how scary even a little too much wind can be. Knowledge I still rely on today.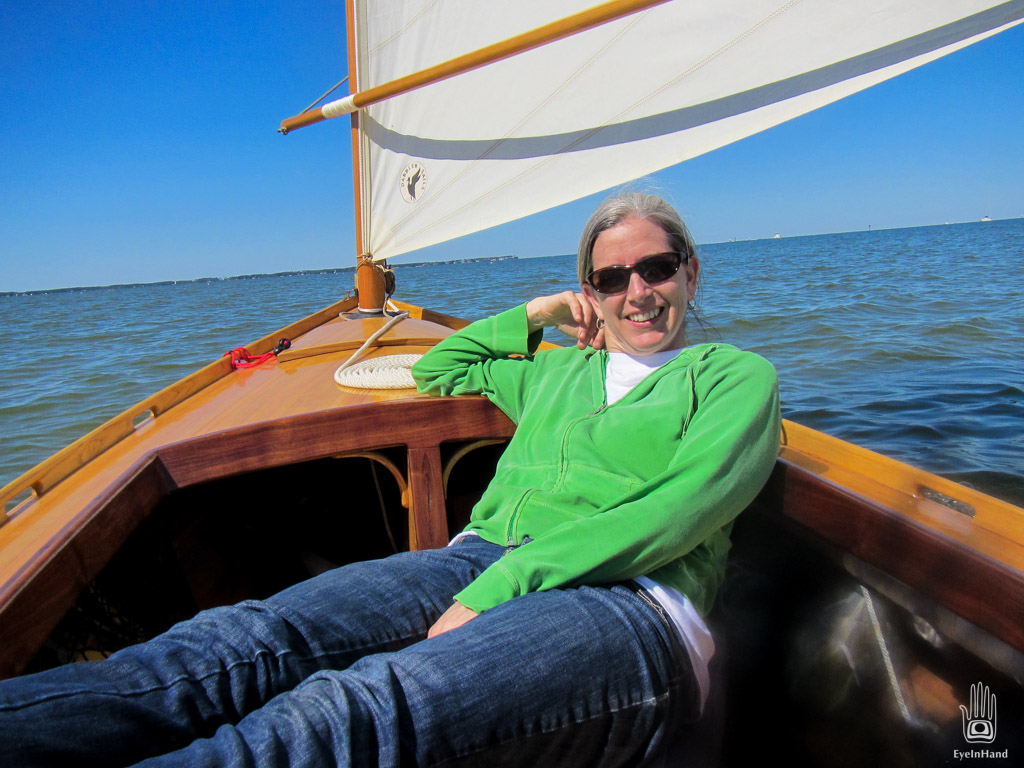 Terri and I launched from a marina on the Deltaville side, and this time only sailed about halfway across. The shadows were getting long, and the wind dies here as the day grows old, so we stayed close enough to row back if we had to.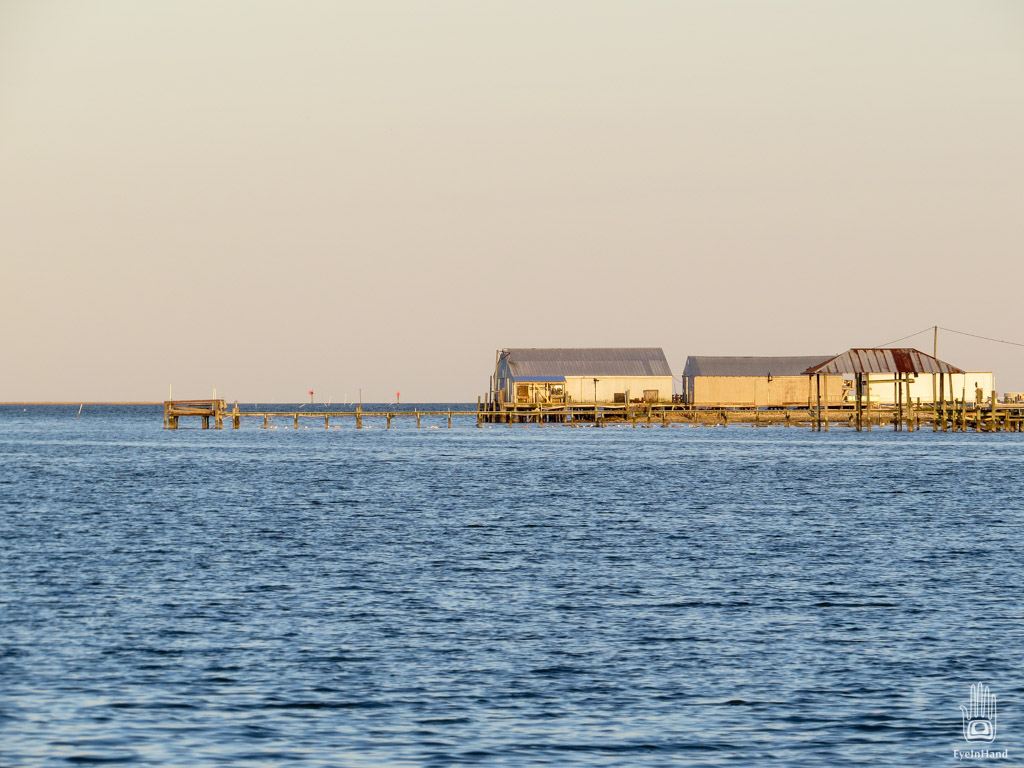 After loading up, we headed over to Gwynn's Island and the Sea Breeze restaurant for some food. The fare is humble, mostly fried, but the oysters and crab are fresh, and the view is excellent.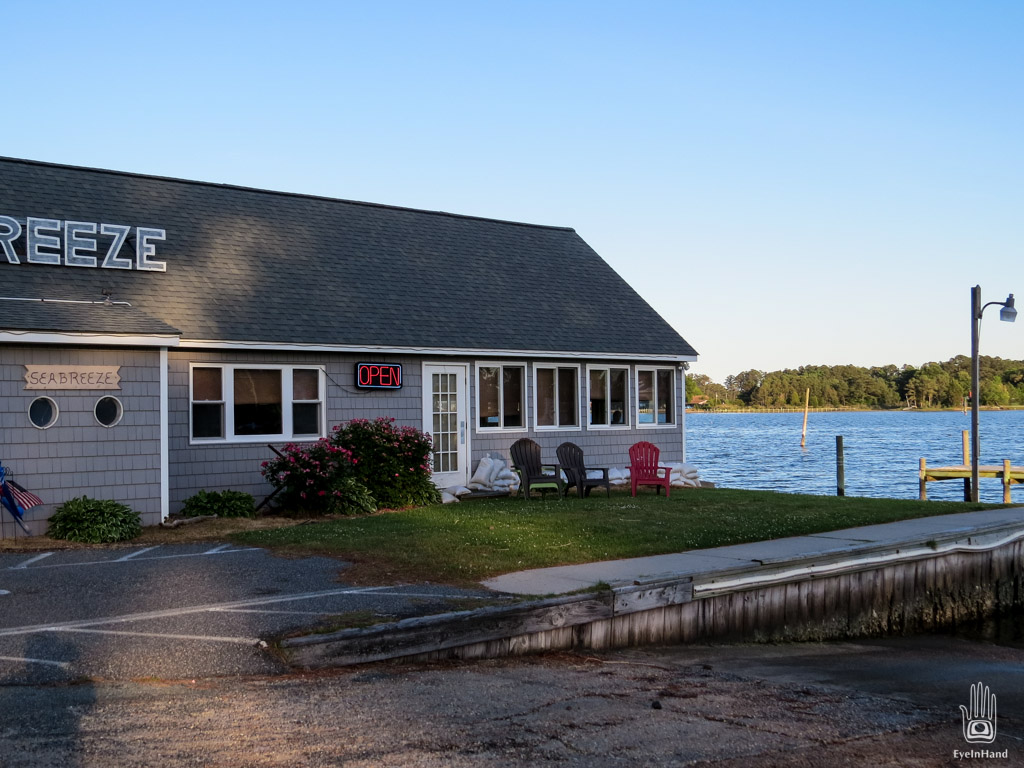 Day after tomorrow I'll be heading up to the Patuxent in Maryland for a four day camping cruise. This Memorial Day shakedown sail was a good excuse to get ready.