This must be my technology regression phase.
An old family projector found its way to us, along with several carousels of slides from the 50s, 60s, and 70s. . I scanned the slides, and put them up in galleries for distant relatives to enjoy.
But examining the projector, it was clear the mechanical parts no longer work. No surprise, given its age. But still a shame. These were staple appliances of many families when I was growing up. In the age before digital cameras and cellphones, before online galleries and social media sharing, places like Facebook and Instagram, slide shows were the way people shared their family photos. It was a rare event, often held decades apart, but a truly social one. Something people usually did together, sharing stories of separate but braided memories.
I pulled the lens out, mostly to have a look inside the case to see if there was an easy fix. Setting it aside, an inverted image of the window streamed through the lens and across the table. Picked it up and saw I could project a view of the yard on the palm of my hand.
Hmm.
A short time later, using only a cracker box, piece of white cardboard, and a utility knife, I had a rudimentary Camera Obscura in my hands.
A smallish hole cut in the front above the lens, allows the lens of my phone to peek inside the box. Sliding the projector lens in and out by hand adjusts the focus.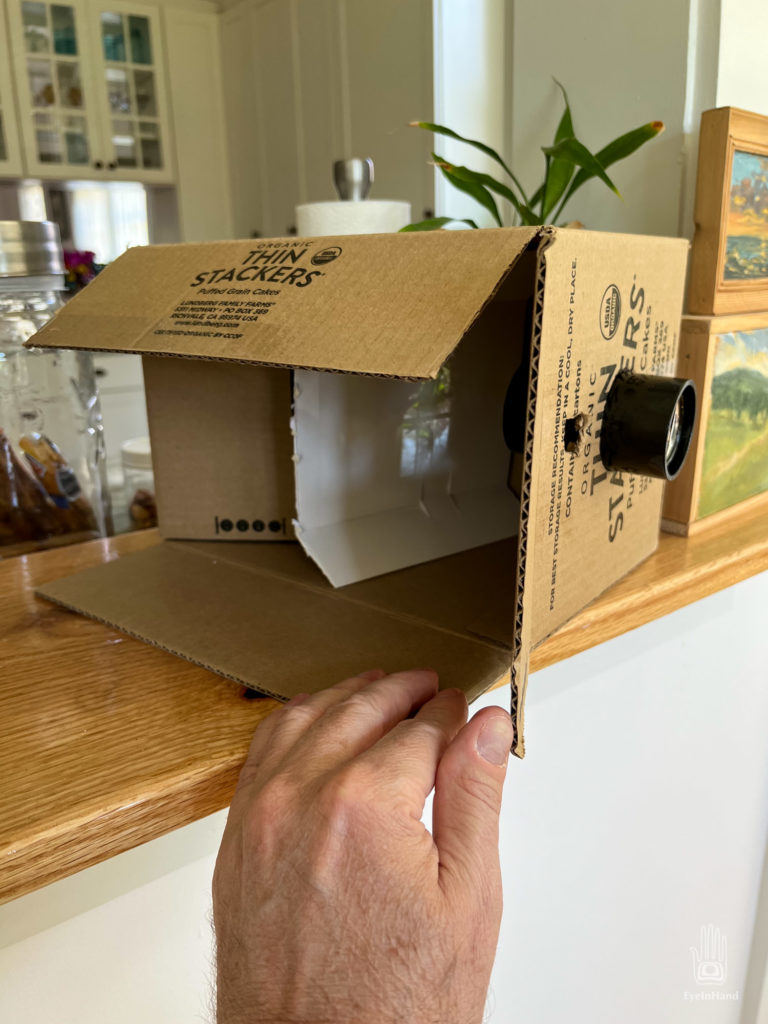 This first prototype is pretty finicky, but with a bit of juggling: Presto! I have an old style view camera, with that super narrow depth of field, vignetting corners, and light-struck images from leaks in the seams.
Just like a vintage camera from the early 1900s.
Might be fun to make a more permanent wooden box, maybe even salvage the focusing knob and gear and some other parts from the old projector.