Planing Pine 
There really are great people in this world. It constantly amazes me.
I don't have a planer. I've never needed one before, and don't expect to need one again, so it doesn't make sense to buy one, though I'll need one several times off and on for this project. Couldn't even find a used one locally. But a perfect stranger has come to my rescue. I posted a query on our local Freecycle bulletin board and, only hours later, Kim in Ivy offered to let me borrow theirs. Very cool. (Thanks Kim!)
Here's another deviation from the plans: I'm making the transoms in two layers instead of one – an inner and outer just like the stems. The inner is planed down to 5/8 inch Pine, the outer will be 3/4 inch Black Walnut from inch thick rough cut planks I can get from a local wood yard for less than Teak or Mahogany.
Walnut, thick and rough
The transom takes a lot of abuse, so a double layer will add more strength than simple edge glued boards, even if it adds a couple of pounds to the weight of each boat. This will also allow me to cut the deck camber into the crown of the inner transom, providing a place to attach the deck planks (something missing from the both sets of plans) and provide an unbroken expanse of nice wood for the view from the rear.
So, planing makes a crazy amount of sawdust. Dressing just three boards filled a 30 gallon trash can to overflowing.
But the results are nice.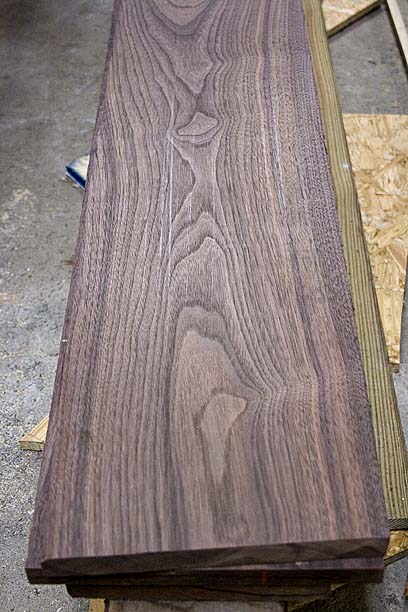 Walnut, after planing
Gluing up an inner Transom
melonseed skiff, mellonseed skiff, melon seed, mellon seed