Insertion
With goblins and other mischief makers approaching for Halloween, it seemed prudent to get Caesura off the front porch and back safely in the shop. Four buddies came by on Sunday morning, and the process went almost as smoothly as getting it out, but with a lot less trepidation.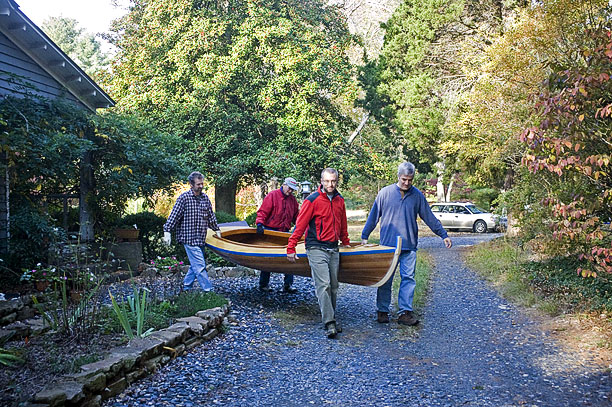 Randy Nolt is a great neighbor across the road, who frequently gets called on to lend a hand in a pinch, and Mark Mellusi is just around the corner. Both work at the Discovery School – a very cool place across the river that exists solely to give second chances to kids who've had a rough start. The kids become members of family size groups and build their own cabin tents in the woods, where they live together year round, winter and summer. Some counselor/teachers live with them in the tents, but Randy and Mark get to come home to their families at night. All are extremely dedicated to the kids, and do really great work.
Bill Ford is an old friend and fishing buddy. He's had a varied career, from farm manager on a Virginia cattle ranch to accountant to foreman on county work crews. Not long ago he made a trip to Haiti to rebuild a community center, and goes to Africa at least once a year where one of his sons works for an NGO. He's one who's anxious to try sailing when the boats are done.
T was on hand to document things, and here you get a sense of how tight the fit is.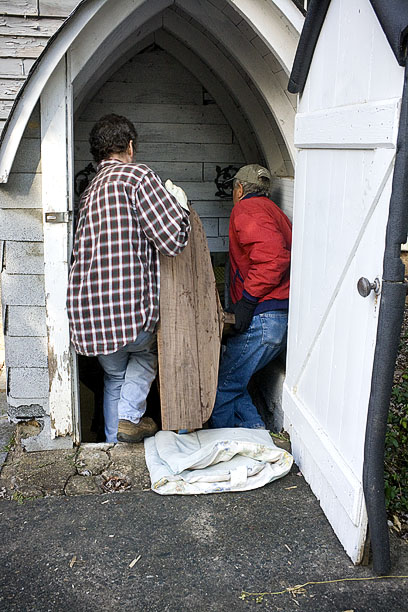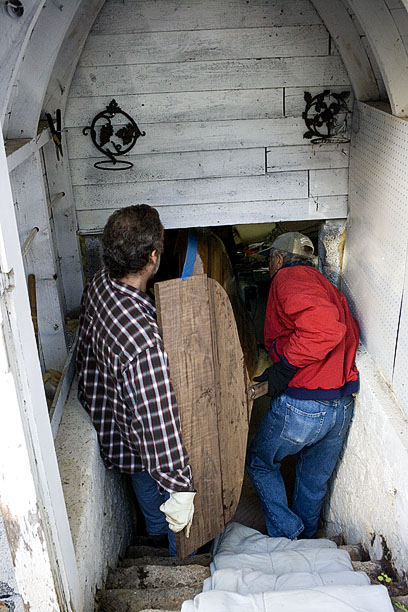 Most of the essential house chores now done, so this weekend work can resume on boatie things, and Aeon will finally get caught up with her sister. Sadly, I've lost my favorite cafe on the porch. One day soon, though, it will be a cafe on the water.