Eddie and his sons in the Sooty Tern Una
We first attempted to get together like three years ago. Maybe four. He said he wanted to build something, a boat, and wondered if I thought he could build a Melonseed. That's a funny question, like someone asking if you think they can dance. When I learned he had built a kayak, I was like "Oh sure, no problem. If you can do that . . ." He lives in Richmond, only 90 minutes away, did a lot of sailing, and we said on several occasions by email we'd get together, it just never happened.
Rigging up at the ramp
Then, last year leading up to MASCF I heard from him again, saying he was going, and with his new boat. That's when I met Eddie, and his lovely Sooty Tern Una. Wow, yes, he can dance. And sail, too, basically winning the Saturday race, coming in ahead of all but the high tech speedsters, even after breaking the tiller and fixing it on the water. Twice.
Freeport Landing from the water
We met again on the Chesapeake Float to Smith Island, and it was fun to watch this long, lean boat, so unlike the others, tacking back and forth in both light airs and heavy gusts.
Finally we got together, meeting near Deltaville at a little place called Freeport Landing. Strong steady winds were expected. We chose that spot because it provides a protected stretch of water at a quiet landing. I've been there several times for the Spring Messabout organized by John and Vera England of the Deltaville Maritime Museum.
As it turned out wind was light, and it was not so quiet. I had only been there in the off-season. Very few other boats on the water, just a few fishermen. But in high summer, on a hot and mostly windless day, the jet skis and power boats towing kids on tubes were out in force. I think they bothered me more than Eddie.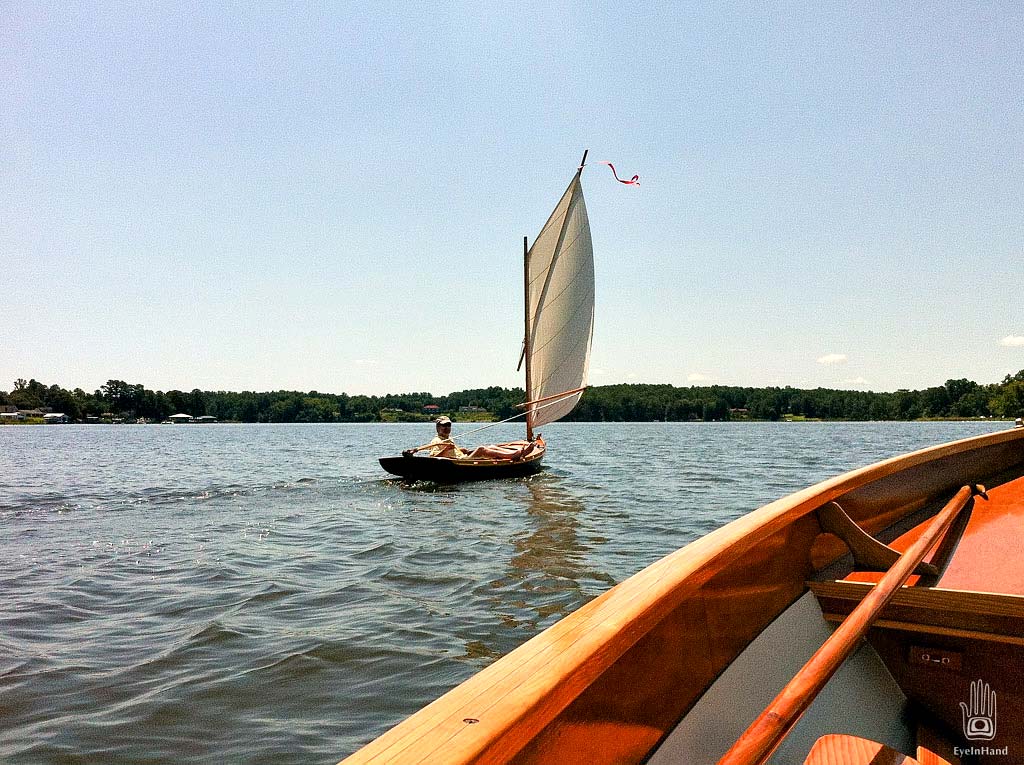 He had two of his sons along. One with a newly built kayak he paddled around for a while. And it's a pretty piece of water. The Piankatank is still one of the cleanest coastal rivers in Virginia, fed by Dragon Run Swamp in rural farm country. His sons even snapped a few photos of me, which is surprisingly rare. He has a nice post up on his blog about it here:
Three Boats, Three Sails, One Day
At the end of the day, I hopped aboard Una for a short turn at the tiller. The push-pull Scandinavian arrangement takes some getting used to. I kept pushing when I should have been pulling, etc., but the boat is well-behaved and responsive, and feels like a bigger boat than it is. And he did a really fine job on the build.
Next I put all six foot something of Eddie in Aeon and sent him out for a spin. Not much wind to play in, but I could hear him laughing across the water. Said he felt like a nine year old kid again, in a little boat with his feet hanging over the side. It gave me a rare chance to see my boat from the outside and take a few photos.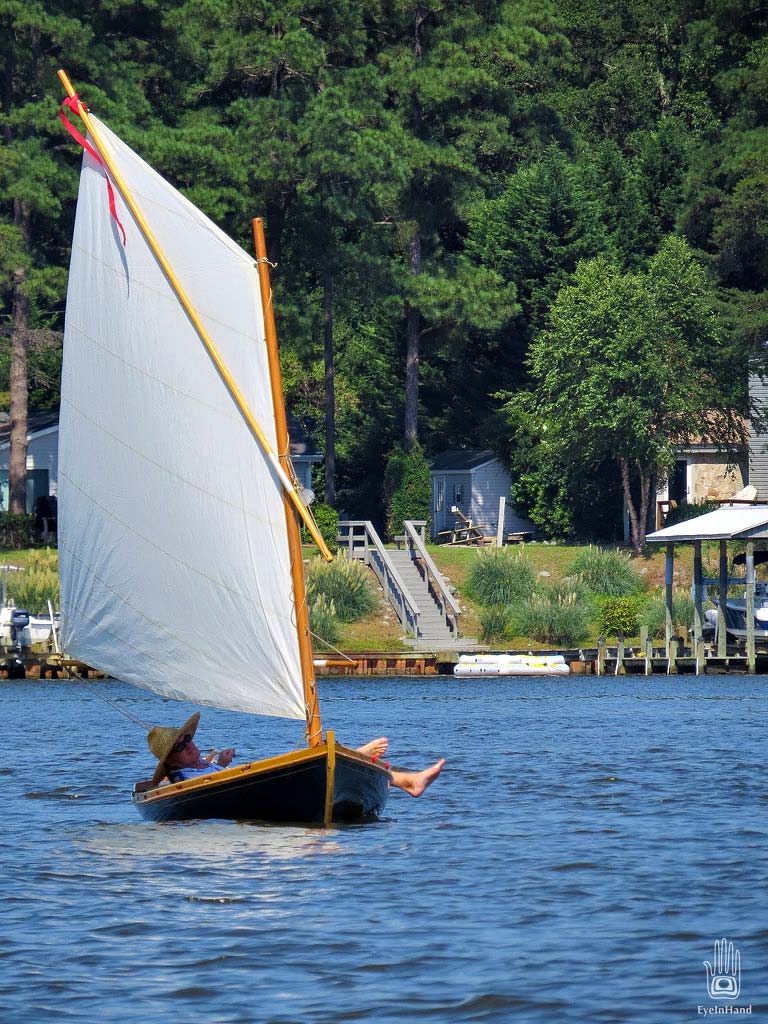 Maybe we'll come back in the Fall or next Spring, with more wind and fewer speedboats.